Letters
View(s):

Coconuts to bless, Alupuhul to curse

The so- called joint opposition headed by former President Mahinda Rajapaksa  launched a coconut – dashing campaign to bring down the Government. The plan was to dash 100,000 coconuts and I thought that they would continue the campaign till the Govt. fell but it has fizzled out even before a thousand coconuts could be dashed. Now there is only a sporadic show.

To my knowledge coconuts are "broken" (not "dashed" which means that it is done with malevolence and vengeance), to bless someone, self or others. That is why it is done after a bath, wearing new clothes, making offerings, worshipping and pleading with the God to answer their prayers, with no ill will in their hearts. This is what is done at Kataragama, Munneswaram etc. A coconut/ king coconut is one of the compulsory items of any offering to God.

During long periods of drought our ancestors held pora pol contests to invoke the blessing of the rain god and invariably their prayers were answered. It is also an ancient custom to break, not to dash, a coconut when a newly married couple steps out of the poruwa. The idea is to bless the couple and not curse them.

If the idea is to curse or malign someone the age old practice is to dash an Alupuhul so that it goes in to pieces.

Recently I had occasion to visit my native village now developing into a big town, in the south well known for thowil pawilyanthra manthrahadi hooniyam, hooniyamkapili ,pilli etc. There I met an old yaddesse (or Yakdesse, one who curses the yakkas) counterpart of kattadiya here. As he is a veteran I asked him for his opinion on the matter. He confirmed my views fully: break a coconut to bless and dash an Alupuhul to curse. Then he laughed derisively and said " Dan Maithri mahathayai Ranil Mahaththayai ithamanta Mahinda Mahaththayage kandayama subapathima ganabada allan hinawenawaathi"

So MR and company must stop coconut dashing, change their tactics and start dashing Alupuhul which must be available in plenty around Hambanthota.

Had the coconuts already dashed been given to the poor they would have acknowledged them with a Pinsiddavechchawe.

S. Abewicrama
Nugegoda
---
Impressions left behind by Richard Gabriel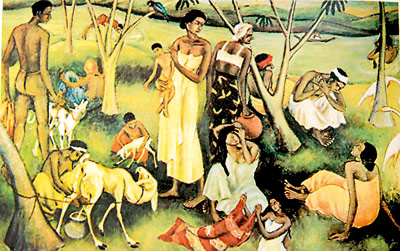 Gabriel dealt with the silent art.
I knew a musician elsewhere
Who beat the silence with the guitar.
And I would put ink on the heads of words
To make them peck like ducks.
Gabriel taught us art at St Joseph's – van Gogh, Caravaggio.
He told us about van Gogh painting in an asylum.
An inmate cut across to interrupt his vision
And van Gogh let out an insane yell.
And of Bernini who caught the wind
Quickening on the pathetic face as she fled -
Dido, and leaves grew from the tips of her fingers.
The shock of death.
She could not speak, yet she spoke
In the hands of the immortal sculptor
As he moulded dumb marble into speech.
Gabriel was the only teacher who fascinated the students.
At College his clothes were Spartan, without a tie
While the other teachers came in flashy ties.
He tried once to teach me art
As a boy but failed, I think.
He gave me a book on Braque.
But my hands were smudged with ink.
In the upper Forms
I met him passing by in a corridor.
"I thought you were interested in Art.
Now I see you swotting at exams
Forgetting Art."
"Sir, our parents want us to get jobs."
He smiled, an angelic smile.
I did not know what it meant.
Years later I went to see him at Depanama.
He told me he was invited to lunch
By an embassy today but did not go.
"You should have gone, at least for the whisky."
"I would have wasted my time."
He served me some arrack in his atelier.
"This picture you see before you,
I won't sell. It is my best.
I want to keep it with me.
It is good you brought this book on Picasso.
There are some pictures there I haven't seen before.
Don't come here too often.
My wife is ill and I am busy."
Here was a true artist:
He taught us the art of being an artist
Without putting brush on canvas.
Something to do with silence
And something of its negotiations
With stubborn sound, stubborn colours, stubborn forms -
Now the dead speak in living pictures.
Dante, where the dead
Spoke in the voices of the living
In a world of transparency
Where only his mortal body cast
Shadows on the immortal
And the flesh could not vision interrupt.
It could not be understood
Unless spoken in the dialect
Of the artist's native tongue.
May this devout soul
Rest in the Lord
Whom his works extol.
- Patrick Jayasuriya
Maharagama
---
Blackouts: Questions that need to be answered before sabotage stories abound
I wrote to  the COPE chairman on March 5 and in my letter mentioned the colossal benefits our country would have gained from coal fuel electricity which is used for electricity by over 50 % in the world.
The recent blackout which is a direct result of preventing the stated benefits flowing to our country is also discriminatingly applied favouring Colombo. On March 15, I experienced two black outs – 5.5 hours from 1 to 6.30 p.m. and one hour from 8.15 p.m. to 9.15, a total of 7.5 hours while in some places in Colombo there was no interruption in supply. Is this not contravening article 12 of our constitution in which it is stated "all persons are equal and shall have equal protection of the law?"
What caused the blackout in Norocholai : We need to know;
1)             Whether the full load throw out test was carried out before acceptance of these plants
2)             The settings of the starting valves and other safety valves and the operating manual recommended settings
3)             Did a Boiler Inspector annually check these valves for their operation
4)             Was the emergency trip operated on all the three plants
Coming back to the question of sabotage on the tapchanger explosion, to analyse an explosion of such a nature, the most experienced is the Lanka Transformer Company, a company that started as the transformer work shop in CEB. It has repaired burnt tap changers, burnt transformers and manufactures transformers for Sri Lanka and abroad. The CEB has a large amount of shares in this company and it has experience in such matters for about 50 years. Seek their assistance before someone spreads a sabotage story which may be false
Please make this information public knowledge as many engineers with experience in steam powered plants are waiting to assist the government free of charge
Eng.M.V.R.Perera
Via e mail
---
Govern or go home
Shortly after the January 8 presidential election, the prices of essential food and other items were brought down. But today the prices of most items have doubled or trebled.
To make matters worse, while the people are being taxed heavily, MPs wanted an increase in their allowances. We were promised less inefficient MPs in Parliament but even that was a lie. So what is different? If the MPs want to travel, President Sirisena should give them bicycles — not more money which is really the people's money. It would've been better for their extended waist lines and saved the tax payers' bills.
If the Ceylon Electricity Board cannot supply us uninterrupted electricity, hand it over to the Chinese who will work harder and give us a decent service. It is not the CEB Chairman who needs to resign, it is the entire government. If you can't give the people their essential needs then please do us all a favour and go home.
Mas Dias
Rajagiriya
---
Stop this discrimination against certain smart phones for e-passbook
Though wide publicity is given in electronic media and other media about the Commercial Bank e- passbook on mobile phones, when I went to the Bank branch of Wattegama to get this facility installed in my smart phone, I was thoroughly disappointed, when the officers there told me that it is only applicable to the holders of smart phone powered with only Android and iOS mobile devices and not for the holders of smart phone powered with other devices.
I feel that it is highly unfair limiting this facility only for Android and iOs devices. The holders of smart phones powered with other device like Microsoft Windows,as in my case cannot buy another smart phone powered with Android or iOS device just to get this facility.I therefore appeal to the Commercial Bank authorities to extend this facility to holders of smart phones powered with Micro Windows too.
Dr.R.Sundararajah
Via email
---
Questions over air-conditioning in pharmacies
I am told, there is a requirement to air-condition pharmacies. The earlier requirement was that a pharmacy should have a refrigerator to store certain drugs that needed to be stored under low temperatures and even transported with ice until kept in a refrigerator at home.
Most of the pharmacies are small with little or no ventilation. Even if these pharmacies use air conditioners during the day, I doubt they use them during the nights. This means the drugs are subjected to temperatures higher than the normal room temperature in the night until the air-conditioner is switched on the next morning.
The customer purchases the drug from a pharmacy with a functioning day-time air conditioner, takes it home in the hot sun, and keeps it under normal room temperatures at home. The question arises as to the effectiveness of certain drugs, especially eye drops, when exposed to high temperatures. The views of knowledgeable persons could clarify this issue.
R. Fernando   
---
Shed light on power failures
We have had three island-wide power failures in the past six months, the last one on March 13, 2016, being the worst.
Immediately after the first power failure, the Power and Energy Ministry announced that a special committee would be appointed to investigate and report on the failure. Recently, after the second failure the Prime Minister announced the appointment of another committee to investigate and report.
We as consumers have a right to know the reasons for these failures and what action is proposed to avoid recurrence of such failures. Accordingly, we request the Ministry to publicise the findings of these committees.
We also need to be enlightened on the inability of generators at Norochcholai coal power plant to supply electricity to the national grid for three days after a major failure.
A plant that cannot supply power after a breakdown is of little use. Are we saddled with a 900 megawatt power station which cannot resume supply immediately after a power failure? Is this the only power station of this kind? Either the Ministry or the Ceylon Electricity Board should inform the public the reasons for this unacceptable situation.
Finally, we request the Regulator, the Public Utility Commission of Sri Lanka, to publish its findings on these failures on its website.
A Retired Engineer
Ganemulla
---
Why can't ICC ban this 'spitful' practice  
A recent article in the Island titled "Stop spitting please", written by a doctor is eminently applicable to a large sector of the Sri Lankan people too. Spitting and polluting roads is a common dirty occurrence. The culprits do it walking, riding or even while driving, without any concern for other road users.
Betel chewing with arecanut, tobacco and lime (chunam) is a cultural habit. The spittoon is a traditional household utensil, now mainly used in temples.
Worse than spitting on roads and at workplaces such as construction sites is the nauseating 'spit culture' that prevails in the game of cricket. Almost all the players on the field other than the two batsmen apply spit with their fingers on the same ball that is handled by all. The fingers that apply the spit on the ball move from mouth to ball and vice versa. To hell with hygiene!
This is done ostensibly to polish the ball on one side against the trousers of the player to obtain a sheen thereby making the ball swing. If spitting can be banned in Golf why can't the ICC put an end to spitting or the application of spit or sweat on the cricket ball ?
Edward Gunawardena
Vi a email
---
'Bodhinarayana' clan : Are they the oldest Sri Lankan family?
I have just been reading the vastly interesting "Sigiriya & Beyond", the first of 'Back of Beyond Travel Guides' produced by a band of young enthusiasts led by Neranjana Gunetilleke. They speak of Jayasena of Nilagama, traditional painter of Dambulla Vihara –"Names provide so much history. Take his full name for example, Sri Bodhinarayana Sri Bhuvanekabahu Chitra Mulacharya Bodhipattalame Patabanda ge Jayasena spells out his heritage as artists, honoured by royalty, descended from the original eighteen clans that accompanied the sacred Bodhi tree'-and Arahant Theri Sanghamitta over 2,300 years ago.
There seems to be good reason to believe that the 'Bodhinarayana' clan, which has preserved this name and ancient tradition for many centuries, can rightfully claim to be the oldest family in Sri Lanka.
Tissa Devendra
Via email
---
British visa shocker : Don't they know who a bona fide applicant is and who isn't?
I lived and worked for the British civil service until returning to Sri Lanka for good in 1981. In the days when permanent residency was available over the counter I chose to retain my Sri Lanka nationality to return to my country of birth. My daughter was born in the UK and currently lives and works there as a British citizen.
I held ILR status up until August 1985 and visited my daughter regularly on visit visas thereafter, never once violating the conditions of such visas. My last visa was a five- year multiple and expired in 2015.
My latest visa application dated March 2, 2016, under reference GWF039024551 [post ref. Chennai/1897967] has now been refused – basically because the decision maker is 'not convinced that the applicant will leave the UK at the end of their visit'. To compound the horror, I am told that there is no appeal/review process available any longer.
I have visited the UK over a dozen times since the mid-1990's and always returned at the end of my visits. I have willingly forgone the opportunity to live in England on a permanent basis, on two occasions. If my immigration history does not prove my intentions as to returning after a visit, I do not know what can! The last two visas were issued on precisely the same set of circumstances and documentation. It is obvious that the visa officer concerned is unable to tell who is a bona fide applicant and who is not. An arbitrary and unsustainable decision has now decreed that I cannot visit my daughter and grandchildren again. Is the only course left to me now for justice, an approach to the Human Rights Authorities to claim a fundamental right?
I hope this letter will catch the eye of the British High Commissioner who will see the absurdity of the situation and bring this to the notice of his government – the very government preaching human rights!
Jerome A. de Silva
Kohuwala
---
Tourism: Are we losing the high-end European market?
The World Travel & Tourism Council (WTTC), the global authority on the economic and social contribution of Travel & Tourism has stated in its Annual Report -2015 that "Travel & Tourism is growing at a faster rate than both the wider economy and other significant sectors such as Automotive, Financial services and Healthcare".
How is this escalating global trend pattern impacting our little isle? Are we deriving the utmost benefits from this sector growth, in comparison to other Asian destinations? Publicity is rampant, harping on the proliferating arrival numbers but one could hardly see any publicity given to meaningful economic indicators such as sector contributions to GDP, employment, income yield, government collective expenditure towards the sector, which are important to all stakeholders alike, be it those with direct involvements or otherwise.
Unlike the years gone by, we see tourists all through the year suggesting that it is no longer subjected to seasonal variation. The rising disposable income levels of newly emerging markets such as China and India seem to outnumber the European traffic, one time our source market that accounted for around two thirds of the total market.
In the world heritage city of Kandy, where I hail from, we see unprecedented numbers of foreign travellers. Little eateries are full of them. A few amongst them seeking five star accommodation facility will ensure even a bottle of water is procured from an en-route supermarket, "frugality" at its best sense. The Sri Lanka Tourism Development Authority's (SLTDA) drive to induce local families to open up their homes to tourists has resulted in mushrooming accommodation facilities across the island offering sleeper nights, some as low as US$ 20, an uphill task to be matched even by the YMCA!
Many luxury properties with colossal investments are also feeling the pinch due to low market rates negatively impacting on their occupancy levels and entailed profit erosions. One must not forget the fact that tourism depletes a large amount of scarce resources of a country. We need volumes of food and water to service the foreign traveller apart from other facilities such as electricity, fuel, sewerage and solid waste disposal. Also we must take note of environmental hazards from carbon emissions due to excessive travel.
This new "price conscious" frugal traveller from the Asian Pacific region, seeking a different experience to the conventional tourism product will certainly help reach the targeted arrival numbers but do we yield enough to cover the above social cost? This is not a question to be ignored as one cannot expect remedial measures to be self- propelled by the industry itself.
Therefore amidst this unprecedented growth in international tourist arrivals emanating from the escalating global trends, what is required is to strike a lucrative balance between mass tourism and the high-end market and customize the tourism product to cater to the needs of each market segment, if we are to harness the tourism potential to the fullest and drive tourism towards a sustainable industry.
Ranjith Alwis
Via email
Letters to the Editor'Letters to the Editor' should be brief and to the point.
Send them to:'Letters to the Editor
'The Sunday Times,
P.O. Box 1136, Colombo.

or editor@sundaytimes.wnl.lk.
Please note that letters cannot be acknowledged or returned