Horses, fashion and races hit the hills
View(s):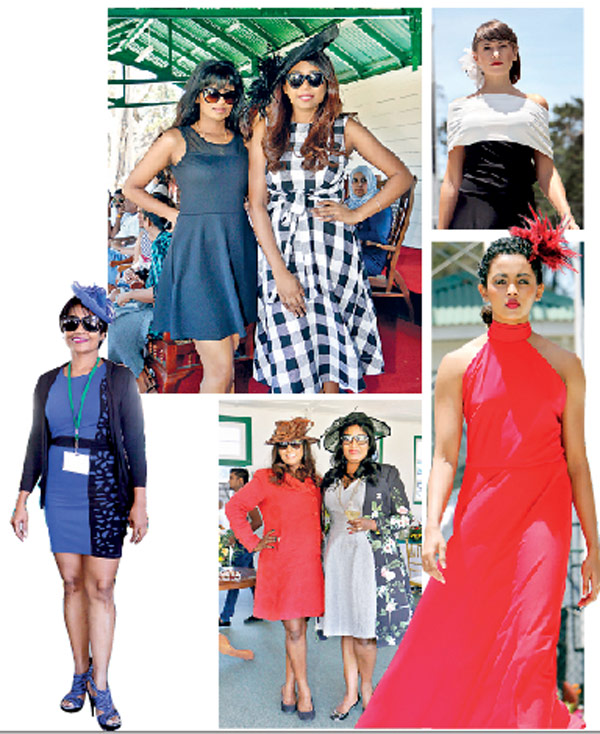 As the rest of the country sweltered in the heat, in cool Nuwara Eliya, the newly formed Royal Turf Club held its first race for the season in a carnival atmosphere.
The day's proceedings began with Minister Navin Dissanayake unveiling a plaque commemorating the inaugural race meeting of the Royal Turf Club, Nuwara Eliya. Among the dignitaries were Indian High Commissioner Y.K Sinha and Mrs Sinha, Deputy British High Commissioner Laura Davies, Nuwara Eliya Mayor Mahinda Dodampe Gamage , film producer Chandran Rutnam among others.
Over 35 horses were seen in action in a total of eight races with Charlatan and jockey Irvan Singh owned by Deepthi Jayakody emerging as the eventual winners of the first ever Royal Turf Club Premier Cup Class 1, Stakes 1600m which saw Rs. 585,000 and a cup being offered for the first five places. The Gamini Dissanayake Memorial Cup along with Rs. 482,500 plus a trophy was presented to the first five winners of the Class 2, Stakes 1,400m race, which were won by Gazaki and Irfan Singh, owned by Keerthi Wannakuwatte.
The Mayors Class 3, 1,200m and the 3 year old Maiden Stakes 1,100m races were each awarded Rs. 375,000 plus a trophy with the winners being Supreme and S. D. Mahesh (owner Deepthi Jayakody) and Stock Well and jockey Ashok Kumar owned by Isira Dassanayake respectively.
Four foreign officials were in the judges box – Cyrus Maden, the starter Jehangir Sayed, and Stipendiary Stewards Wayne Wood and Sinclair Marshall. President of the newly formed Royal Turf Club Nuwara Eliya Suranjith Premadasa said, that these steps were taken in a bid to ensure fair play and bring back the glamour and flair of the races.
There was entertainment with Misty and Rajitha, as well as fashion shows featuring well known designer Ramona Oshini amongst others to complete the day's entertainment.