Clayderman to perform here
View(s):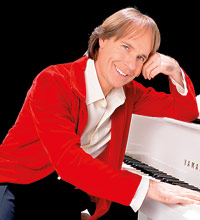 Richard Clayderman, the French classical pianist will perform in Sri Lanka at the Nelum Pokuna on April 8. The best-selling record artist and concert performer has established for himself a status as the most successful French act globally, having recorded over 1,300 melodies and created a new romantic style through a repertoire which combines his trademark originals with classics and pop standards. Clayderman has devoted much of his time performing concerts.
The concert is being organised by Hussain Shirufaz of Helix Krest Holdings (Pvt) Ltd.
Clayderman's distinctive piano style helped him acquire superstar status globally. A German journalist once wrote, "He has arguably done more to popularise the piano around the world than anyone since Beethoven".
Clayderman has clocked up massive worldwide record sales of approximately 90 million, at the last count, and has an incredible 267 Gold and 70 Platinum discs to his credit. However, "The Prince of Romance" (as he was dubbed by Nancy Reagan) is not simply a recording artist. In fact, despite his natural shyness and reserve, he is completely in his element on stage; a Richard Clayderman live concert is a real 'spectacular' that should not be missed.
"I love performing live on stage," he says, "Since I receive the opportunity to gain direct contact with my audience. In concert, with my 10 musicians or a symphony orchestra, I like to mix different tempos, rhythms and styles to evoke all kinds of emotions."
Clayderman's international success has resulted in a punishing tour schedule which, in the past, has seen him play as many as 200 concerts in just 250 days spent outside France. In spite of this, he remains very much a family man.
Tickets for the concert will be available at Yamaha Music Centre, Hilton Colombo and Nelum Pokuna. For more information, contact: helixkrest@gmail.com. Event Partners have been announced as Yamaha Music and Hotel Hilton Colombo whilst media sponsors are Legends, Yes FM and TV1. The event is managed by Beats International and the advertising partner is Cogent.