Appreciations
View(s):

V.L. Wijemanne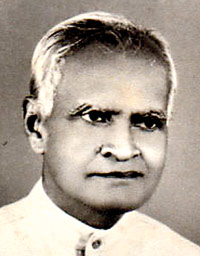 A son of Kalutara who did much for the upliftment of Buddhism
Yet another leader who worked for the upliftment of Buddhism in the Kalutara electoral district passed away on March 21, 1990. Vincent Leonold Wijemanne was a former Member of Parliament and a former Deputy Minister of State Plantations.
Born on October 31, 1909 into an aristocratic family in Wilegoda, Kalutara, Mr. Wijemanne's father was Abraham Wijemanne, who at the time held the position of Registrar of Marriages, Births and Deaths. His mother was Rosalin Wijewickrama. He was the third child in a family of seven; 4 boys and 3 girls.
His eldest brother was Lt. Col. B.J.Wijemanne. W.K. Wijemanne was his youngest brother and was also a lawyer by profession. Mr. Wijemanne who did not relish Government Service entered Law College and passed out as a lawyer on March 9, 1936. He was an eminent lawyer whose practice extended for over 50 years. During this period he took on both civil and criminal briefs. He functioned as the President of the Kalutara Bar Association and was a member of the Disciplinary Committee of the Bar Association of Sri Lanka. While practising as a lawyer, he showed a keen interest in agriculture and plantation.
Mr. Wijemanne married Ira Gunathilake on October 19, 1944 and is the father of three daughters, Anoma, Damayanthi and Devika. Mr. Wijemanne began his political life in 1960. Although he lost three times, he continued working relentlessly with firm determination and won the Kalutara seat at the General Elections of 1977 with a majority of 14,790 votes, having contested under the UNP banner. Thereupon he was appointed as Deputy Minister of State Plantations. Due to the slump in the votes received in favour of the Government at the referendum held in 1983, he resigned from his position as Member of Parliament.
At the General Elections of 1983, Mr. Wijemanne won with a majority of 3701 votes and yet again secured the Kalutara Seat to become its representative in Parliament. Once more he was made Deputy Minister of State Plantations and continued to hold this appointment until the dissolution of Parliament in 1988. He was both a Member of Parliament and a Deputy Minister simultaneously. Being a very close friend of Sir Cyril De Soysa, a Buddhist leader in the area, Mr. Wijemanne expended his efforts and wealth both for the upliftment of Buddhism as well as for the advancement of education in the area.
He was one of the founders of Kalutara Maha Vidyalaya, Kalutara Balika Vidyalaya and the Kalutara Tissa Central School. He was on the board of trustees of the Kalutara Bodhi Trust and held the post of Secretary until his demise. He was a pioneer member of the Kalutara United Buddhist Society which managed the Kalutara Visakha Children's Home and Jawatta Elders' Home. During the period from 1941 to 1981, he functioned both as its Secretary and Deputy Chairman from time to time. From 1981 up until his demise, he was its uncontested Chairman. Mr. Wijemanne, while supporting the co-operative movement from the time of its inception, was a working committee member of the Kalutara District Co-operative Society. He rendered a great service not only as a politician, but also as a social service worker. He dedicated a substantial part of his life for the benefit of the people in the area. Although he was a Buddhist, he carried out projects of public interest, serving all equally and disregarding racial and religious differences. Oftentimes, he did not hesitate to seek the advice of other religious leaders when necessary. During his period of service, the roads and buildings that sprang up in the Kalutara District as well as the improvement in services such as power for homes, hospital services and water supply were significant.
The new bridge at Kalutara is an example of an outstanding monument built during his period of service. The best quality Mr. Wijemanne possessed was his simplicity. The higher he reached, the more humble he became. Even today, the services rendered by him for the people of Kalutara spring to our minds.
- Members of his family   
---
MARY JOSEPHINE PERERA and NANDA BANDARA
You are constantly remembered
It is with a heavy heart and bittersweet nostalgia that I pen this joint birthday tribute to you, on what would have been two days of joy and celebration had you both been here with all of us. Coming to terms with your loss has been a herculean task, and I continue to struggle with it every waking day. What hurts most is the fact that I was not lucky enough to see you both before you bid farewell to everything you'd known and loved.
However, I constantly remind myself of the words of wisdom you gave me day in and day out, I look back fondly on the beautiful stories you told me so effortlessly each evening while I sat with you on the big armchair in the porch when I was a child, I often reflect on the way I was so dependent on you when it came to my culinary escapades, I remember you singing "Danny Boy" while I played the piano and even though I faltered, you still smiled and continued to smile; reassuring me so that I would go on, I will never forget the joy in your voice when I called you almost every Sunday to tell you that an article of mine had been published, and I will never forget the joy I felt – seeing a meticulously kept file with all my poems and articles beside your belongings. It is at times like this that I put my overwhelming grief aside and smile, recalling what wonderful grandmothers I was privileged to have spent my childhood and teenage years with.
I was never the perfect granddaughter. There have been many times when I refused to listen to you, yet you were still so patient, so understanding and so kind. You have both enriched my life beyond compare and if I had any way to bring you back I would have done so in a heartbeat. You are both sorely missed by your loving husbands, for the void left within them by your demise is one that will never be filled. You are constantly remembered and honoured by your children, and it is your teachings, your unrequited motherly love and your inimitable aura of tolerance and patience that they impart on us; your grandchildren, today.
Dear Aththamma, thank you for teaching me the power of patience and for bestowing upon me the gift of kindness. It is you that I will think of every time I do a good deed. Thank you for your magical skill in storytelling, for leaving me spellbound every evening with your thrilling experiences during the World War, and for teaching me the morals behind all those Aesop's Fables. Your selflessness is a magnanimous quality I one day hope to have.
Dear Amma, thank you for your firm yet affectionate way of showing me what was wrong from right, and for your unwavering support in all of my endeavors. Thank you for encouraging me to go that extra mile no matter what the cause may be. Thank you for splurging on me and for showing me a good time. I carry the bag you bought me the very last time I saw you, with pride, and will always remember your words of wisdom.
Even though you may be gone, the legacies you both left behind; of light, life and love will live on in my heart for as long as I live. Instead of mourning your loss and all the milestones that we will never get to share in the future, I will look back on all the wondrous memories we lived through together, and celebrate the exemplary women you both were, and promise to emulate all the life lessons you taught me.
Thank you for being two beacons of light that shone ever so brightly, even in the darkest of night.
May your souls rest in peace.
- Ayodhya Perera
---
SYBIL ELVINA DE CHICKERA
You stood by those in need
The persistent ringing woke me from my deep slumber. It was the mobile by my bed. "Hello, who is this?" I mumbled half asleep.
"Will you come over, it's Mother. I have sent the car, it should be there sometime now." I woke up immediately.
"I am going to Bullers Road, Mother is sick," I told my half awoken wife. The driver took off pretty fast. We exchanged no words, there was no need to but the silence was ominous.
My thoughts went back to the day about a month ago when she was brought back from Singapore by some of the family who had accompanied her for medical surgery to John Hopkins. They said that the cancer was deep rooted and could not be removed successfully, although on the initial investigation before, the diagnosis was very optimistic. That's the way it works.
She had however true to her character borne up the prognosis of a virtual 'death sentence'. She had never been put off by the many trials she had faced in life as a wife, mother, grandmother, great grandmother, and an extremely lovable personality who always stretched a helping arm to whoever needed one. She was not put off by the hospital's report.
Sybil was strong in her faith, a true soldier of the army of the Lord, and she lived her faith as was evidenced by all those who flocked to see her when they heard of her diagnosis; her pupils of over 45 years of teaching, her friends of even a longer duration, and the many street people who regularly benefitted in so many ways by her reaching out to them.
As a mother she brought up four teens singlehandedly, when her husband departed this world at just 54 years; she was 12 years his junior. Today those 'four teens' are all 'senior citizens' with families of their own. She had 11 grand children and 11 great grand children (more now) all of whom loved their 'Nana' dearly when she was around.
To list out her attributes would be impossible, for she had numerous and all of them equally strong but it must be recounted that she loved to sing a lusty treble at most Sunday morning services at whatever Church she attended and there were many. 'The Church of the Good Shepherd' Jawatte, was where she worshipped as a child, a resident of Fife Road at the time, and where she continued to attend for decades. That was her first Church which she introduced us to, but later she worshipped at the 'Cathedral of the Living Saviour' as one of her sons was living on the precincts.
I was awoken literally from my reverie when the motion of the moving vehicle came to a halt. We had arrived at the Cathedral.
"Tell me," I asked the driver "was she serious when you left for me?" He looked down, eyes full of tears and then resting his head on the steering he started sobbing. My mum had been very good to him too.
I opened the car door and stepped out into the still dark night. The cold breeze hit me and I shivered. It was cold outside and inside, as I looked around at four or five cars parked around, black portentous humps. I slowly treaded my way into the wide verandah. The hall was crowded with silent people, men and women, all of whom I recognised, but none spoke, none looked me in the eye although they all saw me as I walked through. I was accosted by my brother as I was about to enter my mother's room. He held me tightly around my arm. "Mum's gone?" I asked. He nodded. I couldn't enter the room, it was crowded with family. I walked on.
The woman who had knitted the family together in strong bonds of love for over 86 years had gone to her Lord and Master as she believed she would, but in doing so she had left us, that night in August 2010. Now, I felt rudderless as I stood there in the meda midula not knowing what I was doing, what I was going to do, and so I cried.
- Lucky   
---
A. R. M. ZANOOSEY
Unforgettable in life and death
Aged 74, without a walking stick,
With a bag of fruits and a book of Islamic Recitals.
Swiftly, he walked along the corridor of the Nawaloka hospital,
With great anticipation, shown on his wrinkles, to rejoice over my arrival,
Nineteen years ago.
I, aged 12 and he aged 86, by the main doorway, in each other's company;
A passer-by from the mosque, after a conversation, glanced dubiously at my presence.
Then, with a pride, undeniably surplus for a man so elderly, he undoubtedly,
Stated, "This is my Great Granddaughter", valuing my presence.
Such is his honour, from years ago.
I, aged 13, confused at the mysteries, of the uneven bond
Of the 'Vijayabha Kollaya', wishing, in need, of the presence of someone.
He appeared as if, a youth at 87 or beyond,
And almost, teleporting me to the 1500s, a memory with no need to sharpen.
Such was his memory, till days ago.
The honorary, massive, voluntary contribution, during:
World War 2, service to save the civilians from the air raid
Threat by the Japanese. All were eager to know and he to make known, within:
The intentions of both Great Grandchildren and father, still engraved and never, decayed.
Such admiration, acknowledged by children of this millennium from years ago.
The shining gems, handpicked by my old gem merchant, Sparkling!
In twenty or so little pairs of eyes, as he, rewardingly held the polished blue sapphire,
His wit confident in praising his choice of gems; Gems are precious when beautifying,
But eager were we to discover the adventures of a gem merchant, in a spire.
Those were the aspirations of a gem of a man, from years ago.
Alas! My last visit, shaped by fear and misery.
A fear of losing him, an unbearable melancholy; He was not blind,
But he could not see me, he was not deaf, but he could not hear me.
But, he knew of my presence, merely yearning to know how I might be.
As I grew, he became older and older.
Nostalgia engulfed me, since days ago.
Memories of him, still, etched in my mind, unforgettable;
The attire of a giver; giver of wealth, giver of praise, giver of knowledge and giver,
Of love, all with the help of Allah. Aged 93 years, he remains, immovable,
Reluctant to perish, even after,
His demise, 5 days ago.
May Allah grant him Jennathul Firdouse!
- Nishaath Sumaiya Riza
---
HUGO LIONEL JAYALATH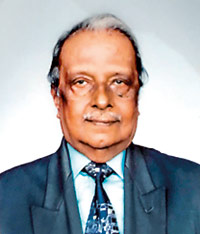 He worked very closely with the church
Hugo Lionel Jayalath of Talangama South, Battaramulla, my dearly beloved husband passed away at the age of 84 on December 19, 2015. He was a very loving, caring, understanding, faithful, humorous and jovial husband, father, father-in-law and grandfather and a gentleman.
He was admired by all his friends and relatives and was well known among all his village people as his mother was born and bred in Talangama and they lived here right throughout. His father was from Chilaw. His grandfather was the "Annavi" of our Church – St. John Dal Bastoni – Pelawatte Parish. Hugo was a Sunday School teacher and an Alter Server even after marriage and worked very closely with the church even before our church became a parish and more after with the coming of Rev. Fr. Michael Lanza, the Parish Priest in 1972. His assistant priest Rev. Fr. Gerard Garth used to get all the history of the church and information about the village from Hugo. Rev. Fr. Lanza passed away in 1992 and Rev. Fr. Garth became the parish priest who was the great builder of our church. He used to go to all the places for approval of the church building plans with Hugo.
Hugo was the second of six children, the elder being a Holy Family Nun Sr. Theophane Jayalath, the first Sri Lankan Principal of the Primary Section of Holy Family Convent – Bambalapitiya. Hugo's Aunt too was a Holy Family Nun Sr. Ovilia Adikari who was Head Mistress in several Catholic Schools.
We married on March 3, 1973. Ours was an arranged marriage. We had a very happy married life and have two daughters and three grand children. Hugo was a horticulturalist. He watered his garden every morning and spent hours in the garden.
- Patricia Jayalath  
---
Dr.S.B.D. DE SILVA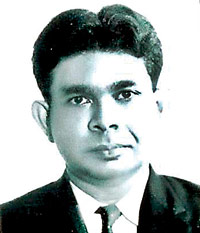 Valuable were the lessons learnt from this unsung scholar
Dr. de Silva (SB hereafter) was senior to us all not simply because he graduated some ten years before us but also because his insights into underdevelopment were far sharper and deeper than those of any of us.­­ SB wrote far more than he published. He always wrote but was rarely satisfied with what he wrote and continually revised what he wrote. We were surprised in some degree when he finally permitted the printer to go ahead and print his typescript for "The political economy of underdevelopment".
He wanted to write exactly what he had in mind, bereft of dross and ambiguity. He wrote mostly in the 1960s and the 1970s, well before the plethora of statistical material on development, both historical and contemporaneous, came out. He wrote as if he were carrying on a conversation with the writers whose work he was discussing. And the writers he was conversing with were not simply economists of the 1950s and 1960s but also the classical economists who taught us political economy, historians like Marc Bloch and colonial administrators like the Assistant Government Agent, Nuwara Eliya, among others.
The problem or problems he tried to understand belonged in the political economy of underdevelopment. It was well before we had the benefit of the work of the statistician Angus Maddison or the new economic historians like Carlo Maria Cippola or Joel Mokyer, all of whom with many others have helped us understand the processes by which underdeveloped economies of Europe in 1700 began to develop rapidly in the 18th and 19th centuries and transformed themselves into developed economies in the 20th century. The discourse on development in the 1950s was dominated by concerns with the scarcity of savings to pay for investment in underdeveloped countries, as evident from the early UN Expert Group Meetings. The 1960s were remarkable for the enormous attention economists and policy makers gave to human capital in the process of development. It was not till the 1980s that new institutionalists came anywhere near what SB was arguing all along. 'Economics, ever since Ricardo, has progressively distanced itself both from history and the humane sciences. For, while remaining as weak as ever as a basis for prediction, economics stubbornly clings to its foothold in the so-called exact sciences, through the use and misuse of mathematical logic as its fundamental analytical tool' (Cipolla). It is against this academic flood that SB swam.
One of the most valuable chapters (Ch.9) in his book is that about plantation agriculture. It contains insights into production relations in plantations and how they differed fundamentally from capitalist production which propelled economies in Western Europe into higher and higher levels of productivity. This at a time when leading economists in Colombo looked to plantations as the 'modern sector' that would lead the economy into prosperity. Plantations are a product of the 17th century economic conditions in the Caribbean that later spread to colonial Asia and Africa. And there is no evidence that the plantations mode of production piloted economies into modern prosperity. Such sectors normally employ labour with higher than average levels of general education and skills. In plantation labour we have had those with the lowest level of schooling and hardly any skills employable outside their immediate places of work.
SB was deeply interested in agrarian relations in the country. I came to know him when he, much senior to me in the bank, was kind enough to ask me to accompany him on his field trips to study the gambara system in the Hambantota district in the early 1960s. I had published a short essay on GPS in the Ceylon Economist, then edited by WadinambyAratchi, and that had caught his attention. We walked in rice lands in Ridiyagama and Lunugamvehera and talked to cultivators on their relations with landlords and their agents. And we returned to Hambantota Rest House to eat rice, salmon (canned fish) curry and pol sambal. This work helped me greatly in my subsequent work in Gal Oya Valley and preliminary work on the Mahaveli Project, still later.
He traced successive phases of colonial economic relationships: for example, the Portuguese here built fortresses to protect themselves from competitors and collected the produce for export; the English in contrast took to the production of exports and the sale of their own domestic production at home in colonial markets. In the 19th century European economies had output to sell in contrast to the 17th century when they had little to sell in Asian markets whose products were far superior to anything produced in Europe.With high productivity after the industrial revolution and imperial policies to promote home production, colonial economies underwent the long term stagnation that economists came to call underdevelopment in the 20th century The destruction of the Indian textile industry is the classic example. In the last chapter he extended the analysis of world economic development in colonial times to the present day (1980) but short of the collapse of the Soviet Union, and of course, the rise of China, India and Brazil as new economic powers. The emergence of these economies into prominence, slow growth and stagnation in the earlier developed economies and the new dynamics that have developed among them may benefit from review using his framework of analysis. That is a job for a younger man.
SB also had a glimpse into industrial development here when he worked in the Ministry of Industries where gentle T.B.Subasinghe was Minister. He understood immediately that producing for the domestic market with imported machinery and other input was an invitation to a balance of payments crisis, which the Bandaranaike government inevitably faced in the 1970s.This relationship was later formalized by people like Bella Balassa and Ian Little.
SB also taught at university both in Penang and Peradeniya. He knew his students well.
Dr.S. B. D de Silva is an example that for scholars, it is far better to know than be known.
- Usvatte-aratchi