Tea production plummets
By Sandun Jayawardana
'The drought is killing the tea industry'
View(s):
The prevailing drought has had a severe adverse impact on producers of both low-grown and high-grown tea, with many struggling to cope due to a sharp drop in production.
"There has been no rain in this area for 48 days. As a result, our produce for March is down by 75 per cent compared to last year," said Nilantha Weerasinghe, Factory Manager of Broadlands Tea Factory at Kalugala in the Nuwara Eliya district.
The area had received rain on just five days in the previous two months – two days in January and three in February. "The situation for tea producers here is precarious," Mr. Weerasinghe observed grimly.
The mood was just as grim down south. Indika Nallaperuma, a Director of Evergreen Group, one of the leading producers of low-grown tea, said there was a 40 per cent drop in the supply of tea leaf. Evergreen has 10 tea factories in the Southern Province, mostly in the Galle District, and Mr. Nallaperuma said the situation was much the same at all of them.
He said the removal of the fertiliser subsidy and the drop in tea prices was a double blow. "A kilo of tea is currently selling at about Rs. 65. The production cost for most is about Rs. 50-55. The removal of the fertiliser subsidy also means that a kilo of fertiliser, which was around Rs. 1,300, has now gone up to more than Rs. 3,000. When you take all these factors into account there is really no profit in this at the moment," he said.
Even if rains were to come now, Mr. Nallaperuma pointed out, it would be too late for most tea smallholders as there was not enough time for the produce to go on the market by the Sinhala and Tamil New Year. Many factories had already halted production altogether, he noted, adding, "as a result, a lot of people will not be in a position to celebrate the Avurudu season."
The Director of the Uruwala tea factory in Akuressa, Matara. Thilak Wanigasekara, said the factory now only goes into production every other day. "The produce is reducing every day as we watch," he said. The decrease is alarming, he said, with daily produce going down from 5000kg to 4000kg and now 3000kg inside a week.
"We usually produce about 350,000kg a month. As of now, we might only be able to make about 170,000, which is half that," Mr. Wanigasekara said.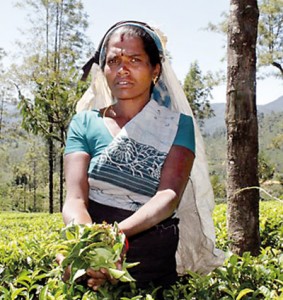 "The drought is really killing the industry," said Jeewaka Raddalgoda of Ceylon Estate Teas (Pvt) Ltd, a subsidiary of Pussellawa Plantations PLC and Mathurata Plantations PLC.
He said the tea industry in the past had been hit hard by various world events, including the US invasion of Iraq, the subsequent violence in the Middle East, sanctions and economic embargoes on certain countries, recession, and market turmoil in countries such as Russia. These situations meant that the number of orders from these regions for Ceylon tea had fallen.
"The industry was just starting to come out of this situation when the drought came and reduced production," Mr. Raddalgoda said, adding wage increases for estate workers and the increase in fertiliser prices on the other were making business extremely difficult for estate management.