Scouts Association President -Batuwangala no more
View(s):

The funeral of the President of the Sri Lanka Scout Association and former Chief Commissioner, Chandrasena Batuwangala will take place today (27) at the Mount Lavinia General Cemetery. He passed away on Friday.Mr. Batuwangla started his scouting career in 1947 at the 23rd Colombo Scout Troop at Girls Cathedral College, also known as Gal Palliya at Modara in Colombo.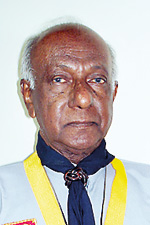 He entered the University of Ceylon Peradeniya in 1955. Graduating in 1958, he entered the teaching profession that same year at the Sri Rahula Vidyalaya in Katugastota and started a scout troop at the school.
Though he was away from scouting for a considerable period, Mr. Batuwangla rejoined the movement in 1983 after admitting his son to the 42nd Colombo Scout Troop of Royal College. Beginning as an Assistant District Commissioner, he rose to become District Scout Commissioner, Assistant Chief Commissioner for Western Province, Chairman of the Executive Committee of Sri Lanka Scout Association, Deputy Chief Commissioner and finally Chief Commissioner.
His body is now lying at his residence at 4/4, Sumangala Road, Ratmalana.  All scout officials and scouts are requested to be present by 2 p.m. at the residence today to pay their last respects and participate in the funeral procession.