Rising prices put basic bread out of reach for poor
By Kasun Warakapitiya
View(s):
The increase in the price of flour is sending the price of bread and other flour-based products out of reach of poor people who depend on them as cheap food.
Bakers, caterers, restaurant owners are planning further increases after a kilo of wheat flour increased by Rs. 7.20.
As an immediate result, bread was increased by Rs. four.
Among the hardest hit are low-income groups such as plantation sector workers and labourers who depend on bread for their meals.
Nadeeshan Maniraj, an estate worker from Kotagala, said he and his family of five use wheat flour as a staple their cooking.
The 54-year-old said it was difficult to maintain his family on a daily wage of Rs. 450 and he is in debt.
"We use wheat flour daily but now it's becoming unreachable due to the increase in price. So far, I manage by taking loans from people but I cannot meet this additional burden and keep providing my family like this for much longer," he said
"The bread price and wheat price soared up but our salaries remain at the bottom so we find it difficult to sustain ourselves," he said.
Construction labourer Singaraj Roshan said he used to take home kottu and paratha sometimes for dinner but now refrained from doing due to the high prices.
"My two sons and wife love short-eats but now I don't buy them because I'll have to spend more than Rs. 120 from my Rs. 400 daily salary," he said.
Three-wheeler driver Wasantha Jayalal from Dematagoda said he now brings food from home for his lunch or dinner while working.
"I was used to eating bakery products at evening and at lunch time for a change but now prices of some buns have reached Rs. 150-200, the sum I earn for a short-distance hire," he said.
He said his wife was bearing the brunt of the inconvenience because she had to prepare meals for him every day.
A. Jagath Chandarasiri, a herbal gruel seller who also sells betel, said he never buys bakery products because he cannot afford them.
"Every government imposes taxes and robs the innocent consumers, and a new system of the burglary has come in the form of taxes," he said
The bakers' union, restaurant owners and mobile pastry sellers say price increases for their products is unavoidable but they fear business losses as a result.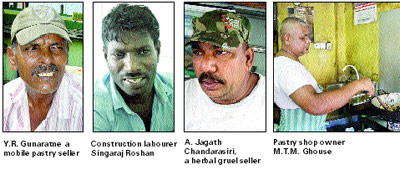 All-Ceylon Bakery Owners Association Chairman N.K. Jayawardena said the price of bread at 1939 had been about 10 cents but through the years had reached Rs. 58 due, he said, to taxes.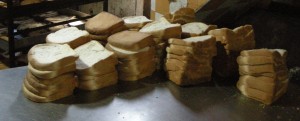 Pastry shop owner M.T.M. Ghouse said that a roll he bakes is sold for Rs. 15 while a patty or vegetable roti is Rs. 25.
"I will bear the brunt of the flour price increase. If I lose my customers I would be forced to close down my shop," he said.
Y.R. Gunaratne, a mobile pastry seller who operates from Dematagoda to Wijerama, said business had become difficult. He only made a Rs 5 profit from each item and could not increase prices any further.
A café owner selling kottu in Slave Island, D. Matheesh, said he had increased kottu prices by Rs. 10 but immediately felt a drop in custom and therefore was compelled to cut prices.
Finance Minister, Ravi Karunanayake, said that the price increase was effected to sell off the excess of rice stocks remaining in government stores.