Danny's Easter Joy
View(s):

Easter story by Rebecca & Hannah Ratnam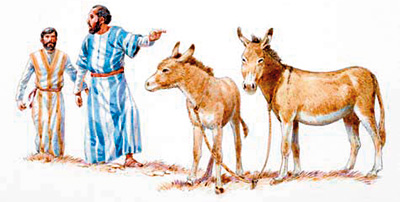 It was spring in the little village on the Mount of Olives where I was born just over a year ago. Butterflies fluttered over valleys and green hills bloomed red, pink, yellow, purple, blue and white with poppies, cyclamens, daisies, cornflowers and anemones and singing larks soared into the blue sky.
I breathed in the perfume of the lilies of the field. Life was good. "It's a beautiful morning, mum. I'd love a walk," I whinnied, nuzzling her neck as we stood side by side, tied to a post in our master's garden.
"I know, dear, but its better we keep away from the crowds flocking into the city for the Passover."
"What's Passover?" I asked curiously.
"It's when Jews, like our master Benjamin and his family, remember how God freed their ancestors when they were slaves in Egypt many, many years ago. They celebrate it by coming to Jerusalem with families and friends. Can't you hear the noisy crowds and laughing children?"
"Where? Where? Let me see! It seems like a lot of fun," I said trying to stand on the tips of my hooves and look over the garden wall.
Just then two men came along and began to untie me. I moved closer to mum who had a 'how dare you touch
my baby?' expression on her face.
"Hee Haw! Hee Haw! What do you think you are doing?" she brayed loudly
The door flew open and our master and his wife Ruth came out. He sternly asked the same question my Mum had asked. I pricked up my long ears to hear better.
"Shalom!" they bowed, smiling, "Benjamin, the Master has need of them."
To my amazement, he grinned, "Of course, of course, take them to Jesus."
I couldn't believe my ears and looked inquiringly at mum. She nudged me, whispering, "Danny, it's okay, they know what they're doing."
"Jesus, Master here they are!" A tall man brushed my fringe and looked into my eyes. I blinked into the kindest eyes I'd ever seen, even kinder than my mum's. More friends of Jesus arrived.
A small soft cloak was placed on my back.
I looked up at Mum. "What next?"
You see, I'd never carried anyone on my back before. Mum was thoughtful.
Then, Jesus sat on me ever so gently, and slowly placing one hoof in front of the other, I began to walk forward with mum beside me, urging me on.
As we neared the gate that lead to the great city of Jerusalem, the street became narrow, the crowds noisier. I felt nervous and trembled. Jesus caressed me.
Someone in the crowd shouted, "Rejoice! The King is coming to save us!
He is coming riding on a colt!"
"A colt? That's me, isn't it?" I whispered to mum feeling a thrill run through me. Some people spread their cloaks on the road while others waved palm branches and children clapped, sang, pranced and danced around us.
Everybody was excitedly shouting "Hosanna! Hosanna! Blessed are you!"
"'Hosanna' means 'save us'", said Mum anticipating my next question. Yes, my mum has lived here a long time and she knows a lot.
As we passed a group of proud men in long cloaks and head coverings, one of them cleared his throat, "Ahem," and spoke in a harsh whisper, "why don't you ask your disciples and this crowd to be quiet and behave themselves?"
"They are jealous of Jesus," Mum quickly pointed out and I agreed nodding.
Jesus stopped and asked, "Why does it upset you that they are calling me their king? If I ask them to be quiet, the stones will shout with joy and welcome me," he smiled.
I wondered, "Who is this Jesus whom even nature will praise?"
Suddenly, I stood still. Before me was a place so different to the flowered hills, golden fields and green valleys.
"That's Jerusalem," said my Mum.
I was awed. "It's beautiful!" I brayed my favourite describing word and meant it.
Marble buildings glimmered and domes glittered in the sunshine. It was a city built for a king and I had brought the King.
Jesus had ridden on my back to Jerusalem. I'd wished for a walk and got an unforgettable ride!
Suddenly, I felt Jesus shudder and heard a great sigh escape from his lips. Then hot tears fell on my neck. "Why is Jesus weeping when everybody is so joyful and his close friends are slapping each other on their backs and smiling broadly?"
I wondered.
Then, I heard Jesus say, "Oh Jerusalem, Jerusalem if only you knew the disaster that's going to fall on you in the future!" But still I did not understand.
Jesus got off my back. I saw that his cheeks were still wet and tears still filled his eyes but he caressed me and told my mum, "That's a fine son you have, my dear. Thank you." He asked his friends to return us to our master.
A few days later, we heard that Jesus had been crucified on a cross and killed by some very bad people. I asked Mum, "Why?" But this time she had no answers.
I felt very, very sad and wept donkey tears.
Then, one morning exactly a week after Jesus had ridden me, I woke up to see the sun shining brightly, birds singing merrily, buds bursting into bloom, lambs gamboling in the fields and new life in nests and burrows.
Benjamin ran in waving his hands, "Jesus has risen from the dead! Peter and John just told me." Ruth smiled, "Yes, I know. Mary of Magdala stopped by to tell me she saw Jesus and he spoke to her!"
Mum and I nuzzled each other, our eyes sparkling with Easter joy.