'Stars of tomorrow' showcase
Indiana-Wells and Alexander Zverev
View(s):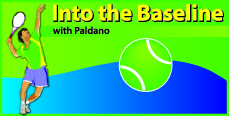 Career options available to 'ex Tennis players' today are never a clear one. In the late seventies and early eighties it was worse than today. It was the tail-end of the amateur era and USA's number one of the seventies' Charles Passarell of Puerto Rico used his wisdom extremely well to secure for himself a good future when his competition career came to an end. He created the Indiana-Wells event. Indiana-Wells was fostered on the Californian desert and is on its 41st leg this year. It is one of the nine ATP Masters 1000 series events in the annual calendar, offering over six million dollars in prize money.
Timing of the event is such that it has become the annual curtain-raiser for the world's Tennis season and place new comers are noticed. While Europe is in deep winter now, it is the 'short spring' of the Californian desert. The vision of Passarell has enhanced the stadium with a theme park. Charlie Passarell is also well known for playing the longest Tennis match in Wimbledon against fellow American legend late Puncho Gonzales. In the pre-tie break era, the match between them went passed the 100th games mark, lasting over 5 hours and played over two days.
Alexander Zverev
The 18 year old Zverev's family moved to Hamburg in 1991, two years after the fall of the Soviet Union. His father also named Alexander Zverev Sr. was a professional Tennis player who played for the Soviet Union and his mother, Irene is a Tennis coach herself. Micha, Alexander's elder brother is also a Tennis-professional and both were born in Hamburg, Germany.
Zeverv is fix foot six in height and weighs 86 kilos and currently ranked 56 in the men's ranking. With a smart game accompanied with appropriate strokes to match his build and temperament, he is well armed to be a successful player. In the three years he has been in the circuit, he has earned the name 'star of tomorrow' conferred to him by the ATP. Currently he is resident in Monte Carlo which has become the European Tennis players' base. He also trains in Saddle Brook, Florida USA. He is named as one of the top ten next generation players. It was well predicted and he won the Rotterdam title this year.
Impressive Wins
Indiana-Wells attracts Tennis fans from the Pan American basin. In the first round of Indiana-Wells, Zeverv came through a three-set match and repeated the performance against Bulgaria's Grigor Dimitrov ranked 26 in the round of 32. In the very next round he got France's Gilles Simon ranked 19 out of the draw in an impressive two-set win taking just over an hour. Now, he is pitched against Rafael Nadal. So it could be considered he has sent a strong message around to announce that he has arrived.
Strength of Zverev
Zervev's game does not give the opponents much space tactically and recovery time to sustain the rally while engaging him. Tactically it restricts opponents' to make the next move to overpower him. Ultimately the restriction reduces opponents shot selection and reduces court targets. In the match against Simon Gilles it was very visible. He is certainly on his way up with no visible weaknesses. There is nothing he cannot do and every department of his Tennis produced winners. Zervev's physical specifications certainly match the needs of big Tennis and this year will be a critical one for him. The first challenge would be to keep his body from break-downs and the second and the critical one is to remain motivated throughout the year. At this age motivation is critical for performance.
Attractive Tennis
Indiana-Wells is a ten-day event which has reached quarter-finals stage in both genders. Men's casualties from the top ten are Andy Murray who lost in the round of 32 and Stan Wawrinka in the round of 16. Djokovic and the rest of the top ten are intact at this stage.  The women's draw had a few casualties from injuries but the seeded lineup is in place for the quarter finals. Top ten players Halep, Williams, Radwanska and Kvitova played fighting games to remain in the draw.
Doping watch dog
After the recent shake up, players will have to be careful even to have a commercial drink or even an ice cream, for that matter as WADA's list of prohibited items is very wide and the testing methods are extremely sensitive. Medications for common cough and cold have some of the prohibited substances. WADA is determined to clean up sport stating it is 'long overdue'. So much so it is the general public's opinion that the 'mega stars' have been getting away with it for a long time. However one has to remember that a player is always innocent unless proven guilty.
Pioneering effort
From what I know no other Tennis player has created an event big and impressive as Charlie Passarell's Indiana-Wells. It's history is a mirror image of 'Bugsy Siegel' creating the successful gambling den 'The Flamingo' in 1946 which gave birth to the metropolis of 'Las-Vegas' in the middle of waterless Nevada desert. It takes a lot from a man to do such things. The annual timing of Indian-Wells has made the event 'show case for stars of tomorrow'.
George Paldano, Former int. player; Accredited Coach of Germany; National, Davis-Cup, Federation Cup coach–. georgepaldano@yahoo.com