School Cricket! Where is it heading?
By Forward short-leg
View(s):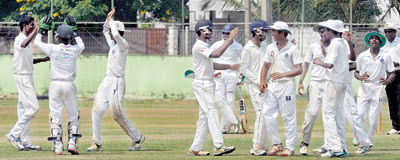 It is a proven fact that the current School Cricket format is not structured towards nurturing Schoolboy Cricket. This is no surprise when you look at the manner in which the Sri Lanka Schools Cricket Association has scheduled its matches.
Schools have been requested to play eight tournament matches in addition to their traditional games which in most cases numbers to between five and eight. At the completion of the eight tournament games the 16 schools qualifying for the second round are requested to play their pre quarter-final games which is squeezed between the weekend games.
A school in Colombo was forced to play their second eleven team in the pre quarter-final as their first eleven team had a packed schedule. On top of all these games the SLSCA has even scheduled a limited over tournament and these same schools have been requested to complete their Limited Overs game before a deadline. And now we hear that within this month the T-20 fixtures will also be drawn up. So the Schools Cricket Schedule now consists of Tournament games, Traditional games, Tournament Second round games (Pre-quarter, Quarter, Semi -final, Final all which are of two day duration) Limited Over Games (50 overs) and T-20 games. Thus the quantity of Cricket is enormous!
Hence, the question that is being asked in most schools today is whether this structure/format is the way forward? Is it really nurturing the Schoolboy Cricketers? Are we producing Schoolboy Cricketers who can graduate to the next level by playing so much of school cricket? On the other hand can Schoolboys handle so much of cricket along with their academic activities? Are the schoolboy cricketers being over worked! Stressed out! The entire Country watched how are Schoolboy cricketers who have played so much of Cricket performed at last month's World Cup in Bangladesh.
We were humiliated by our Asian neighbours India, Pakistan and Bangladesh. So where is our School Cricket heading? It's time the Education Ministry if not the School Administrative Authorities step in and intervene! Who is benefitting from so much of Cricket that is being played? Is the SLSCA an authority by itself? What can the SLC do about it? We are aware that SLC itself is in a big mess with its own tournament structure, however if the Country is to benefit there is a radical need to revamp the School Cricket Structure.