Roshan's theory of cleaner Cricket
View(s):

It is not every day that a person in the calibre of Roshan Mahanama decides to take a stroll along with you to share a few thoughts on cricket in general. However in this instance we had a special reason. The reason being it is now a score of years since Sri Lanka won that ICC cricket World Cup.  Since then those few cricketers who converted that dream to a living reality have come a long way. Especially for Roshan Mahanama it is a legacy that he has come to terms with. After his cricket exploits with the bat, he took the cue further in cricket by becoming one of the most respected match referees in the ICC forum.

Now he has relinquished that burden also from this from his list of priorities. For Mahanama spending the next phase of his life with quality family times takes pride of place. Yet, I felt that he had a tiny window left opened for the game of cricket and I intended exploit it.  So, I made my little chat with as brief as possible, but, yet I wanted to know how he saw Sri Lanka's last few years of Sri Lanka before the '96 World Cup win, and the impact that it made on them after winning the World Cup. In general cricketing terms and if we have used this opportunity to take the Lankan game into the next plane.

He said that while talking to a few current players and a few of the personalities who have reached certain status in life they say that they saw the real value of the 1996 World Cup victory in a different perspective. He said that the next generation arrived at the conviction that we Sri Lankans too were capable of accomplishing any task if they set their minds upon it.
The stylish Lankan opener added that in the pre-96 era no other country took Lankan cricket seriously, in spite of Sri Lanka had one of the most experienced sides going. "No one gave any chance.

We had experienced cricketers, cricketers who exactly knew their role. However my in thought was that by 1995/96 we were in a position to stand up with the rest of the crowd and compete on our own terms with the best of the best in the world.
"I will always give a credit to Dav (Davenell Whatmore). Then the then Cricket Board President Ana Punchihewa for the vision for getting someone like Dav, on board. Mr. Punchihewa and the cricket administration would have had to get support and assistance from personalities overseas and at that time we were not aware of those facts. We learned about them only later on in life.

"Mr. Punchihewa once had been explaining about the task of getting Whatmore down to Sri Lanka and getting down services of Alex Kontouri. In the 1992 World Cup I remember Sri Lanka was the only side that did not have a 'physio'. I remember when we tried to get that message across to the administration they did not see the importance of it. They kept on saying that we must start performing, you should training and winning for them to consider a 'physio'. The reason in having a physio is to look after the players and manage them. For instance take Rumesh Ratnayake and Chaminda Vaas.

Rumesh was one of the best fast bowlers we have had in that era. Just look at where Rumesh stands. How many games did he play in his career, he was injury prone? I feel that Chaminda Vaas who bagged 355 Test and 400 ODI wickets would have lasted for so long if he was not managed properly. This is my view of the comparison. People like Kontouri were always there when Vaas needed support". Mahanama was of the view that, that was the support that Sri Lanka cricketers needed from the top. He said that Lankans knew how to play their cricket.

The Lankans had learned how to analyse certain situations, but, Whatmore was smart enough to know in what areas that Sri Lanka cricket needed their support. He added, "We see when you look at the statistics of some of the players who played in that era it does not justify the talent. We really blossomed out after 1996. In 1995 onwards we began by beating Pakistan in Pakistan. Then we won a tournament for the first time beating West Indies who were a great side at that time. Then when we beat Australia – once again and made it into the final of the Triangular tournament.

We saw an upward trend since 1995. It did not happen overnight, it was a case of disciplining ourselves and sharpening our skills in cricket during that time. Like I said before it was a case of Dave knew how to get the best out of our players. Yes, we may have had our won differences, but, when we took that step across the boundary line all players united and we played as a team". Mahanama then added in retrospect when we talk to people we learn what sort impact that we have made by Sri Lanka winning the Cricket World Cup in 1996.

Then the Sunday Musings asked in the aftermath of the World Cup win, the Lankan Cricket began to develop in quantity, but, how did it develop in quality and what were the reasons for that? Mahanama began his reply in this manner, "I once remember Chaminda Vaas summing up a thought to this effect that the '96 win would be the start and the end of Sri Lanka cricket or something to that effect. Even at times I felt in success one tends to forget the path that we need to take and also what we can do to improve.

"I feel that by winning that World Cup we attracted people who want to compete to be administrators. If you look at the last twenty years you have the same set of administrators and they are passing the buck from one regime to the next. But what we really should do is to find out what we need to do to take that step forward." He took Bangladesh as an example. Mahanama was of the view that Bangladesh's outfit is not as good as the Lankan's. But, they are doing well the in the international arena. It is because they have put certain mechanisms in place.

Yet, it is Lankans who have put those proper mechanisms in place. At the same time the Bangladesh cricket is also coached and managed by a Sri Lankan staff. So, it was not a case of not having to proper expertise in our Lankan larder, but what we lack here is continuity. He said that when one regime sets on a programme, the next regime that comes in to power changes it. It is a case striving for power and trying to keep a section of the people who supported them satisfied. The former ICC official added, "I do not think we come there to make people happy or satisfied. They have to come there to serve.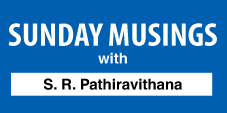 "For sure I would not want to go in to face a cricket election. Why should I fight and compete if I want to serve Sri Lanka cricket? I don't want to do that. Everyone who come forward say that they want to do the best for the game, but, when they look back and see whether they have done that? I feel that there is a lack of discipline from the top to the bottom and it hurts. For instance – there was a time in an anti corruption case it was always the example came from another country, but, now it is coming from our own backyard. So! Have we moved forward? I will, leave it up to the readers to judge!
How can someone who has never played game go into a training camp or become a net bowler? I just cannot accept it. It is not X, Y, and Z everyone is responsible! But the problem is there is no one to take the responsibility! They are there to blame someone." Mahanama said that he had no personal problems with anyone. He said "I hear that the current administration has a short term, medium term and a long term vision. If they come to a discussion, everything that I say will be not right and the same time everything what they say is also not right.
We need to put all our heads together come with a common plan and go for the next five years. If the regime changes in two years the process should continue. Feel that this has not happened and some others who are blaming the others have been a part of the other team also. "I always say that I am under obligation to only the game of cricket. This game basically has given me everything in life and made me who I am. We should always encourage our young cricketers and teach them the values and work towards it and become true ambassadors of the country. "Some may say that we only criticise and do nothing about it. Yes, I would like to help, but, for that, there should be a plan which is realistic and futuristic with no hidden agendas. If the situation is conducive, yes, I certainly would like to be of help".