Pawan leads but Thambawita closing in
37th Bata-the Sunday Times Most Popular Schoolboy Cricketer of the Year 2016
View(s):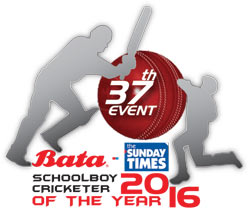 Despite Pawan Dias of Royal College Panadura holding on to the lead of the 37th Bata-the Sunday Times Most Popular Schoolboy Cricketer of the Year 2016, Lahiru Thambawita of Holy Cross College Kalutara continues to build up momentum as the contest approaches its sixth week. While Pawan takes his tally to 2193 votes, with the addition of 214 from last week, Lahiru claimed a great stake of votes in the concluded week. Lahiru had 935 votes last week when he jumped to second place from fourth. But this week he became stronger with the addition of 536 votes, the most received so far in this contest, to remain in the place he earned last week with a tally with 1471 votes.
Last week Pawan led Lahiru by 1044 votes but by this week the deficit has come down to 722.  Lakshina Rodrigo of St. Peter's College, who was pushed down to third place last week, has accelerated a bit and with the 199 votes he received this week, his count goes up to 975. Ravin Sayer of Trinity College and Malshan Rodrigo of St. Joseph's College remain unchanged at fourth and fifth spots sans impressive addition to their totals. Kevin Perera of Maris Stella College Negombo surges forward to 11th place after entering the contest last week while Sammu Ashan of Ananda College and Sachin Gamadikari of Maris Stella College Negombo moves up slightly.
Madawa Fernando of De La Salle College Mutwal still remains as the leader of the Emerging Schools category despite the entry of Dilshan Madushanka of Siri Piyarathana Central Padukka last week. If Dilshan has intentions of challenging Madawa it may take a bit of time as the deficit between the two is 748 as at this week, which is way ahead from last week. The International Schools category is yet to kick off. Coupons of the 37th Bata-the Sunday Times Most Popular Schoolboy Cricketer of the Year 2015 will appear on Wijeya Newspaper's dailies, the Daily Mirror and Lankadeepa and also its weekend English issue, the Sunday Times and the Sinhala weekly Deshaya. Readers will be able to send in as much as coupons in favour of their favourite schoolboy cricketer until mid May.
All-Island Schools
Name School
Pawan Dias Royal College Panadura 2193
Lahiru Thambawita Holy Cross College 1471
Lakshina Rodrigo St. Peter's College 975
Ravin Sayer Trinity College 434
Malshan Rodrigo St. Joseph's College 303
Pasindu Sooriyabandara Royal College Colombo 168
Ravindu Kodituwakku S. Thomas' College 87
Gishath Panditharathne Royal College Colombo 77
Himasha Hashen Dharmapala Pannipitiya 74
Geethal Fernando St. Benedict's College 68
Kevin Perera Maris Stella Negombo 62
Charana Nanayakkara Thurstan College 59
Yohan Mendis S. Thomas' College 59
Sachinda Gamadikari Maris Stella College 52
Sammu Ashan Ananda College 50
Kamindu Mendis Richmond College 48
Kavindu Bandara Nalanda College 46
Charith Asalanka Richmond College 39
Nipun Samarasinghe St. Joseph's College 35
Thulina Dilshan St. Benedict's College 28
Lasith Embuldeniya Royal College 22
Emerging Schools
Name School
Madawa Fernando De La Salle College Mutwal 832
Dilshan Madushanka Siri Piyarathana Padukka 84
Readers prizes go to: 1. K.S.M.P. Fernando, 141/24 A, Molawatte, Rilaulla, Kandana, 2. W. Ariyasena, 50/3/1, Heenatikumburu, Talangama North, Battaramulla, 3. Jayasanka Fernando, Jayantha Stores, Marawila, Chilaw, 4. Palika Madumali, Samagipura, Angamuwa, Padukka.