WNPS lecture: 'The leopard in Sri Lanka'
View(s):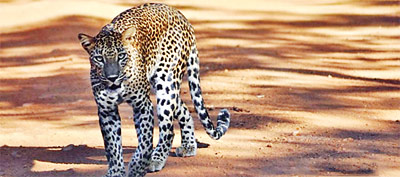 The Wildlife and Nature Protection Society's Monthly Lecture in March, 'The leopard in Sri Lanka' will be held at 6 p.m. on March 17 at the Meteorological Department Auditorium, Bauddhaloka Mawatha, Colombo 7.
The leopard is Sri Lanka's apex predator, an endangered, endemic sub-species that plays an integral role in the effective functioning of the island's diverse ecosystems. Despite this important role, there remain many unanswered questions about Sri Lanka's only big cat.
Aware of these knowledge gaps, the Wilderness & Wildlife Conservation Trust's (WWCT) Leopard Project, founded and operated by Dr. Andrew Kittle and Anjali Watson, has been working to improve the understanding of the leopard in Sri Lanka for the past 15 years.
Their research has created and maintains an ongoing database of leopard distribution data in the country and has highlighted the importance of unprotected areas and especially small, seemingly isolated forest fragments, to future leopard conservation.
A key aspect of understanding leopard ecology at the population level is to investigate finer scale patterns and processes. In this presentation, Kittle and Watson will be focusing on some of the habitat-specific studies that they have been conducting around the country with a particular emphasis on recent abundance surveys from Horton Plains National Park and Wilpattu National Park.
Also to be touched on at this talk is their ongoing work of quantifying leopard mortality, threats and incidents across the island and the launch of a new human leopard co-existence initiative arising from this work.
Dr. Andrew Kittle is a zoologist who in addition to conducting research on the Sri Lankan leopard has studied the behaviour and spatial ecology of large carnivores across systems and continents including wolves in North America and lions and hyenas in Eastern Africa.
Anjali Watson's MSc work formed the basis of the ongoing island-wide distribution and resource selection study of the Sri Lankan leopard. Both Andrew and Anjali have been members of the IUCN's Cat Specialist Group since 2002. Their research has been published internationally and their Sri Lankan leopard study is what informs the IUCN's Global Red List of threatened species.