Sirisena isolating Rajapaksa, also brings UPFA under his fold
By Our Political Editor
View(s):
SLFP and joint opposition led by Dinesh work together on Constitutional and other important issues
PM taking charge of economy for crisis management
Zeid says coming months important for Sri Lanka; contradictory claims on foreign involvement in alleged war crimes probe
It has been an important and significant week for the eight-month-old United National Front Government.
The brewing economic crisis spilled over to the public domain. Prime Minister Ranil Wickremesinghe spelt out in Parliament on Tuesday some of the key measures to cope with the issue. More are due. Parliament also unanimously approved a resolution moved by him, with important amendments, for a Constitutional Assembly, or a full Committee of the House, to draft a Constitution. In Geneva, the United Nations Human Rights High Commissioner Zeid Ra'Ad al Hussain declared on Thursday that the coming months would be important for Sri Lanka. His comments came after a Cabinet Minister, just the day before, told a news conference Sri Lanka would not favour any foreign involvement in an alleged war crimes probe.
This is while the Attorney General's Department is fast tracking cases on which probes have been completed by state investigating arms. A high ranking Government source said new Attorney General Jayantha Jayasuriya was arriving in office as early as 6 a.m. and leaving at 7.30 p.m. in a bid to clear a backlog. He took a few days leave this week so that he could attend a family function overseas. A few cases were filed this week too.
As revealed in these columns last week, Prime Minister Ranil Wickremesinghe announced a set of tax proposals in Parliament on Tuesday. He said Non-Corporate Income Tax and Corporate Tax would remain at previous levels and proposals in the 2016 budget would not apply. VAT would be increased to 15 % and Corporate Income Tax to 17.5 %. The Capital Gains Tax which was withdrawn in 1987 would be re-introduced. Whatever remains of November last year's budget was being undone. The new taxes will lead to price increases in a variety of goods and commodities. Yesterday, the price of a kilo of Prima flour went up by Rs. 7.20. This will raise the price of bread, a common diet among Sri Lankans, to a new high.
PM questions ratings
The Premier's announcement came as a second international rating agency revised the outlook on Sri Lanka from "B+" long term sovereign credit ratings to negative from stable. Standard and Poor said the country's weakening external liquidity has been "driven inter alia, by the following trends:
= Our expectation of the trade deficit widening to an estimated 11.4% of GDP in 2016, versus 10.2% in 2013-2015. This development is due partly to a sharp rise in motor vehicle imports for investment purposes and personal use. A reduction in import-related taxes on motor vehicles in the 2016 budget, low interest rates for leasing facilities, and increases in public sector salaries were reasons for the higher demand.
Our projection of net current transfers — mostly workers' remittances, of which more than half come from the Gulf states — dropping to 7.2% of GDP in 2016 versus an average 7.7% in the three preceding years.
A pickup in short-term capital outflows.
On the financing side, negative net portfolio inflows in 2015. We currently do not expect a recovery before 2017.
Earlier, Fitch ratings downgraded Sri Lanka to "B+" plus negative from "BB-"in view of "increasing risks, growing debts and decline of reserves."
"There were dead bodies scattered around. How did they not discover this earlier? Why such ratings now?" asked Prime Minister Wickremesinghe who has personally taken charge of charting the course for the country's troubled economy. He said it is "we who found these bodies and collected them." He forecast that there would be a significant turnaround in the economy by mid-year. The Colombo Port City project would get under way and Japanese help was due to develop certain sectors, he said.
Wickremesinghe told the Cabinet of Ministers last week that in the next six months the Government would be able to finalise agreements and approvals to enable manufacturing IT and hospitality enterprises from China, Japan and India. He said, "Furthermore, in Sri Lanka there have been a number of requests in respect of starting refineries and other projects. The Chinese Government is taking the total development of Hambantota, while Sabhana is undertaking the development of Trincomalee and discussions are ongoing with the Japanese Government for the development of the expansion of Kandy. There are a number of other investment proposals from foreign firms. But all this will bear fruit only if the investors have confidence in our country."
Premier Wickremesinghe said legislation would soon be introduced to give legal effect to the tax proposals he outlined in Parliament on Tuesday. "There are a lot of other things. We have to take a closer look at different sectors and determine tax generation without hurting the low income groups," he told the Sunday Times. A process to identify "what is necessary" was now under way. In clear terms, he was cautioning that more enhanced taxes are on the cards.
Constitutional measures
It is in this gloomy economic backdrop that Parliament on Wednesday unanimously approved Wickremesinghe's resolution for the establishment of a Constitutional Assembly or a full committee of the House to draft a Constitution. The resolution itself had to undergo some significant changes. It had originally declared that "it is necessary to enact a new Constitution for Sri Lanka." An amendment together from the "joint opposition" and the Sri Lanka Freedom Party (SLFP) sought to delete the word "new" and this was agreed upon.
That leaves a broader definition. On the one hand it does not preclude the drafting of an altogether new Constitution. On the other, however, it leaves the option to retain any provisions in the present Constitution. The latter would thus mean, at least technically, that the existing Constitution would be amended.
It is noteworthy that representatives of the "joint opposition" led by Mahajana Eksath Peramuna (MEP) leader Dinesh Gunawardena and others met together with a group of SLFP Ministers to work out their joint position. It was only thereafter that Minister Susil Premajayantha was given the task of handing it over to Premier Wickremesinghe. At the request of this group, two other pre-ambular paragraphs have also been deleted from the original resolution. The deleted paragraphs read:
"AND WHEREAS His Excellency Maithripala Sirisena, President of the Democratic, Socialist Republic of Sri Lanka, has clearly expressed his desire to give effect to the will of the People expressed at the aforesaid Presidential Election by enacting a new Constitution that, inter alia, abolishing the Executive Presidency.
"AND WHEREAS it has become necessary to enact a new Constitution that, inter alia, abolishes the Executive Presidency, ensures a fair and representative Electoral System which eliminates preferential voting, strengthens the democratic rights of all citizens, provides a Constitutional Resolution of the national issue, promotes national reconciliation, establishes a political culture that respects the rule of law, guarantees the People's fundamental rights and freedom that assure human dignity and promotes responsible and accountable government."
Here again, the resolution itself has avoided a decision on the future of the executive presidency — a position which the UNP sought. Hence, the provision in the existing Constitution for an Executive Presidency has been retained and thus the Assembly could either retain or propose to abolish it. "Joint Opposition" leader Gunawardena told the Sunday Times, "We are happy a majority of our proposals for Constitutional reforms have been accepted. We are also happy that the entire Parliament will be in a Committee to draft the Constitution and Standing Orders will be followed." Premier Wickremesinghe said consultations were now under way among party leaders on the proposed Steering Committees. They would be functional by April, he said. He revealed that political parties were also being consulted on the system of elections and on the report of the Public Representations Committee.
The unified position taken by the "joint opposition" and the Sri Lanka Freedom Party (SLFP) on the proposed Constitution also underscores another new reality. The two sides have been able to agree on a common position on key issues, a sign that some peaceful co-existence is on the cards. This has raised eyebrows at the highest levels of the United National Party (UNP). As one of them explained, "We have to reckon with this new equation which can be a formidable threat in Parliament."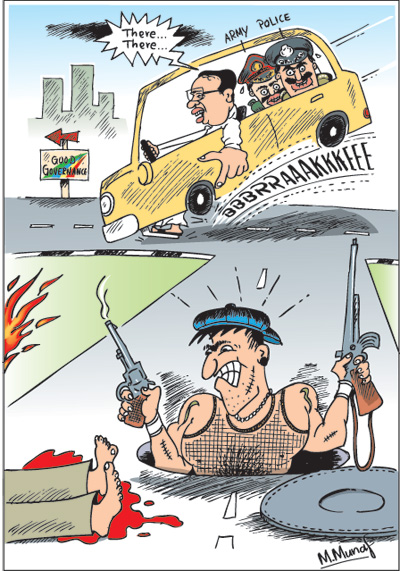 Last Thursday, at a party leaders' meeting chaired by Speaker Karu Jayasuriya, Gunawardena, the "joint opposition" leader, said they would move a vote of no-confidence on Finance Minister Ravi Karunanayake. A draft motion is now circulating and signatures are being obtained. Gunawardena said a motion was also already in the Order Book of Parliament. "If that is being taken up for debate, we will not forward the new one. If it is not, then we will hand over the new motion to the Speaker," Gunawardena said. He added, "We will seek an early date where we can also discuss the current economic situation facing the country."
UPFA ex-co meeting
For the first time, taking part in the Executive Committee meeting of the UPFA were three constituent partners — the Mahajana Eksath Peramuna, the Sri Lanka Mahajana Pakshaya and the Desha Vimukthi Peramuna. The Lanka Sama Samaja Party, the Communist Party and the National Freedom Front are partners in the UPFA but are within their ambit because of a 'no contest' electoral pact they have signed. That an Executive Committee has been duly constituted now, even matters of action against parliamentarians on disciplinary grounds could be taken up by it. Earlier, some UPFA partners opined that the Executive Committee, which was not fully constituted, had no power.
For months after being elected as President, Sirisena has focused only on the SLFP and ignored the UPFA. The fact that he has now brought it within his fold, and that too without his predecessor Mahinda Rajapaksa, is no doubt to his credit. For Sirisena, his strategy of isolating Rajapaksa seems to be working to some degree. The three UPFA partners supported President Sirisena's nominee for UPFA General Secretary. He proposed the name of Mahinda Amaraweera (Fisheries Minister and MP for Hambantota District) and was seconded by S.B. Dissanayake. One of Amaraweera's first tasks was to hold a news conference where he declared he would work towards uniting the UPFA.
When Gunawardena raised a question on why local polls were being delayed, President Sirisena deftly re-directed the question to Local Government and Provincial Councils Minister Faiszer Musthapha. "What do you have to say," asked Sirisena from Musthapha. Sirisena was to remind him that he had allocated money and even released officials to complete the work necessary before local elections could be held. Musthapha was to say that work, including the delimitation of wards, would soon be completed. Gunawardena was to point out that legally the deadline for holding elections would be March 31. Government sources said that a Gazette notification to extend the terms of Special Commissioners now in charge of the local authorities was now being studied. Former President Chandrika Bandaranaike Kumaratunga, who has been named a member of the Executive Committee, turned up late. However, she made no contribution.
Geneva issue
Local elections and matters relating to the country's economy were not the only issues that had pre-occupied President Sirisena in the recent months. There was also the ongoing Geneva sessions of the UN Human Rights Council. In his opening speech Human Rights High Commissioner Zeid said on Thursday, "…. This is the central message of transitional justice. If past human rights violations are not adequately addressed, grievances and other issues at the root of the past conflicts will continue to fester, and may even lead to their recurrence.
"There are important lessons in this respect for Sri Lanka, which is on its own journey toward accountability, reconciliation and durable peace. Important steps have been taken to reform the Constitution, revive independent institutions, and restore an environment for free expression and debate. Powerful symbolic gestures of reconciliation have been made, for instance singing the national anthem in Tamil – although other steps, such as the release of land held by the military, reviewing the cases of security detainees, and resolving the issue of disappearances, need to move forward faster.
"The next months will be important, as the Government embarks on national consultations for the design of a comprehensive transitional justice process to implement fully this Council's resolution. It will be very important that this takes place in an environment free of surveillance and intimidation, so the voices of victims can be heard. Reports of violations must be promptly investigated and addressed. I look forward to reporting to you further on progress at the June session."
Just a day before the UN High Commissioner for Human Rights made the remarks on Sri Lanka, a Government minister declared (on Wednesday) that it would be unconstitutional to engage foreign judges in a judicial mechanism that would investigate alleged war crimes. Speaking at a news conference from the Government Department of Information, Skills Development Minister Mahinda Samarasinghe said President Sirisena had ruled out any foreign participation. He insisted that there could not be any doubt over this. Samarasinghe, who accompanied President Sirisena during his European tour last month, is known to be an informal advisor on foreign affairs to Sirisena. During the Rajapaksa administration, he often led the Sri Lanka delegation to the UN Human Rights Council sessions where he had to defend the Rajapaksa Government's position. His comments at the news briefing from the Department of Information, the Sunday Times, learnt had the concurrence of President Sirisena.
If Government leaders expected that Zeid would make any reference to this in his opening address at the Council sessions, that was not to be. His staff would have prepared the text of his speech days ahead. Yet, Samarasinghe's assertions also comes as answer to Foreign Minister, Mangala Samaraweera. After he delivered a speech at the Washington based Peace Institute, he was asked about President Sirisena's remarks that he would not allow any foreign participation, Samaraweera had opined that it was Sirisena's personal view. According to Premier Wickremesinghe, legislation with regard to the proposed reconciliation process will be introduced in Parliament next month.
Move to shelve aircraft deal
Wickremesinghe, Government sources said yesterday, would also introduce cut backs on what is being described as non-priority expenditure in view of the prevailing economic crisis. One such measure that will be put on hold is expected to be an ambitious plan by the Sri Lanka Air Force (SLAF) to buy two 20-year-old C-130 K transport aircraft. One of the aircraft is a long body version whilst the other is a standard version. They are being offered for sale for Sterling Pounds 17.5 million each (or about Rs. 3,576 million) subject to modifications required by the SLAF.
Marshal Aerospace, a British firm, is working through the UK Ministry of Defence for the sale of these two aircraft. They were retired from the Royal Air Force in October 2013. A four-member SLAF delegation led by Air Force Commander Air Marshal Gagan Bulathsinghala, Air Vice Marshal H.A. Silva (Director, Aeronautical Engineering), Wing Commander P.N. Fernando (Representative of Directorate of Electronics and Telecommunication Engineering) and Wing Commander A.P. Jayamaha (C-130 Instructor Pilot) were in Britain on a five day visit in January this year to examine the aircraft.
In a report to the Ministry of Defence, Air Marshal Bulathsinghala said that as per Marshal Aerospace and Defence Group, the two aircraft that were available for inspection could be ferried to Cambridge for refurbishment at short notice. However, he said, "the recovery process of aircraft which are in full storage will be initiated only when SLAF submits the consent to purchase." He has added that "all Electronic Warfare equipment and some avionics that were installed on these aircraft have been removed due to their security sensitive issues."
Air Marshal Bulathsinghala said the deal should be on a Government-to-Government basis and that Marshal Aerospace and Defence Group are required to provide product support for maintenance of the aircraft and avionics upgrade equipment. The Ministry of Defence in Britain, he has said, is responsible for obtaining the US State Department approval for re-export. This is because the C-130s are manufactured in the United States.
Earlier, the SLAF procured two C-130K converted tanker aircraft also from Marshal Aerospace. Only one of them is operational now. Hence, parts from the second one had been used whenever replacements had become necessary. At present the two C-130s on offer are in a hangar at Statham in Wales.
FCID investigations
This week, the Financial Crimes Investigation Division (FCID) filed a 'B' report in the Colombo Magistrate's Court, saying it was probing alleged money laundering transactions of parliamentarian Namal Rajapaksa, elder son of former President Mahinda Rajapaksa. It centres on Gowers Corporate Services Pvt. Ltd., a firm owned by Namal. The company, which had been providing legal services, had purchased Hello Corp that had been providing services to Sri Lankan Airlines. A number of transactions have been listed as money laundering and the FCID has said it is conducting further probes.
Namal Rajapaksa was not available for comment yesterday. His phone was not answered and messages left for him were not replied. The FCID investigations come ahead of a team leaving for Dubai with officials of the Attorney General's Department. Their mission is to place before Dubai authorities' evidence that monies in the accounts of members of the previous Government had been obtained through illegal and questionable means. The delegation was to leave last week, but the visit has been delayed since officials in the emirate are yet to give them a date and time.
This week's developments show that the Government is in an unenviable position. Increased prices on goods and commodities, ahead of the coming National New Year, will affect a wider spectrum of low income groups. That is in addition to farmers who recorded a bountiful harvest but are unable to sell their paddy since prices have hit a new low. An official Government Committee is on emergency mode to find ways and means of helping them. However, with the godowns of the Paddy Marketing Board, PMB) full, restrictions on the volume the board could purchase will leave large stocks in farmers' homes. That would mean a dull National New Year for them.