Recognising many months of 'darkness' in Sri Lanka
View(s):

A bold initiative took place this week when a collective of Sri Lankan women from the north, east, south and up-country areas publicly announced their decision to boycott International Women's Day.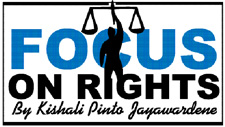 Putting specific demands forward
Declaring March 2016 as a 'month of darkness,' specific demands were outlined by the Womens' Action Network to Sri Lanka's political leaders. Calling upon State recognition of violence against women and children as amounting to a 'national crisis,' legal and policy reforms to ensure speedy trial were named as a priority.
Special teams with the requisite competence and skills were requested to be established to expedite long pending cases in the Attorney General's Department together with sufficient resources allocated for preventative measures. It was observed that the National Task Force on Violence against Women established last year as a 'yahapalanaya' (good governance) move should be strengthened and provided with necessary supervisory powers to oversee the process. This recommendation has particular import given the plethora of bodies in this country that have overlapping mandates and sweeping objectives but very little political or financial muscle to back those grandiose plans up.
A guiding standard of victim centeredness to be adhered to by judicial, law enforcement and service providing officers (including Judicial Medical Officers) to secure the safety, protection and dignity of women and ensure equal access to available services was also stressed.
Political will continues to be absent
At first glance, the boycott call is something out of the ordinary. Marking March 8th each year has deteriorated to a woefully mundane affair, attended by the fulsome speeches of politicians in the full glare of television cameras. This is accompanied by the wastage of public funds not only on the pomp and ceremony of useless events but on promotional advertisements announcing the commencement of yet another womens' 'national policy drive' or some such equally deplorable asininity.
In the meantime, there is no political will to reform the investigative, prosecutorial and judicial branches of government. Indeed, given the extremity of the crisis of sexual violence that confronts us, it may well have been appropriate to extend the mourning of a 'dark March' to a longer time period.
As the Women's Action Network correctly points out, thousands of women and their families have lost faith in the justice system. Even the limited compass of cases in which this group has been advocating on reads like a typical list of horrors. Among the cases detailed are the 18 year old school girl raped and murdered in 2015 in Punkudutheevu, the rape and murder of a woman in Batticaloa as well as in Gampaha respectively in 2009 and 2016 and the rape and murder of children in Kayts, Hatton and Vavuniya. Some of these cases occurred last year, indicating that there has not been a noticeable decrease in the wave of sexual violence. In each of these cases, initial protests by villagers in the relevant areas, though strong and agitated at first, peter out gradually.
In some instances, though the legal process was set in motion, results were conspicuously absent. Routinely, proper legal procedures were not followed, forensic procedures were bypassed and the chain of custody was compromised. Even if alleged perpetrators were arrested, they were almost immediately released on bail. Meanwhile, the trial is extended for years with the witnesses being threatened. Faced with this most daunting environment, the family members of the victim most often drop the case. Last year's enactment of a Witness Protection law has not seen a noticeable change in this negative environment.
What should we celebrate?
So it is opportune on March 8th this year, to ask as to what precise individual and collective freedoms are being celebrated. Hence the aptness of the boycott call is undoubted. Post-'yahapalanaya' Sri Lanka proves the point that not all the problems besetting the country can be attributed to a particular regime, however brutal and despotic that may have been.
Rather, systemic Rule of Law failures are the reason why there can be no individual security of women or indeed also men, until effective political will is demonstrated to address this problem. The criminalisation of law and order, breakdown of trust in the legal process and constitutional institutions as well as a general lack of basic security is manifest. This month saw an unprecedented increase in underworld killings even as a front ranking Cabinet Minister was allegedly implicated in a hit and run incident where the victim remains in dire risk of losing his life.
At what point would we begin to recover the confidence that disputes would be determined at the highest levels without political bias, the rule of law would be implemented to its fullest and the prosecution of the guilty would take place without fear or favour? When would citizens be treated equally by State institutions despite differing political views, notwithstanding whichever government happens to be in power? What would it take for an ordinary woman (or man) to be able to enter a police station without fear or for a litigant to enter a courtroom without trepidation?
The powerful and the powerless
And at what point would the profligate spending of those in political life cease? The Government's announcement this month of varied tax increases bound to adversely impact on struggling families are in abrupt contrast to increasing perks that parliamentarians of all political parties are conspiring to grant themselves. Is this why a so-called 'National Government' was voted into power? The Ministry of Agriculture is reported to be expending an astounding sum of twenty one million as monthly rental even as farmers are out on the streets in fury over the cut in fertilizer subsidies. These are obscenities that cannot be tolerated.
Unfortunately, the Sirisena-Wickremesinghe combine elected to office on an exuberant wave of peoples' expectations has failed in several respects to justify the public trust placed in them. The dilemma that Sri Lankans are placed in when deciding their vote in future elections is harsh. Ineptitude and inefficiency coupled with degrees of political greed in the 'yahapalanaya' regime face off in one corner against rank racism and communalism with even worse greed of the Rajapaksa brand in the other corner.
These are unenviable choices indeed.