Foreign Ministry: Up, up and away
View(s):

Records are tumbling at the Ministry of Foreign Affairs. Minister Mangala Samaraweera who was away from Sri Lanka for 20 days returned to Colombo for only one day.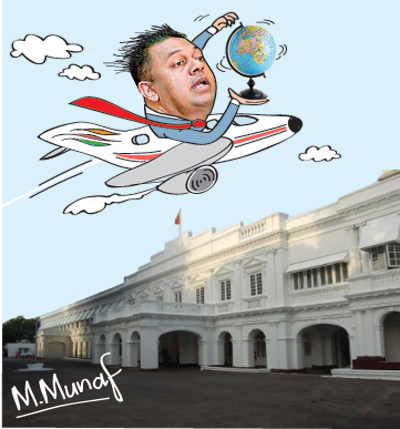 The next day he went to South Korea. This time he was accompanying Foreign Employment Minister Thalatha Athukorale who was in Seoul to find more employment opportunities for Sri Lankan youth. There was a time when Sri Lanka gave up its bid for a UN Security Council seat to South Korea in return for jobs.
The customary media statement on the Samaraweera visit, a practice that has been adopted from his predecessor G.L. Peiris, was not there. The only difference in those statements is that they are sent simultaneously to the media through three different units in the Ministry. Perhaps the idea was to ensure that if one failed, the other would draw media attention. Instead, a note to the media referred them to a short news item in Yonhap news agency. South Korea's national news agency said Samaraweera had met his counterpart.
The latest foreign jaunt comes as the much anticipated conference of Heads of Sri Lanka's overseas missions has been postponed indefinitely. Insiders say that both President Maithripala Sirisena and Prime Minister Ranil Wickremesinghe were not too pleased with the preparations made by the Ministry of Foreign Affairs.
The Ministry had called for quotations for air tickets. It was for 54 Business Class tickets for Ambassadors and 14 consuls. Initial estimates came to a total of Rs. 30 million. Factoring the hotel accommodation, transport and meals for five days would add another estimated Rs. 12 million or a total of more than Rs. 42 million.
A conference of envoys based in Europe could have been held when Minister Samaraweera was there as a member of President Sirisena's official entourage. On the other hand, like other western missions, they could have even thought of video conferencing with the important posts.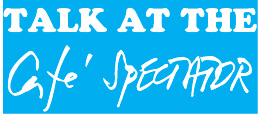 Briefing notes to overseas envoys are few and far between since the Government was voted to office. Meanwhile, Karunatilleke Amunugama, Sri Lanka's Ambassador in Germany and accredited to Switzerland, was not included in Samaraweera's delegation to Bern. Instead, violating accepted norms, Sri Lanka's UN envoy in Geneva, Ravinatha Ariyasinha, who merely functions as a Consul in Switzerland, was included.
In a minor shake up at the Ministry in Colombo, new appointments have been made after a committee went into reorganising the work. New units are being set up in the Ministry. That includes Ocean Affairs, Strategic Studies and Climate Change. There is a unit for Overseas Sri Lankans as well, a much deserved place to which Sri Lankans overseas can communicate, especially on dual citizenship, and hopefully, investment proposals. These changes come after the Economic Affairs Division was brought under the purview of Minister Malik Samarawickrema.
---
Sexploits  of lusty politicos
With at least two lassies who have won his heart in a state outfit which he oversees, the Romeo thought, it was better to shift one out, lest there be internal squabbles.
The man persuaded a like-minded colleague, much his elder, to name one of them to head a promotional body under his colleague. But the chairman in charge of the outfit simply refused to place his signature on the letter of appointment. He said she did not possess the necessary vital statistics — read qualifications — for the job. Who cares when she has the requisite political clout?
That is all what is necessary thought the two top buddies. When one is in an assailable position, there are many fun loving types who are willing to help. So the signature issue was overcome. And now, the bird has flown to Europe to represent wonderful Sri Lanka — a land like no other.
---
Home Ministry not doing homework
It was an official news release from the Ministry of Home Affairs and signed by its Secretary J.J. Ratnasiri.
The first paragraph spoke of today' cremation of the Most Venerable Galagama Sri Aththadassi Thera, the Mahanayake of the Asgiriya Chapter.
However, in the second paragraph, instead of referring to the late Mahanayake, the news release referred to the late Ven. Maduluwawe Sobhita Thera.
The Home Ministry needs to do its homework better.
---
Marikkar silent on questions about KP
Colombo District UNP Parliamentarian S.M. Marikkar raised eyebrows among his colleagues as he remained silent when a question in his name in the Order Book came up for answer.
The question was neither raised nor answered. Listed in the order book for answer by Minister of Law and Order and Southern Development, it related to Kumaran Pathmanathan, the man who headed the LTTE procurement wing. He asked:
(a) Will he inform this House -
(i) the present whereabouts of Kumaran Pathmanathan alias K.P. who had been a leader of the LTTE and was subsequently arrested ;
(ii) the charges against him;
(iii) the current status of the investigations carried out in regard to the aforesaid charges;
(iv) the period of time that will be taken to complete the aforesaid investigations; and
(v) whether action will be taken against him according to the law after the investigations are completed?
(b) If not, why?
However, Mr. Marikkar acknowledged a question he raised immediately thereafter on the Lankaputhra Bank. It was answered by Minister Sagala Ratnayake.
---
 Slip of the tongue or man in the mind?
Agriculture Minister Duminda Dissanayake refused to accept a letter of resignation handed over to him by Ministry Secretary B. Wijeratne.  The move to resign came after Mr. Wijeratne, during a national ceremony at the BMICH referred to President Mahinda Rajapaksa instead of President Maithripala Sirisena. He later said sorry and corrected himself.
The occasion was a national campaign to promote organic food and fertilizer instead of those with chemicals. Such seems to be the over-powering influence the former President had on public servants; or is it that HE still lives in their minds – and hearts?