Diplomatic punch: Ambassador to asylum
View(s):

UNITED NATIONS – Ambassador Adlai Stevenson, a former US Permanent Representative to the UN (1961-1965), was a renowned intellectual of his generation, known as much for his riveting speeches as his political witticisms.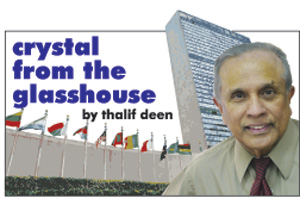 A two-time Democratic presidential nominee, he once declared that the social life of a UN diplomat is characterised by three elements: alcohol, protocol and Geritol (a high potency B-vitamin dietary supplement meant for energising low-energy diplomats). The breakdown, according to another diplomat, was 97 percent alcohol, two percent protocol and one percent Geritol.
But anecdotes apart — and there were plenty going around at the delegate's lounge, the official UN watering hole — one of the most trying things was to get an on-the-record quote on a politically sensitive issue. Permanently on a leash, tightly held by their governments or their foreign ministries, most diplomats assigned to the UN were quick to make bland and predictable statements but never off-the-cuff remarks worthy of tabloid headlines.
In contrast, US politicians are distinctly media savvy. When the US failed to get elected to the UN Human Rights Commission (now called the Human Rights Council), Congressman Dana Rohrabacher (Republican of California) expressed his indignation over the fact that the US was left out in the cold while some of the world's worst human rights violators were voted into office. "The inmates," he hollered, "have taken over the asylum."
That statement was every headline writer's dream. "Revolt at the UN", screamed the New York Times. "Tyrants Take Over," shouted the Wall Street Journal. And the Washington Times reduced the Human Rights Commission to a "Commission of Rogues".
Back in 1975, when President Gerald Ford refused to bail out a cash-strapped New York City with federal funding to avoid bankruptcy, the New York Daily News ran the story with the immortal headline: "Ford to City: Drop Dead." Still, I don't foresee any UN-based diplomats — least of all a Sri Lankan ambassador — telling the UN High Commissioner for Human Rights or the Secretary-General: "Go to Hell," on even milder language. After all, as someone once remarked, diplomacy is the art of telling someone to go to hell — in a way they look forward to the trip.
The lingering and unanswered question for a such a strong response is: "Why aren't you taking the Americans, the Brits, the French and the Russians to a war crimes tribunal for all the slaughtering of civilians and bombings of hospitals going on in Syria, Yemen, Iraq, Afghanistan and Libya?."
As a general rule, juicy quotes are hard to come by at the UN, but with one exception. At myriads of daily cocktail parties and regular national day receptions, some diplomats tend to drop their defences while holding onto their pants. Still, it is rare to get a political scoop that can be attributed to an individual diplomat or an ambassador. And so when journalists do get a story, it is usually attributed to an unnamed Western or a Third World diplomat "speaking on condition of anonymity."
At the news agency I work for, there is a time-honoured rule that every feature story should– as far as possible — have at least one or two sources quoted by name. The New Yorker magazine, best known for its biting cartoons, once ran an illustration of the Evil Queen in the Snow White fairy tale who looks at the Magic Mirror and implores: "Mirror, Mirror, on the Wall, who is the fairest of them all?." And then, adds: "And I want two sources quoted by name."
Getting a juicy on-the record quote from a senior UN official was even more difficult than getting a quote from a UN diplomat. But Shashi Tharoor, a former UN Under-Secretary-General (USG) and later an Indian Parliamentarian from Kerala and State Minister, once said every UN official, from a USG to a window-washer, is entitled to express his or her own opinion — but in their area of competence. But that rule died an unnatural death.
Ambassador Palitha Kohona (2006-2009) was one of only two Sri Lankan UN officials (the other being Ambassador John de Saram, Director of the UN Office of Legal Counsel), who graduated from the UN to the post of Sri Lanka's Permanent Representative to the UN. (Incidentally, there has never been a Permanent Representative (PR) who was really permanent, although there have been rumours of some PRs leaving their handkerchiefs on their seats when going to the toilet, indicating the seat is occupied, particularly when there is a change of government at home.)
A former chief of the UN Treaty Section, Kohona held the post of Permanent Representative (2009-2015) embodying a mix of both — and making it doubly difficult to get a headline-grabbing, on-the-record quote from him (although he was an Australian citizen when he headed the Treaty Section and later held dual citizenships — even as he wondered whether he should cheer Sri Lanka or Australia at the ICC World Cup cricket finals in Barbados in 2007. Rumour has it he cheered for Sri Lanka, the losing side, in the company of a "cricket-crazy" president).
Perhaps some of the best scoops from Kohona came with a dire warning: "Not for Attribution" or "Strictly Off-the-Record." Asked for a quote on a politically controversial issue, he said: "No comment." And then, provided the punchline: "And don't quote me on that."
When he was Foreign Secretary, he apparently had a running battle with a Sri Lankan envoy based in Western Europe. So, he was more than happy when the envoy finished his three year term and was due to pack his bags and return home. Since I was aware of this thorny relationship, I mischievously tried to get a rise out of Kohona by asking him whether he was planning to send this ambassador on a cross posting. "Yes," came the email reply, "to Angoda."
I had heard of Sri Lankan ambassadors abandoning their home countries to seek political asylum in Europe and the US — but never mental asylum. As Hollywood would have it: one flew over the cuckoo's nest.
The writer can be contacted at thalifdeen@aol.com