In search of the soul of Sri Lanka
By Kumudini Hettiarachchi
'Back of Beyond Travel Guide' by a group of like-minded travellers explores little known vistas of the iconic site
View(s):
Iconic Sigiriya! Often when imbibing the wonders of this formidable but majestic rock fortress, we clamber up the rock, take in the frescoes, peer closely at the Mirror Wall, do a quick round of the summit, click numerous photographs and get back down and motor away to our next destination.
Having visited Sigiriya and been awed and fascinated by its story have we given any thought to where the mighty monarch who was Kasyapa had his tryst with destiny and also death?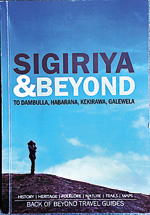 Usually, all of us access only the well-known regular tourist sites, although sometimes we do gaze longingly up a densely-forested hill at a tiny, pristine white dagoba shimmering in the morning rays of the sun. On passing the still waters of the vast tanks dotted with lotuses, with ripples being created only by a cormorant diving in for a silvery fish, we wish we could linger and veer away off the beaten track.
We don't. However, a group of like-minded people have done just that…….venturing far, far away from the madding crowds, away from the cities and towns, to nooks and crannies where few have dared to go, except may be the 'locals' out there.
They have spent time at Hiriwadunna Wewa where Kasyapa is said to have killed himself when the marsh around the tank caused his elephant to retreat during the final battle with Moggallana.
And sometimes through walkabouts, at others on cycles, motorcycles or vehicles, armed with lots of bottles of water and basic food items supplemented by 'meals off the land' including a thambili or a steaming cup of plain tea from a wayside kiosk or fruits or a hot, hot hopper from a humble verandah turned into an eating place, they have come up with something extraordinary.
'Sigiriya & Beyond – To Dambulla, Habarana, Kekirawa, Galewela', is their contribution, as a handy 'Back of Beyond Travel Guide' containing not only nuggets of history, heritage, folklore and nature but also trails and maps with lots of photographs. What's more, a few lessons in language usage as well as how not to leave any dirty prints behind are within its pages, not with a note of censure but as a gentle reminder.
These 'travellers' who had initially met on 'virtual ground' through Lakdasun and then formed close bonds of friendship when their real worlds collided with each other, have cleared a pathway through 'Sigiriya & Beyond' for others to have "serendipitous encounters" which are "fascinating rather than nerve-wracking".
They are Neranjana Gunetilleke, Prabodha Abayawardane, Priyanjan De Silva and Yohan Weerasuriya and it is a first from them and has been an adventure which began six years ago with no deadlines.
"I had been dreaming about this," says Neranjana, pointing out that most guide books in English touch only the top-layer.
No one has got "under-the-skin" to see the real Sri Lanka, she says, describing "how a guy who was supposed to show us Kothgala", detoured to take them to his village. Here they stumbled onto caves framed by the jungle, inhabited on and off by a couple of monks who would serenely walk in for meditation. "It is a timeless setting," she says.
Yohan, meanwhile, when asked to pick his favourite site, grapples with uncertainty, for there are so many. Ultimately, it is the Manakanda Archaeological Reserve in the Kekirawa area which he chooses where lies "hardly restored ruins set deep in a beautifully forested range of hills".
The secrets hidden within Manakanda — which according to the guide writers needs more visitors as the villagers are ready to receive them — include a silky smooth grinding stone, a fireplace, water containers, stairs and circular landing and also a stone quarry. The inexorable march of the jungle has buried other huge granite ruins. Manakanda, they dub the "unknown sister" of Ritigala.
Taking a different attitude which is conveyed through the guide, their forays into unchartered territory have not just been about reaching the set destination but getting there while having loads of fun.
They open up vistas within a 30-km radius of the magnificent Sigiriya Rock, putting the spotlight on 109 sites with precise directions, including six detailed travel maps and six hand-drawn maps, 19 routes and eight cycling trails and there is no doubt that they have explored and experienced each and every site themselves.
"Aluth Oya, a palace buried deep in the forest; the one-size-fits-all stone beds of Garendigala, the moonscape of Eerigeoya Wewa; the irrigation wonder on the plateau of Nuwaragala Kanda; and the cycle trails that follow the Mahaweli waters as they irrigate the dry zone farmlands"………the list goes on and on.
Many are the places with steps and steep slopes the group has described more accessible to the young and muscular types but many are also the places they have thoughtfully included for those travelling with children and some who may not be too mobile.
It is not only their explorations and expeditions that they present as one flicks through 'Sigiriya & Beyond' but also expert views including 'A Geological Note' by Sigiriya Museum Keeper Kusumsiri Kodituwakku; 'Elephants and Observing Elephants' by Dr. Prithiviraj Fernando of the Centre for Conservation and Research; 'Birds and Birding' by Tara Wikramanayake of the Ceylon Bird Club; and 'Sigiriya and the bambaras' by a Specialist in Apiculture and Pollination Ecology, R.W.K. Punchihewa. And for those who wish to go beyond the printed word of the book, the research sources including Archaeological Department books and Archaeology Survey of Ceylon Annual Reports are also included.
What's more, the team has 'delved' into archaeological sites to allow the uninitiated to make sense of what they see while issuing an alert about spotting 'kalu boards' the "classic black signboards" of the Archaeological Department giving pointers to official archaeological sites and also a gentle warning with regard to the "sadder aspects" of nidhan horu (temple looters). They urge visitors not to leave behind rubbish, even what we may think is biodegradable as "most biodegradable items take over a month to decompose", being litter until then.
Another unique aspect of the guide is tips on taking 'uncle bearing' or picking the brains of people we may come across, be it three-wheeler drivers awaiting a hire at a small junction, men and women attending to their routine work or ever-willing children who will show the way to a remote site.
While the team suggests 'must-ma-go' places, the book is a 'must-ma-read'. Even if one cannot get away from the routine that has become a rat race, glancing through 'Sigiriya & Beyond' and looking closely at the beautiful photographs will transport the readers through their mind's eye to those idyllic sites.
Yes (although quoted out of context from the book itself), "…..it helps us get to where we want to go; for another, it takes us to places we had never planned on visiting! It also provides hilarious communication experiences. It allows us to enter isolated areas without causing too much disturbance; to wander around the soul of Sri Lanka – the 'just a village'; where the landmarks are a Bakmee tree, 'Weere Aiya's shop' or 'ape nana linda' (our bathing well), where the post office is a tilting red box, women still carry clay pots on their hips and no one is in too much of a hurry to give you directions."
As Neranjana says with conviction they have looked into the "very soul" of Sri Lanka and they are inviting us to do the same.
Sigiriya & Beyond' is priced at Rs. 2,400 but is currently available at a discounted price of Rs. 1,800 until March 15. For more information, please contact e-mail: sigiriyaand beyond@gmail.com