Enter the men
View(s):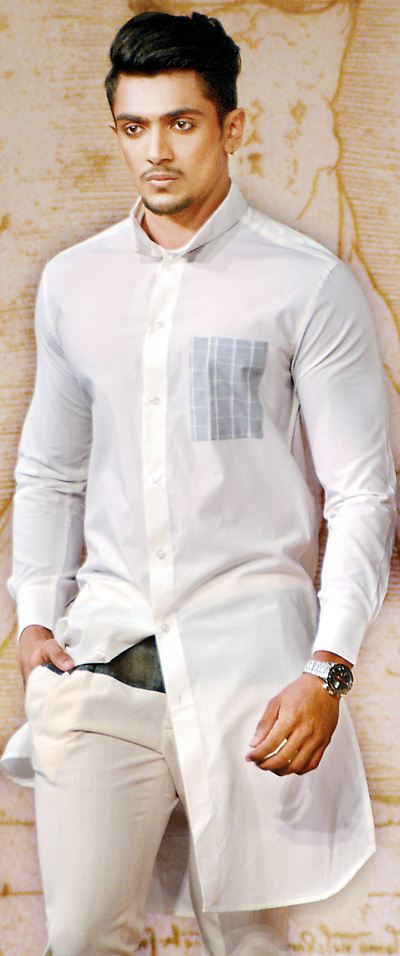 In the decade since its inception, the Colombo Fashion Week now the HSBC Colombo Fashion Week has without great fanfare established itself on the big stage. As CFW unveiled its 2016 edition there was excitement behind the scenes for the first ever dedicated Menswear segment of Colombo Fashion Week was to take the ramp on February 25.
There was Coldplay blaring out of the speakers as the models took to the ramp with the Conscience collection. The brand has acquired a reputation for a cool, clean cut design identity, and amidst the high collars, colour blocked prints and two tone pants were a few kurthas that we think would work well in more designer collections.
Gihan Ediriweera has long since established his stronghold in tie and dye. His collection for the evening inspired by the crow took us to a different side of the designer, with subtle tie and dye pieces – a blend of cool greys and indigo on white backgrounds. Instead of the typically sinister visage of the bird, Gihan's collection (pictured on Page 1) all simplistic elegance with haunting undertones, added a subtle touch of sensuality to menswear.
Making a smooth transition from the Bright Sparks ramp of 2015 to the main show, Heshan de Silva's label 22.02 was keenly watched. Metallic fabrics featured prominently, some in the form of solid metallic effect t-shirts, or patched onto formal shirts or even as pants. Whatever wasn't metallic was black and red or other sombre colours.
Indian designer Samant Chauhan presented one of the night's more memorable collections. Models sauntered on to the ramp in pants with overlaid skirts. The designer's use of warm earthy prints gave his pieces a young, ethnic punch with a touch of daring elegance.
Well cut and slick, Shanika Samarakkody's collection had a standout look – a full, loose fitting suit in an almost solid cobalt blue, alongside office and casual wear shirts.
The House of Three, Bangalore-based designer Sounak Sen Barat's segment opened on a dramatic note with models waltzing in, in heavily embellished, deep plum men and women's evening wear. The chic menswear ensembles were in rich purples and magentas. Arresting, stylish and unexpectedly masculine, the New Age inspired collection saw velvet jackets making an eye catching appearance.
Cigarette pants and shorts were the accent in young designer Mevan Kaluarachchi's collection which saw the use of cottons, silks and natural fabrics to create several dressy casual looks.
On Wednesday a solid line-up heralded the first of CFW's main shows. Ethnic wear with an eccentric flair suggest very strongly that Bibi Russell is in the building and the familiar face from Bangladesh started the evening's line-up in a flurry of blues, purples and pinks.
Aashkii designer Jaishree Jayasingha's dramatic collection (pictured on Page 1) had both mystery and colour while Amanda Weerasinghe's monarch-inspired collection veered primarily towards blues and reds.
A femme-fatale fantasy unravelled onstage with Indi Yapa Abeywardena's lace-trimmed gowns and intricately worked tops paired with voluminous skirts reflecting a neo-50's space.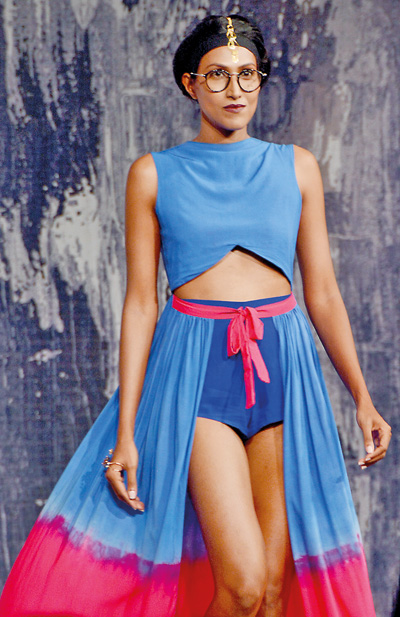 Catherine Rawson's Old Railway's layer-heavy signature style took on a print against print combination this time. Slight kimono-esque silhouettes suggested she was channelling some oriental vibes.
Amilani Perera's work was introduced to us in dim light. Employing reflective material was her grunge-meets- princess type collection. Gihan Ediriweera used oceanic hued batiks to stage the Titanic story complete with boat-shaped hats and a prominent accessory- a blue stoned necklace. His children had co-created the batik prints used in the collection.
Sonali Dharmawardena's much awaited collection saw print appear in batik in various forms including in her subtle-hued sarees while Charini Suriyage presented a glam-heavy, embellished collection.
Bringing the curtain down on Wednesday Samant Chauhan from Bihar, said his self-imposed challenge was to portray the famously vibrant Rajasthan shorn of its colour, choosing instead to dress the ramp with stately white on white yarn worked pieces.
(Await a CFW wrap up next week)
The Sunday Times is a print media sponsor of HSBC CFW.