A novel where parallel stories weave together convincingly
View(s):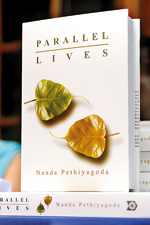 The elegant cover on Nanda Pethiyagoda's debut novel, designed by her son Rajiv using Bo leaves to symbolise parallel lives, enticed me to reading it literally word to word. It captivated my interest and satisfied my curiosity from beginning to end. Parallel Lives was launched on Sunday, February 14.
Nanda has used her writing skills to create a complex novel that weaves together the main story and several secondary stories in a convincing way. She has developed four main characters: Namali – an upper caste woman andPodi, a low caste woman who forma lifelong friendship overcoming the caste prejudices inherent in Kandyan society. Then there is Gopal, an elite Hindu, a childhood friend of Namali. They nurture an enduring love for each other which survives racial and religious prejudices, as well as their failed marriages, and many years of separation. Lastly Asela, the man Namali marries.
Nanda's novel also has a dark edge which is expressed in stark terms when she narrates two episodes: the attempted rape of Podi by Sirisena, her mother's lover, and the instance when Asela abuses Namali verbally and physically. Nanda uses vivid descriptions and strong dialogue to convey the horror of the situations. The following excerpt from the attempted rape scene is a good example:
"'Aney Sirisena Maame, epa! Aney Budhu Maame nikan inta!'
'Katavahapiya!'
Sirisena was holding the girl pressed against him … his mouth on her exposed breast. Then he shed his sarong and the girl shuddered."
In sharp contrast Nanda uses endearing terms to describe the love between Namali and Gopal. Their relationship comes across as tender, passionate, playful.
While the novel moves along quite well most of the time, I feel it could have benefited from stringent editing. Some episodes could be shorter, especially Namali's attempts to communicate with the spirit of her dead sister. This was plausible when young Namali was dependent on her older sister but becomes less meaningful after she grows up and marries. A fitting point to end Namali's need to communicate with her dead sister would have been when she gives birth to her daughter Anu. This would have spared Nanda her attempt to explain the situation in complex psychiatric terms.
Nanda could have also exercised a keener sense of economy in the use of words and phrases to avoid redundancies like 'An ill-foreboding situation' (pg 20, 'ill' is redundant) and 'I felt buried in a landslide of soil… (pg 317 'of soil' redundant)
The visit to Jaffna by Namali and Gopal; Rasamma's tragic experiences at the hands of the LTTE and the adoption of her baby daughter, Lakshmi, add an absorbing new dimension to the novel.
Namali's last year with Gopal is described in moving terms. After he dies she goes home to her "women's world of Lakshmi, Podi, Dingiri and Bisso" opening a new chapter in their lives.
The author's Afterword is a good summary of Namali's life. I especially admire her gesture towards reconciliation with the adoption of Lakshmi "making sure it was a Tamil baby … my way of emphasising the equality that had to exist among the races." I enjoyed her wry sense of humour expressed in the remark about Asela: "He married a West Indian woman and I hope she was making life hell for him!"
I commend the manner in which Nanda keeps her novel open ended. Namali's words in the last paragraph of the Afterword: "Life will go on. Days will follow days, years will follow years" leaves room for future developments. Perhaps a new novel about her daughter Lakshmi will follow Parallel Lives. I for one will await it with great expectations.
NB. I have not commented on the political turmoil as described in the novel. The reason is my lack of competence in this area, having lived abroad during most of it.
The book is available at Godage Bookshop, Maradana and its branches, at Barefoot and the Vijitha Yapa bookshops.
Book facts
Parallel Lives by Nanda Pethiyagoda
Reviewed by Chitra Premaratne Stuiver