Interim ETCA with India in March; final deal in five months
View(s):

By Namini Wijedasa

Sri Lanka aims to sign the framework deal for an Economic and Technology Cooperation Agreement (ETCA) with India by the end of March but talks for a closing deal are expected to take at least five months. The draft, once completed, will be presented to Parliament as an open document.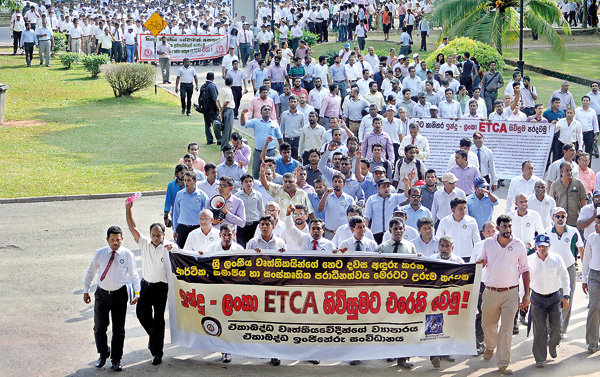 A high-powered Indian team is due in Colombo on March 4 for a workshop on the ETCA. Sri Lanka's proposed framework agreement is now ready. Development Strategies and International Trade Minister Malik Samarawickrama said India was preparing its own draft which would be shared with Sri Lanka. The ETCA negotiations will be done on the basis of a final framework agreement acceptable to both countries.
Prime Minister Ranil Wickremesinghe told Parliament this week that the ETCA would exclude provision for movement of natural persons, otherwise known as "Mode 4" in terms of the World Trade Organisation regulations. Mr. Samarawickrama said the Government would only permit the entry of top-level Indian professionals, such as software and hardware developers, who could transfer knowledge and technology from India.
The sectors Sri Lanka hopes to liberalise are shipbuilding and Information Technology (IT) enabled services. "We don't have sufficient qualified people in these two areas," the Minister said. "India's IT industry is highly advanced with a US$ 67 billion export industry whereas ours is about US$ 700 to 800 million. We have a lot to learn from them. We are not looking at workers at a lower level." It is not yet known what service sectors India would want opened up.
A working group has been set up under the ministry to hold regular discussions with professional associations and other groups, many of whom continue to regard the Government's efforts with deep suspicion. Mr. Samarawickrama said meetings had been held with more than 20 associations over the past month.
The latest such meeting was held on Friday. In attendance were representatives of an umbrella organisation called the United Professionals' Movement (UPM) which is campaigning for "the house to be put in order" before the Indo-Lanka deal is signed.
The talks centered on a two-page document presented to the Government outlining certain regulatory frameworks the UPM would like to see implemented in the run-up to any final agreement. The UPM maintained that these measures would be useful even in the case of other free trade agreements Sri Lanka hopes to sign.
One of the main recommendations is that laws be enacted in Parliament to give legal recognition and authority to the many professional bodies in the country. The skills of any foreign workers aspiring to enter the country could then be certified by the respective organisations. Another suggestion was that a comprehensive "skills gap" study be conducted to determine which service sectors require workers from abroad. The Government contends that such a study could be done in the two sectors it proposes to open up.
Talks are to continue. However, the Government Medical Officers' Association (GMOA) has pulled out of discussions and is demanding that three conditions be fulfilled before it can rejoin. It calls for a national policy on international trade. It urges the Government to stop making contradictory statements on the ETCA. And it wants verbal attacks on the GMOA to stop.
Major thrust to reduce India's negative list for trade
One of the objectives of the ETCA as described in the first chapter of Sri Lanka's draft framework agreement is to promote further liberalisation of trade in goods and services by increasing investments between India and Sri Lanka. It is proposed that the ETCA will take into account the difference in size of the two economies.

"India also recognises that we are a small country," Minister Malik Samarawickrama said. "Our negative list and their negative list will not be the same. Most of our products could be sent to India on a duty-free basis while only a few of India's products will be allowed to come in."

The draft framework agreement, a copy of which was received by the Sunday Times, has seven chapters titled General Principles; Early Harvest; Trade and Investment; Economic Cooperation; Technology Cooperation; Training; and Other Provisions.
After the framework agreement enters into force, Sri Lanka envisages that bilateral talks will take place on further tariff reductions or the elimination of duties on items in the respective negatives lists of the two countries under the existing Indo-Lanka Free Trade Agreement (FTA). "The major thrust on this front will be negotiations on reducing India's negative list," a note from the Ministry of Development Strategies and International Trade said.

Sri Lanka's draft framework agreement seeks talks on the liberalisation of trade in services "in sectors mutually agreed on". The draft does not name any sectors but it does provide a limitation: "…while at all times ensuring that such measures shall be commensurate with each party's respective economic situation, development, trade, investment and financial needs."

Under Economic Cooperation, Sri Lanka seeks to strengthen cooperation in areas such as protection of intellectual property rights; financial matters; trade promotion and facilitation; investment promotion and facilitation; tourism; customs; e-commerce; industry; and promotion of small and medium-sized enterprises and enhancement of their competitiveness.

The chapter on investment is expected to include the establishment of an investment promotion mechanism; increase of transparency of investment-related regulations; gradual reduction of restrictions on mutual investment between the two countries; and promotion of investment facilitation.