Beware: Wonder drugs developing resistance a deadly problem
By Kumudini Hettiarachchi
Antibiotics should be used for bacterial not viral infections, stresses SLMA president
View(s):
'Let's not make a powerful and helpful friend, a terrible foe.' This was the strong and clear message that came to the fore at a robust discussion on a grave concern not only in Sri Lanka but all over the world. In the eye of the storm are the wonder drugs that changed the course of medicine – antibiotics. Gradually, due to over-use and misuse, some bugs against which these wonder drugs are being used have turned 'super' and developed resistance to them confronting humankind with a deadly problem.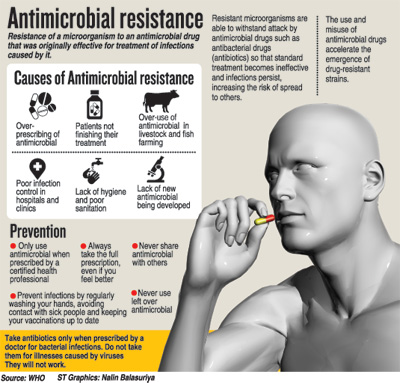 The different partners needed to fight this ever-present danger were brought together to discuss 'Antibiotics: A Friend Turning Enemy' by the Medicinal Drugs Committee of the Sri Lanka Medical Association (SLMA) on Friday at the Lionel Memorial Auditorium in Colombo 7.
The session was chaired by SLMA President Dr. Iyanthi Abeyewickreme and Medicinal Drugs Committee Chairperson Prof. Gita Fernando. Explaining that antibiotics are used mainly for the treatment of infections caused by bacteria, Prof. Fernando stressed that they should not be used for viral infections such as the common cold or viral diarrhoeas. "The common cold and viral diarrhoeas are self-limiting and do not benefit from the use of antibiotics."
Dealing with the burgeoning problem of self-medication by people, she said that it is essential for an antibiotic to be used only if it is necessary and has been prescribed by a doctor. For, inappropriate use of antibiotics leads to micro-organisms developing resistance to them.
With commonly-used antibiotics including amoxicillin, cloxacillin, benzylpenicillin, co-amoxiclav, erythromycin, ciprofloxacin, cefalexin and tetracycline, Prof. Fernando recommended:
Use of antibiotics only when necessary and on the prescription of a doctor. Then too, using the correct dosage for the appropriate duration, as advised by the doctor.
Don't stop antibiotics  early when you feel better.
Don't keep any balance antibiotics at home after the course is over.
Don't give antibiotics prescribed to you to anyone else, even if the symptoms of illness seem the same.
Always check the expiry date of the antibiotic before buying it.
Some startling findings were put forth by Prof. Chandanie Wanigatunge of the Faculty of Medical Sciences, University of Srij. A study on antibiotic use in a semi-urban community conducted among 400 adults by a team including Prof. Wanigatunge had found that:
Only 32.8% knew that antibiotics were prescribed for bacterial infections
n 26% thought antibiotics were necessary for the common cold and 86.3% thought antibiotics would relieve symptoms quickly
81.5% took antibiotics according to prescription
14.3% obtained antibiotics directly from pharmacists
Only 57.5% completed the full course of antibiotics
93% of those who discontinued antibiotic use did so as they felt better
12% retained unused antibiotics for later use
6% gave antibiotics to their children without prescription
49.8% obtained information through the mass media and only 9% from their doctors
70% were unaware of antibiotic resistance
Globally in 2014, according to Prof. Wanigatunge, there were high proportions of antibiotic resistance in bacteria which cause common infections such as urinary tract infections, pneumonia and bloodstream infections. There was also an increase in new cases of multidrug-resistant tuberculosis while a high percentage of hospital-acquired infections were caused by highly-resistant bacteria.
Pointing out that antibiotics reduce the severity of symptoms as well as the duration of illness and cure illnesses and prevent infection, she underscored the need to regulate the use of antibiotics to reduce overuse or misuse both in humans and animals. This would help use antibiotics sparingly and only when indicated.
While patients need to be educated on how antibiotics should be taken correctly and that the full course should be taken, another message that should be instilled in them is that they need to use a current prescription, Prof. Wanigatunge said, adding that there is also a need for appropriate and continuous education of the public about the threat of antibiotic resistance and how it spreads through the community.
Rational use of antibiotics is a must, she pointed out, explaining that factors such as wrong indication, wrong drug, under-dosing and widespread use of antibiotics in animals could lead to antibiotic resistance. In its wake comes resistant-bacteria which are more virulent, cause more severe disease and make it more difficult and expensive to treat. Rational prescribing by doctors is one aspect to reducing antibiotic resistance.
Adding her voice to the urgent appeal for rational use of antibiotics, Prof. Shalini Sri Ranganathan of the Faculty of Medicine, University of Colombo said this is the "key weapon" available to health professionals in the battle to reduce antibiotic resistance. Her advice to parents was preceded with the stress on the fact that "children are not small adults".
On how to prevent antibiotic resistance in children, Prof. Sri Ranganathan underscored that antibiotics are not antipyretics (medications that reduce fever); acute diarrhoea in children does not require an antibiotic but oral rehydration salts and clear instructions to parents; and the common cold and most upper respiratory tract infections in children need common sense and not antibiotics.
"Reserve the 'new' antibiotics for 'difficult' infections, while simple acts with regard to dose, formulation, storage, adherence could give major results," she added.
Zeroing on bugs and drugs, Dr. Kushlani Jayatilleke of the Sri Jayawardanapura General Hospital explained that when an organism is not inhibited or killed by an anti-bacterial agent at concentrations of the drug achievable in the body after normal dosage, it has become "resistant. Grouping such resistance into two, she said that 'intrinsic resistance' means that the organism was never sensitive to a particular antibiotic and 'acquired resistance' occurs when a micro-organism obtains the ability to resist the activity of a particular antimicrobial agent to which it was previously susceptible.
Lamenting that resistance to antibiotics is high in Sri Lanka, Dr. Jayatilleke said that a National Alliance to combat this threat was established last year and National Guidelines on Antibiotic Prescribing was also completed last year. Combating antibiotic resistance has been included in the health policy from 2017 onwards.
The Vice President of the Sri Lanka Chamber of the Pharmaceutical Industry, Palitha Jayatileka, meanwhile, offered the full support of the chamber to meet this threat. He urged that the National Guidelines on Antibiotic Prescribing should be made a "living" document, with pharmacies always adhering to the guidelines and the pharma industry complying with the guidelines. Patients need to be educated to follow the prescriptions of doctors.
While Dr. Eugene Corea focused on antibiotic resistance in the community, the important roles played by pharmacists and nurses in reducing antibiotic resistance was discussed by Lecturer in Pharmacy, Savini G. Senadheera, and Senior Lecturer in Nursing, Sujatha Seneviratne, both attached to the Department of Allied Health Sciences, Faculty of Medical Sciences, University of Sri Jayawardanapura.
A word of caution came from Consultant Paediatrician Dr. B.J.C. Perera during the discussion. "Don't let's create an antibiotic phobia but ensure rational use while arming the public with knowledge," he said.