The wildest dream
Jayanthi Kuru-Utumpala and Johann Peiris speak to Smriti Daniel ahead of their anticipated trek
View(s):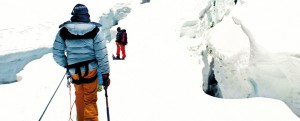 In the last week of May 2016, Jayanthi Kuru-Utumpala and Johann Peiris will become the first Sri Lankans to ever summit Mt. Everest. That is if all goes as planned. When you are talking about conquering the tallest mountain on Earth, certainty is a luxury and a  Rs.19 million price tag is its own obstacle. But with friends, family and corporate sponsors rallying behind the campaign to raise funds, the dream is closer than it's ever been before.
Johann is one of the city's best known stylists and a performance artist, while Jayanthi is a leading women's rights and gender expert. The two might make for an unconventional team, but they both share a passion for mountaineering. Beginning in 2011, they've climbed Island Peak – some 6,160 m high – and Kilimanjaro, which at 4,877 m is the highest mountain in Africa. They've also gone on many expeditions around Sri Lanka.
But nothing compares to Everest. As a child, Jayanthi remembers that whenever she was asked what she wanted to do when she grew up, the first answer that came to her mind was always "Climb Everest!" "Of course I would never say this out loud, for fear that well-meaning uncles and aunts would think I was mad!" When she met Johann, she was delighted to meet "another Sri Lankan as mad as I was."
Everest, with its towering presence in mountaineering, history and culture, is a loadstone for amateur climbers like Jayanthi and Johann. Johann still remembers the awe he felt the first time he looked up on the mountain from Base Camp (he's been there twice). "That first glimpse of Everest does something to you," he says. "Looking up at it, you are speechless."
They have the topography of what they are about to face etched in their minds. The two will land in Lukla in March, from where they will then set out on the long trek to Base Camp. They will spend the next few weeks acclimatising to the altitude, for instance by going up to Camp I and returning to Base Camp.
One of their first challenges will come at the spectacular yet treacherous Khumbu Icefall. Its deep crevasses, and shifting ice make this one of the most dangerous sections on the route. Jayanthi says she is looking forward to standing on the Geneva Spur, between 7620 m and 7924 m in altitude, and of course the iconic, nearly vertical rock face known as the Hilary Step. 8,790 m up, the step presents an intimidating challenge, the last real barrier to the summit.
Each phase of the climb presents its own challenges and calls for different skills. Some of these are hard to cultivate at sea level, but Jayanthi and Johann have been practising scaling ladders with their crampons on, and have been doing bouts of interval training on Kirigalpotta (which stands at a diminutive 2,395 m  but still presents a challenge) to build stamina.
They're swimming to expand their lung capacity, working on their climbing rope skills and bouldering to build upper body strength. "At the end, when we stand on the peak, to know that you are standing on the highest point in the world, just imagine that?" says Johann. Once at the top, climbers may only get 10 minutes to savour their accomplishment, but for Jayanthi and Johann it is the climb itself that is the real achievement. "To push yourself, to know that you have got to the top, it's to know what you are really capable of." For Johann, this is a spiritual quest and one he goes on with the backing of his church.
Part of preparing for the trip has also been confronting the very real danger the ascent poses. Jayanthi, who has trained with the Himalayan Mountaineering Institute knows well that their bodies will struggle to cope with oxygen deprivation on the slopes of the mountain. Just going to Base Camp can be challenging – "We live at sea level, and we are climbing to 18,000 ft," says Johann, "that is certainly going to do something to your body."
In the death zone, 8000 m up, it is every man for himself . Infamously, there are over 200 bodies on Everest belonging to climbers and sherpas who lost their lives and whose corpses we might never be able to recover. One of the most famous is Tsewang Paljor. The Indian climber who is known for the green boots he had on, was killed in the 1996 blizzard on the mountain. Today, if the snow is light, climbers have to step over his extended legs on their way to the summit.
Johann and Jayanthi know that the mountain will force them to confront their own mortality. "When you see your first dead body, mentally that is going to be one of our biggest challenges," Jayanthi says. Johann adds that being in touch with the nerves is essential –"Going in you have to be aware of what you are facing. It's why they chose their guides so carefully – the International Mountain Guides are experienced and relatively affordable.
They are still raising funds, but the outpouring of support has been a very emotional experience for both mountaineers. They have letters of support from both the Prime Minister and the President, and express gratitude for even the smallest gifts from individual donors. "You just feel the energy and the positive vibes, and it gives you inner strength and it gives you motivation as well," says Jayanthi. Johann adds that he wants to do this for his father Milroy, who inculcated in him a love of climbing. His father was hurt in an accident last year and has been bedridden since.
But it is in each other, that the two seem to have found support they couldn't do without. Says Johann: "I feel she is the only one I want to attempt this climb with."
Support the journey
Support Jayanthi and Johann - the first Sri Lankans to attempt the summit of Mt. Everest. With over a decade of mountaineering experience each, they have both individually and as a team successfully attempted many of the world's most challenging treks, including Island Peak in the Himalayas, Mt. Kilimanjaro, Mt. Imja Tse, Mt. Kinabalu, and the Andes.
For more information log onto http://igg.me/at/everest-expedition-srilanka/x or find Everest Expedition – Sri Lanka 2016 on Facebook. Call either 0773580179  or 0777760237