Silver Falls Hotel: Destination Nuwara Eliya
By Sanath Weerasuriya
View(s):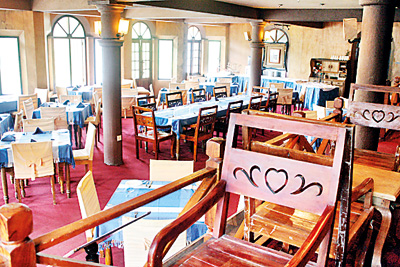 Holidaying in Nuwara Eliya is still the biggest event in any season. Holiday makers visiting Little England during the December season has overtaken the popular April Spring season. Significantly most of the holiday makers want to enjoy their vacation away from the busy and noisy Nuwara Eliya town. Gradually the holiday traffic is moving away from the town to more relaxed country side bungalows and resorts.
Hotel Silver Falls is an ideal place for family outing and located in Blackpool on Nanuoya Road just five minutes drive from Nuwara Eliya city centre at a height of 6200 feet above sea level.  Built in 2004, this 'new colonial' style hotel is a popular destination among foreign and Sri Lankan travellers visiting Nuwara Eliya.
'Our hotel, though a small place comparatively, is getting attracted by most of the travellers, who used to stay in big city hotels' said Tony Saldin, the experienced General Manager of the hotel. Hotel Silver Falls is a modem establishment, with a unique panoramic view of Piduruthalagala and overlooking the Silver Falls (Ridee Ella) with greenery in the surroundings.
It has sixteen well presented rooms, with stylish furnishing and design to feel home comfort and relax.
'We are setting up five new Eco Cottages with all modern facilities. This will be ready for April season' Saldin said
Most of the rooms are with balcony over looking the Silver Falls. Attached bath with hot and cold water, telephone, TV (National Channels), mini bar are some of the guest amenities at the room. The main restaurant at upper floor caters to all guests providing a range of a' la carte menu option.
'It's the best in culinary craft of Sri Lanka, Western, Eastern, Chinese and Indian, dishes, which would make a guest extremely delightful' said Tony Saldin, who is a Chef himself . 'Stonehenge Bar 'adds overall ambience of the place, where one would completely unwind there, with special cocktails land istening to tapping music.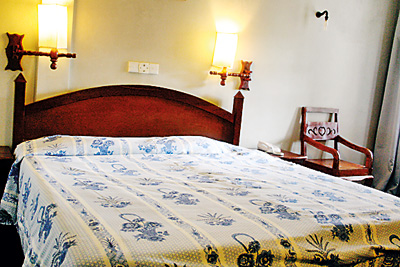 'We put up outside barbecue and special Sunday Brunch for guests and groups on special request' he added. Silver Falls has a well trained staff to manage the restaurant, which is excitingly equipped and designed. 'The service is available throughout the day with no time barriers' Tony said.
Hotel Silver Falls has been the venue for Sri Lanka weddings for the past few years.  'We have everything you need for a wedding, from the poruwa to the kendiya, from the flowers to the cake, from the transport to hotel booking. The excellent wedding buffet is highly recommended by those who experienced it. What is unique is this service on offer, is all these at very nominal rates' explained Mr. Saldin.
Hotel Silver Falls is also a well known venue for banquets and conference facilities. The hotel is available for smaller meetings seating up to 20 persons and small corporate conferences' he added.  Shopping and sight seeing, Lake Gregory, golf esplanade, Moon Plains, Hakgala Botanical Gardens, the old brick post office, Single Tree Mountain and Lovers Leap are easily accessible within five to ten minutes drive from the Hotel.
Log on to silverfallhotel.com for more details or call on 052 2235859 / 0714787443
Pix by Shan Bandu Weerasinghe