Neerja: A portrayal of greatest love
View(s):

Featuring the courageous act of a young Indian girl who sacrificed her life to save lives of 359 passengers of a flight, 'Neerja' is now being screened at Liberty Lite Kollupity, Amity Lite and Vista Lite theatres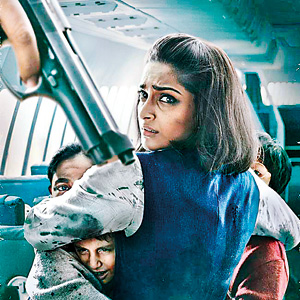 Neerja is a 2016 Indian Hindi-language written by Saiwyn Quadras, and Directed by Ram Madhvani biographical thriller film starring Sonam Kapoor, Shabana Azmi and Shekhar Ravjiani. Is produced by Atul Kasbekar under the banner of Fox Star Studios.
The film revolves around the Libya backed Abu Nidal Organization's hijacking of Pan Am Flight 73 in Karachi, Pakistan on 5 September 1986, specifically focusing on head purser Neerja Bhanot who thwarted the hijack attempt by preventing the plane from taking off, which resulted in the lives of 360 hostages being saved.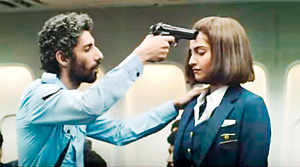 The film unravels the story of Neerja Bhanot, a 22 year old part time model, who was the head purser on the flight. Neerja had escaped an abusive marriage at a very young age and as a life change, decided to become an air hostess, subsequently impressing everyone so much that they made her a purser. Throughout the horrifying situation, Neerja didn't succumb to her fears and instead she fought her personal demons from the past and from the minute the plane was hijacked, through the terrifying 17 hours to the grueling end, she used her courage, wits and compassion to make sure that the passengers were protected, going as far as to hiding the passports of the American passengers. Through her swift thinking and brave actions, she managed to save the lives of 359 passengers and crew on board out of 379, all at the cost of her own life.
Neerja was hailed internationally as 'the heroine of the hijack' and posthumously became the youngest recipient of India's highest civilian honour for bravery, the Ashoka Chakra and was bestowed the Flight Safety Foundation Heroism award by U.S.A, Tamgha –e- Insaaniyat (awarded for showing incredible human kindness) by Pakistan, Justice for Crimes Award by United States Attorney's office for the district of Columbia, Special Courage Award by the U.S. government and the Indian Civil Aviation Ministry's Award.
The film will be screened at 4.15 pm and 7.00 pm at Liberty Lite, at 10.30 am at Amity Lite and 1.30 pm at Vista Lite.