Indian designer brings home-town weaves to the stage
View(s):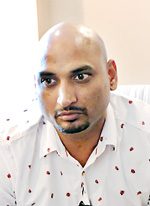 Back for the third time Samant Chauhan says Fashion Weeks like CFW play a colossal part in promoting "brands like ours which don't invest in advertising".  "My brand is about everything hand-woven in my home-town, Bhagalpur," he said.
Straight out of school, he said his father knew he wouldn't fit the corporate mould. "There were no universities offering purely photography degrees" so fashion design seemed an apt choice for the man who works with his fabric from the fibre stage.
There's pressure to succumb and create trending pieces to make some money, but that's not what people are interested in, "You can't do it long term." Taking India by storm with his work since about three years ago, he says that for as long as eight years before that his design voice wasn't understood. "It was difficult to even pay salaries to my team."  Thankfully he survived those hard times and now enjoys a dedicated following.