Here come tomorrow's fashions!
By Vinusha Paulraj
HSBC CFW opens with Emerging Designers segment
View(s):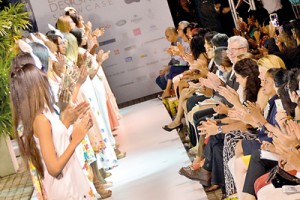 Park Street Mews was teeming with fashionistas, gathered on the eve of the main HSBC CFW shows under strings of lights to absorb a dose of ambient high fashion. We caught a glimpse of tomorrow's top names in the local fashion scene nervously watching their work finally take centre stage, as they kickstarted CFW's Spring-Summer 2017 season on Tuesday.
It's been a year-long ride for the Bright Sparks now presenting their work in CFW's Emerging Designer segment. Immaculately thought-out pieces suggested serious mentoring had gone on behind the scenes, to meet the rising expectations. In their final effort of shaking-off last minute nerves we were privy to a few impromptu dance sessions, seconds before models stepped on stage, seemingly unaffected by any sort of pressure.
Angelina Seneviratne's collection opened the show. Her inspiration- effects of oil on water was clearly conveyed by her pieces .
Interesting hem-lines was a detail we enjoyed in Azzraa Thaarick's work. A story of travel-induced escape was evident in her fashionably functional pieces.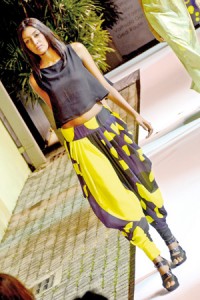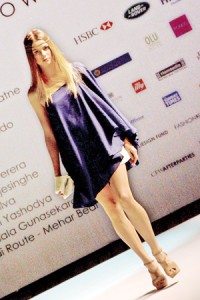 Anushika Perera's shape shifting collection titled 'Metamorphosis' won CFW's Design Fund for this year. A final year fashion design student at the University of Moratuwa, her winning theme saw breezy silhouettes and muted tones, with strategically placed buttons allowing for the conceptual shape-shifting to work. Most of these pieces were paired with earthy-toned beads completing the organic vibe her collection emanated.
Mehar Bedi, the Chennai-based designer showcased a collection of tie-dyed colours. Sticking close to her label Gedi-Route's ethos of celebrating youthful colour, jump-suits, skirts and halter-dresses marked her presence at CFW. Nipuni Silva and Vathsala Gunasekara of the University of Moratuwa showed a series of bags and clothes respectively. Models donned Vathsala's pieces as they carried complementary fabric bags of Nipuni's creation.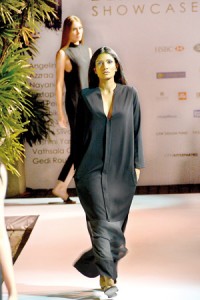 Stripes and floral prints in form-fitting, contemporary cuts was Rashmi Yashodya's contribution to the CFW spectacle.
Organic fabrics were a common sight on the ramp this time, but Tilini Perera's approach was refreshingly different. Featuring bamboo prints and fabrics, her collection was infused with fresh bamboo-shoot greens and deeper emerald tones.
Nayani Fernando presented a collection of mostly minimally captivating dresses (also seen on our Magazine cover). Plunging neck-lines and open backs on monochrome pieces, occasionally detailed with sheer layers sat effortlessly on their wearers exuding sophistication.
The curtain came down for CFW day one, on a label born of collaboration, designers Indi and Charlene coming together to create pieces featuring art by children with special needs, who receive care at an institution called Navodaya. White fabric bore crayon-like prints of child-made drawings of buses, flowers, six-limbed people and insects.
Applause from the audience.
Pix by Indika Handuwala