'Cinderella', A tale of a budding romance
View(s):

'Cinderella' is an intensely romantic movie which reveals how a sudden and short romantic interlude can have a lasting impact and a deep empathy on a human life.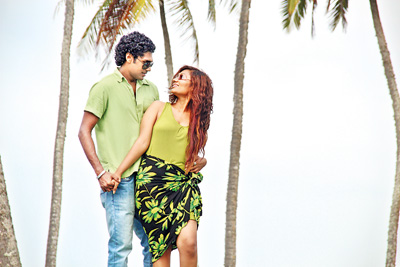 Directed by Inoka Sathyangani, the plot of this film is simple yet effective and moving at the same time. Starring Upeksha Swarnamali and Dancing Stars fame cricketer turned actor Akalanka Ganegoda the movie is now being screened at Regal Colombo and Lido Borella in Colombo and 29 other theatres around the country.
Chandula, a 26 year old architect student and his two best friends decide to visit Hambantota; with the intention of visiting Mulgirigala rock temple where there are beautiful and rare cave murals. This happens while they are awaiting the results of their final examination.
As they check into a beautiful five star hotel situated beside the beach, the three young men catch a glimpse of an attractive young woman. The boys cross her path once again two days into their stay. Although the beautiful young woman ignores their amorous glances at first, an unexpected incident gives Chandula a chance to talk to the girl who introduces herself as Isanka. As friendship blossoms between the two, Isanka reveals that she lives in Switzerland and is on a short visit to Sri Lanka. While Chandula's heart goes for this stunning young woman, he excuses himself from the planned trip to Mulgirigala with his friends, wanting to spend more time with Isanka.
Chandula notices that Isanka takes great effort to conceal her personal details but he does not pursue the matter fearing that it would crack the friendship that is building up between them and may harm the budding romance which is blooming up naturally.
As the two become more involved with each other, Chandula wonders whether this is nothing but a short holiday fling for Isanka who still refuses to reveal any details about who she is.
Unable to control his emotions, Chandula confronts Isanka and questions whether their relationship is nothing but a short fling that she will forget soon after she returns to Switzerland. Unable to evade Chandula's questions, Isanka tries to escape from him because of a hidden cause that she cannot confront. This results in many questions unanswered as he is unable to fathom the nature of their relationship.