Sri Lanka's brutalisation of innocents
View(s):

It is becoming increasingly more difficult to pretend that sexual violence is not on the rise in Sri Lanka. In past weeks alone, particular incidents included the rape and murder of a thirteen year old girl in Vavuniya as well as another teenager in Mawathagama while a six year old boy was sexually abused and killed in Sampoor.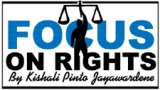 Efforts to enforce tougher sentencing
These are poignant and outrageous cases which reverberate in the public conscience as much as the murders of little Seya Sadewmini from Kotadeniyawa and Vidhya Sivaloganathan from Pungunduthivu. There are countless other unnamed innocents. The problem is that isolated cases lead to public anger which then fades away. Meanwhile, the crisis of sexual violence continues even as state authorities remain lethargic.
The failure of the system is evidenced at all levels. In the first instance, there is an absence of proper police investigations with little forensic analysis or basic law enforcement skills being employed. Examples of those wronged are many, the latest being the schoolboy who was unjustly imprisoned on suspicion of involvement in Seya's murder. Meanwhile, the peculiar tradition of unarmed suspects being shot while in police custody continues.
This week, it was reported that the Ministry of Justice is contemplating issuing guidelines to be followed by judges in the sentencing of sex offenders. Relevant there to is an extraordinary precedent set by the Supreme Court some eight years ago that mandatory sentences for rape amounts to an unconstitutional restraint on the High Court's judicial discretion in sentencing. This practice of High Court judges imposing suspended or reduced sentences became entrenched in consequence. Ironically, even where a High Court hands down the required minimum sentence in an exceptional instance, the Supreme Court has intervened to reduce the severity of the punishment.
An improvement of the judicial function
That said, it is not a pure question of lenient sentencing which is at the core of the problem. The judicial function itself has become of concern. There appears to be an inability to understand fundamental legal principles in regard to crimes of sexual abuse.
This judicial timorousness is even more pronounced where sexual violence is manifested during conflict. As of now, our most rigorously reasoned judgment laying down clear jurisprudential principles in this regard dates back to the 1970′s when Premawathi Manamperi was abused and killed during the first Southern insurrection. Only rare exceptions to a general unwillingness to venture into this thorny terrain have been evidenced by the superior courts. One such instance was when the Supreme Court upheld the convictions of soldiers for the rape and murder of Krishanti Kumaraswamy in the 1990′s. But in general, the trend has been negative. This is despite several High Courts taking bolder decisions in these cases to little avail however as their findings are quashed on appeal.
Then again, the issue is not the judicial function alone. In another rare positive outcome in the recent Vishwamadu rape case where two soldiers were sentenced by the Jaffna High Court for abuse of internally displaced women, the women went through considerable trauma within the court room itself. The education of judges, lawyers and prosecutors in regard to the appropriate handling of sexual violence cases remains a priority.
Ensuring a good legislative scheme
Meanwhile, many of these cases fall through the cracks due to the victimization of the complainants. In the few cases where there are witnesses, they are subjected to extreme intimidation. With all the goodwill in the world, it is difficult to believe that Sri Lanka's Assistance to and Protection of Victims of Crime and Witnesses Act (2014) will remedy this in any significant respect. Crucial thereto is the requirement that the Authority established under this law is led by independent and competent individuals including state officers untouched by past scandals of subverting justice. We see no such reassurance however. Its protection division is drawn from the normal police cadre which is unacceptable. How can victims expect the police to protect them when the victimization emanates from the police itself in most instances? This is basic commonsense surely.
Following the 2012 rape and murder of 'India's daughter' Jyoti Singh, India passed new legislation in 2013 which strengthened punishment of sex crimes. The law also covered violations such as stalking, voyeurism and lewd expressions. Importantly a tough clause made non-registration of a rape or sexual violence complaint by the police, a criminal offense. Hospitals were mandated to have a designated room for forensic and medical examination. If the victim was female, the presence of a female attendant was necessary. These are measures which amount to the bare minimum that state authorities are called upon to observe.
Even these responses have been castigated by Indian lawyers as insufficient. A sterner state response was called for. Legislation was proposed mid last year to try minors charged with rape and murder in regular courts along with adults.
Addressing a complex problem
Across the Palk Strait, have we become so deaf to injustice that the brutalization of innocents no longer concerns us? Sri Lanka's crisis of sexual violence is not limited to the former war theatre. It does not draw its origins only from conflict. This is a complex and multi-layered problem brought about by the breakdown of the Rule of Law and aggravated by protracted war.
During the epidemic of rapes in Kahawatte some years ago, villagers reported to fear governing every aspect of their lives with adults staying away from working at tea and rubber estates while children were prevented from going to school. In the North and East, such fears are still evident with villagers fearing state authorities rather than going to them for redress. And when the State abstains from its task of protection of citizens, community anger takes over. Public protests were evidenced this week in Vavuniya as residents engaged in a hartal over the rape and murder of a thirteen year old teenager.
Assuredly these are not systemic weaknesses that can be addressed by patchwork measures. The increase in sexual violence against those vulnerable needs to see a concerted effort at all stages of the justice system as well as the health and social service sectors. One can only hope that enlightened realization in this regard will inform a national effort very much sooner rather than later.