Mega teledrama in NPC: Serial row over corruption charges
View(s):

Though the Northern Provincial Council (NPC) earned a name for passing a record number of resolutions in the recent past, this week the councillors were at loggerheads when Chief Minister C.V. Wigneshwaran moved a resolution against a resolution that had already been passed.

He claimed that the reason for submitting his own resolution was that one of the provincial ministers had been falsely accused of corruption charges. At a previous council sitting, a resolution was passed against Ponnuthurai Ayngaranesan, Minister of Agriculture and Agrarian Services. The resolution made eleven corruption charges against him.

The council decided that there should be a full probe. The resolution alleged that the minister was involved in a fraud amounting to Rs. 40 million. This week, Chief Minister Wigneswaran moved a resolution requesting the council to remove the earlier resolution from the council's Hansard since he believed the allegations were baseless. Mr. Wigneswaran informed the council that the minister had written a letter, explaining the issues and as Chief Minister he had a right to intervene.

The debate over the Chief Minister's resolution went on for two hours. There were heated arguments between two factions.
One of the councillors quipped that the council sittings had become like an "Indian mega serial drama" — a never ending action-packed episode.

The debate on the resolution ended without a decision like in the teledramas.
---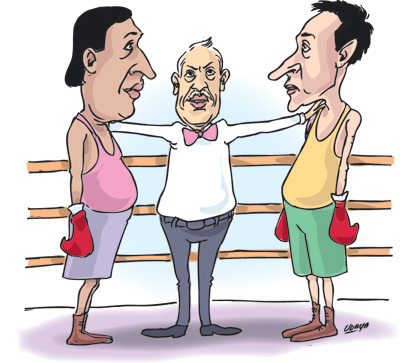 Ravi-Kabir bout: Malik the referee
Minister Malik Samarawickrema played the role of a broker to iron out official issues in the ministries held by his colleagues Kabir Hashim and Ravi Karunanayake. The two 'feuding' ministers met informally at the Kotte Parliamentary complex on Friday.
Among the key issues are appointments to several boards (now under Minister Hashim) when they were previously under Minister Karunanayake during the 100 day National Unity Government. After Minister Hashim inherited them, it is alleged that some chairpersons and directors appointed by Mr. Karunanayake had refused to resign.
Contrary to arguments that were expected between the duo, the talks had gone off smoothly with each explaining his position.
Now the trio have decided that another round was necessary before Prime Minister Wickremesinghe is informed of a stalemate, compromise or solution, as the case may be. This meeting would also be to clarify issues and sort out matters that have dragged on since August last year.
---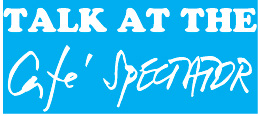 Troops rush to rescue baby elephant
That a baby elephant fell into an unprotected well in a jungle near Polonnaruwa and could not be rescued was cause for concern for Sustainable Development and Wild Life Minister Gamini Jayawickrama Perera.
He pondered over what to do one morning as he attended the funeral of R.S.Herath, father of former Media Ministry Secretary Dr. Charitha Herath. The funeral was at Kamburugoda in Kuliyapitiya. It seemed that both he, and the baby elephant were lucky. Turning up at the same time was President Maithripala Sirisena. After he paid his respects to the late Mr. Herath, Minister Jayawickrama Perera told his story to the President. The President soon went to a room in the house and was busy making telephone calls.
The first call was to Polonnaruwa District Secretary (Government Agent), S. Senanayake who was told what had happened. Unlike a human being, President Sirisena said, elephants could not talk. Hence they could not express their suffering, he pointed out.
The next call went to Army Commander Lt. Gen. Chrisanthe de Silva. The Commander in chief directed the Army Commander to take immediate steps to send troops to assist in rescuing the baby elephant.
Within hours troops helped by a backhoe rescued the trapped elephant. The good news reached the President when he returned to Colombo.
---
On astrological advice, Rajitha's bypass delayed by a day
Astrological considerations prompted the family members of Health Minister Rajitha Senaratne to put off heart surgery scheduled for Wednesday at a Singapore Hospital.
The bypass surgery was carried out on Thursday morning and Minister Senaratne was reported to be in good condition yesterday.
His son Chatura, Gampaha District UNP Parliamentarian, has been in touch with both President Maithripala Sirisena and Prime Minister Ranil Wickremesinghe giving them regular updates on his father's condition.
The minister is due in Colombo next week.
---
Monopoly maroons marine surveyors at Hambantota
Marine surveyors with valid permits to the Hambantota Port were told early this week that they had been barred from the area.
Coming to their aid was an obliging number two at the Sri Lanka Ports Authority (SLPA). He directed that the men be allowed to do their work or ships at the port would be delayed.
The move came after one sole agent with strong connections to a politico succeeded in getting the monopoly to operate.
Now, they are waiting for the boss to arrive to sort out matters.
---
PM moves with a torch
The countrywide power blackout on Thursday forced Prime Minister Ranil Wickremesinghe to use a torchlight at Temple Trees, while moving in some dark rooms in his official residence.
He told MPs in Parliament during an informal chat that the power generator at his Fifth Lane residence was also broken and needed repairs.
---
Thajudeen killing: Key suspects to be arrested soon
Detectives probing the death of ruggerite Wasim Thajudeen in a high profile case have made some startling discoveries.
The young rugby star had been assaulted and tortured in many ways making him virtually lifeless, investigations reveal.
It is only thereafter that the perpetrators of the crime, it is alleged, decided to murder him for fear he would otherwise have not survived the injuries.
Some key arrests are to be made by the Criminal Investigation Department (CID) detectives any time now, said a source familiar with the probe, now that the court has also said that the death of the ruggerite appeared to be a murder.
---
Envoy Amunugama rapped for lapses
Foreign Minister Mangala Samaraweera has rapped Karunatilleke Amunugama, Sri Lanka's Ambassador in Germany, over the 'unsatisfactory arrangements' made for President Sirisena's visit there last week.
The reprimand came after more details emerged of lapses during the three-day visit. It has also come to light that German Chancellor Angela Merkel had to personally restrain an official photographer in the Presidential entourage as he tried to walk ahead of her and the President.