Changing face of North: Region growing faster than any other
By Our Political Editor
View(s):
With rapid development, the evils also come; North a hub for Kerala Ganja, liquor consumption on the rise
Div. Commander transferred after exchange with Mangala over Geneva issue
Review Group wants Army committee to monitor implementation of the UNHRC resolution amid fears of action against top brass
JAFFNA: The thundering roar of a MiG-27 engine on training sorties over the skies of this peninsula revived memories of the brutal three-decade-long separatist war.
Hindu Primary school students in the town area panicked. A teacher asked them to lie flat on the ground in the mistaken belief that an air raid was imminent. Some screaming and others trembling did just that. Still fresh in their minds were the days when Air Force raids on Tiger guerrilla hideouts saw them being goaded into underground bunkers, amidst deafening explosions. Once more they were being forced to re-live that trauma. Elsewhere, farmers in their fields or those on different chores in the town and outskirts looked confused. That included cyclists and motorists who stopped on the roads to stare at the skies.
The Sri Lanka Air Force (SLAF) spokesperson, Group Captain Chandima Alwis, said a routine training exercise with the Navy was under way on Tuesday and Thursday. He confirmed Russian built MiG-27 ground attack aircraft were deployed for this purpose. That they chose the skies over Jaffna, perhaps unwittingly, was to say the least, a grossly insensitive move. More so, when this northern city has almost shed the scars of the wounds caused by the separatist war. Gone are the buildings with pockmarks, the result of intense gunfire. What were once the offices or bases of Tiger guerrillas are no more. Multi-storeyed buildings or shops have come up in their place. Hotels are springing up in many areas and tourists, particularly large groups of budget travellers, are frequenting the smaller restaurants, some with air conditioned rooms on offer.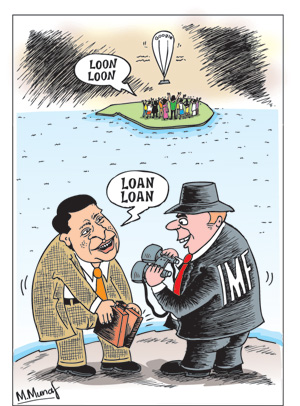 They seem content with string hoppers, thosai and sambar. Fishing and farming, two of the main occupations, have increased. Military presence is rare. Even the police presence is symbolised mostly by traffic officers at every intersection. Yet, indiscipline among motorists, particularly motorcyclists, is rampant. This grew when the Tiger guerrillas dominated the ground. Hardly a day passes when motorcyclists demonstrate their daredevilry by darting in to the centre of a highway from a byroad.
The face of Jaffna has changed rapidly from a war-torn city to one which is fast developing. Almost all banks in Colombo have established their branches. Finance and Leasing companies are doing brisk business. Private sector companies are engaging in a flourishing trade of electronic items and consumer goods. Factory off runs of branded clothes are a heavy draw. Such speedy developments have also brought in its wake some social evils. Liquor sales have boomed. It is not the licensed outlets, which stock more brands than in Colombo and the rustic bars that serve mostly coconut and Palmyra arrack or bottled toddy that are drawing crowds. At restaurants in the newly sprung hotels, locals sit around a table drinking Johnny Walker Double Black Label Scotch whisky — a sign that speaks of normalcy after the war and the resultant prosperity. That is one better than their counterparts in Colombo who are still fans of the exquisite Johnny Walker Black Label. A more frightening aspect is the rise in the consumption of drugs and their easy availability.
G.K. Perera, Deputy Inspector General of Police (DIG – Jaffna), said the situation has been made worse by the widespread use of a variety of cannabis called Kerala Ganja. It is being smuggled into Sri Lanka from South India. The DIG said Jaffna has become a hub in the distribution of this drug. The latest detection this week, he said, was at the Pannai causeway the road across the lagoon that links the peninsula to the Mandaitivu Island. The police found 25 kilograms with a street value of Rs 4.5 million. He said the ganja is smuggled by Indian fishermen and handed over to Sri Lankan operators in mid sea. Four persons were arrested over the recent detection. It turned out that one of them was a Sri Lankan living in France and holding dual citizenship. This was proof that there is a lot of money in this illegal trade. "Last year, one single detection amounted to 180 kilograms," DIG Perera said. It was detected off the coast of Point Pedro. He said the alcohol consumption in the north too was high. Youth spend their earnings to consume liquor. One of the reasons, he said, is because part of the money for them comes from relatives living overseas. It is from those who fled the war and found lucrative employment in western countries.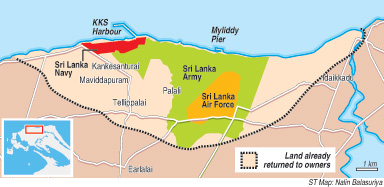 Jeyam, now a housekeeping assistant, in a hotel, shyly admits that he was a former guerrilla cadre. His muscular arms, the result of training to handle weapons, betray this well-built 32-year-old. "I am happy there is no war. I can earn and enjoy my life. I see movies or have a drink during my free time. I don't want to go back to those (war) years," he said. Kiniyan, who is 24 lost his father. He was killed by the LTTE. He and his mother fled to Tamil Nadu and returned later. He said he was 'forced' to serve in the guerrilla ranks for almost a year. Asked how he felt now, he replied, "I am happy; there is no more war. People suffered a lot. Now they do not want war." Interestingly, neither of them knew about the UN Human Rights Council resolution in Geneva last year or about the impending alleged war crimes inquiry. If there is evidently less public interest, activism is high among political groups and a few non-governmental organisations.
Despite the normalcy and the rapid pace of development, serious issues do exist. Main among them are matters arising from the Geneva resolution. That they would soon come under a probe for alleged war crimes is a subject of much concern for those in the security forces. Officers who obeyed orders and ensured the military defeat of Tiger guerrillas are worried. This is whilst politicians in the North, including from the United National Party (UNP), co-partners in the Government, are stepping up pressure to seek the release of more lands now under security forces control. See map on this page for areas held by the Security Forces and the extents released to original owners so far.
Two weeks ago, Foreign Minister Mangala Samaraweera was here to launch the Government's website to seek views from the public on the proposed new Constitution. He took the opportunity to address Security Force Commanders and Divisional Commanders at the SF headquarters in Jaffna. He made clear that the Government would protect the interests of the security forces. Major General Chagi Gallage, General Officer Commanding (GOC) the Army's 51 Division located in Kopay, who was once in charge of the Presidential Guard under former President Mahinda Rajapaksa, proposed that a military representative be included in the Task Force appointed by the Government to enforce provisions of the Geneva resolution. The appointment of this task force was reported exclusively in the front page lead story of the Sunday Times of February 7. Minister Samaraweera rejected the proposal saying this could not be done. An exchange of words is reported to have ensued. Days later, Maj. Gen. Gallage was transferred out of Jaffna. Senior Army officials declined to confirm or deny the incident. He has now been appointed Director General of Infantry at Army Headquarters. The incumbent in that office, Brigadier Piyal Wickremeratne, has been named Security Forces Commander, Central Command. Usually, as GOC, an officer is appointed for two years. Maj. Gen. Gallage had served much less than this period. Replacing Maj. Gen. Gallage as GOC 51 Division is Brigadier Mervyn Perera, an officer from the engineering services.
For obvious reasons, senior military officials in the area declined any formal comment on issues facing them. Nor are they authorised to speak to the media. One who spoke on grounds of anonymity, however, said that a "Review Group" had, two months ago, raised their concerns with Army Commander Lieutenant General Chrisanthe de Silva. He said this was in a report of some 70 odd pages where they had dissected the OISL (the title for the Office of the High Commissioner for Human Rights investigation into Sri Lanka) and handed it over to their Commander for study and action. However, he declined to elaborate on its contents except to give 'an overview.' He said the Group had "appealed for the appointment of a Committee in the Army to study the implementation of the Geneva resolution process. It should be made up of senior officers and civilian experts. The idea, the source said, was to educate those serving and retired on the possible accusations and the implications arising out of them.
The OISL report, however, has not mentioned precise charges against any member of the security forces. What appears to be the concern is how they would be affected by two critical areas they may be subject to — the chain of command and command responsibility. As reported last week, visiting UN Human Rights High Commissioner Zeid Ra'ad Al Hussain said in a formal statement that accountability mechanisms were intended to deal with international crimes and gross human rights violations by individuals. A diplomatic source then explained "it is those who did so, (gave orders), politicians, officials and military leaders who will become liable and not the hundreds who carried it out."
The Review Group, according to the same source, has pointed out that some of the reported acts were in fact committed under the strict confines of "military necessity" though they could be interpreted as a 'war crime' and those concerned indicted for it. Hence, they have argued that the matter be viewed from a national viewpoint. They have expressed fears that the military leadership is likely to be implicated primarily though they led the campaign to eliminate terrorism. On the other hand, they point out, more than 11,000 (Tiger guerrillas) were rehabilitated and granted amnesties for crimes against the state.
While emphasising that the Sri Lanka Army is willing to face allegations, the source said, the Review Group has noted that civilian casualties, if any, were unintentional. The sole aim of the Army, the source pointed out, was to gain a definitive outcome against the guerrillas by defeating them, conclude a war and ensure peace was won for the civilians. It has been pointed out that guerrilla atrocities were grave. The allegations in the OISL report, they have pointed out, should be a collective task spearheaded by the Commander of the Army and cautioned that any individual actions could lead to greater repercussions. "There were many other serious aspects that were dealt with. However, those cannot be discussed," the source insisted.
Both President Maithripala Sirisena and Prime Minister Ranil Wickremesinghe have during their discourses with the Army high command assured that any probe would be to identify wrongdoers and would not be a campaign against their establishment or the vast majority who were professionals. Hence, they have made clear that there would be opportunities for them to place their case at an inquiry mechanism.
One of the major issues now playing out here is the demand for release of more land that come under the security forces. This is a contiguous extent of more than 11,629 acres which encompasses the Security Force Headquarters (SFHQ) in Jaffna since 1996. One of the contentious issues is the release of land in Myliddy. Former residents of this area are still in refugee camps. Myliddy, including a fisheries jetty, was brought under the Sri Lanka Ports Authority through a Gazette notification in September 1990. Earlier, Valikamam North, Myliddy North, Myliddy South and the general area of Palaly were placed in the hands of the Sri Lanka Air Force (SLAF) in August 1987. This was particularly in view of the vulnerability of aircraft taking off or landing being exposed to gunfire. The village was less than a 100 metres from the runway and was thus prone for RPG (rocket propelled grenade) attacks in particular.
It may be recalled that one time President Ranasinghe Premadasa's special envoy for talks with the Liberation Tigers of Tamil Eelam (LTTE), faced mortar fire when he was to board an aircraft to return to Colombo. This was in June 1990 after peace talks with the LTTE failed. The guerrillas directed mortars at the runway from the direction of Myliddy. LTTE ideologue Anton Balasingham had earlier warned Minister and Peace Envoy A.C.S. Hameed that it was his Government's last chance and if they failed they were prepared to wage war. However, by that evening the late President Premadasa had declared an extended ceasefire.
Of a total land area of more than 11,629 acres, land released so far has totalled more than 6,985 acres. This has left behind more than 4,643 acres, now occupied by the security forces. Last month, Prime Minister Ranil Wickremesinghe who chaired a meeting of senior military officers and leaders of political parties in the north rejected a request by Vijayakala Maheswaran (UNP – Jaffna District and State Minister) for the return of the Myliddy fisheries harbour as well as other areas there. He said the harbour was in close proximity to the runway of the Palaly airbase. He revealed that there were plans to expand the airport into a regional one. Instead of returning lands there, he said, the Government would pay compensation to the owners. Other than the military establishments, there are kovils, the KKS Railway Station, an abandoned cement factory, and installations of the Ceylon Petroleum Corporation within the security forces complex.
This week an intelligence arm here had reported to the Government that Ms Maheswaran had declared that though Premier Wickremesinghe said "no" to their request to return land to their owners in Myliddy, President Sirisena was in favour. She was a guest of honour at an annual event of the Weerasingham National College in Chavakachcheri. The report had alleged that she refused to hoist the national flag saying she had not done so since so many were still languishing in refugee camps. Maheswaran, however, has flatly denied she refused. It has now become a practice for some politicians here to turn up at events to which they are invited to arrive late and thus avoid the initial flag hoisting ceremonies.
This is what the Sunday Times (political commentary) of August 2 last year said about Maheswaran: "…..There was a distraction on Friday morning. Vijayakala Maheswaran, UNP candidate and a former Deputy Minister, refused to hoist the Sri Lanka national flag saying she had 'never done so.' This was when she turned up at the Hindu College playground where the Jaffna Premier League cricket tournament is now under way. Kathiravel Sebwal, who once contested on the SLFP ticket for the Northern Provincial Council, is the organiser of the tournament. He told the Sunday Times, "I gave the first opportunity for Vijayakala Maheswaran to hoist the Sri Lanka national flag. She refused saying she had not done so before. I later asked Hindu College Principal Iyampillai Thayanandarajah and he hoisted it. Vijayakala could not be contacted. Several calls on her mobile phone were answered by a female aide who said she was at different meetings and could not respond to telephone calls. This is notwithstanding her party's unwavering commitment to a unitary Sri Lanka……"
Valikamam Rehabilitation Committee Chairman A. Gunabalasingham said when Ranil Wickremesinghe was the leader of the opposition, he promised that the lands would be released. He had given this promise when he visited Jaffna, but has now changed his stance. The committee wants to launch a democratic campaign to seek the return of lands in Myliddy. At present only fishing is allowed. There was once an ice factory in the area. It is not functioning now. They were not seeking compensation but were insisting on the return of their lands.
Yet another issue is the case of missing persons. There was a demonstration in Kilinochchi this week by a group led by Kasipillai Jayanadan who leads a group that represents the interests of missing persons. He was bitterly critical of the Tamil National Alliance (TNA). On Tuesday, Parliament takes up for debate the subject of missing persons following a request made by the TNA.
A matter now receiving the attention of Tamil political parties, particularly the TNA, is the Government's plan to enact a new Constitution. Premier Wickremesinghe is learnt to have explained to the TNA leaders that the proposed constitution will not contain drastic changes. There will be no merger of the Northern and Eastern Provinces. "We have said that the Government is willing to accommodate requests for possible 'working arrangements' for co-ordination between the two Provincial Councils," Premier Wickremesinghe told the Sunday Times. Most of the existing provisions in the 13th Amendment to the Constitution as well as Provincial Councils are to remain. The Premier made clear "what is there will be there" and added that other models including the one in Germany were being looked at. Nevertheless, the TNA and a group backed by Northern Province Chief Minister C.V. Wigneshwaran are formulating their own proposals. The TNA's proposals are to be based on a federal system. Its members are closely studying the Scottish and Swiss models among others. Its leader Rajavarothayam Sampanthan was not available for comment yesterday. An aide said he was unable to take calls till late evening.
Premier Wickremesinghe said he expects Parliament approval to establish the Constitutional Council next week. "I will await the People's Representation Committee report and the process will get under way," he said. He added that there would be informal consultations with party leaders in early May. Thereafter an initial debate is being planned on the outline.
This northern capital will play host to a scout jamboree attended by some 8,000 scouts from all parts of Sri Lanka and abroad. Different school grounds and premises are being used to accommodate the scouts at this large event which is due to begin on Monday. President Sirisena is expected participate in the event.
A striking feature for occasional visitors here is the fast changing landscape as business, commerce and even industries keep growing at a pace faster than perhaps in any other part of Sri Lanka. That no doubt is welcome news for the Government which has created a relatively good environment. However, all this could gradually evaporate if the existing concerns are not addressed.