Water levels drop and fears rise for crops
By Anushiya Sathisraja
View(s):
Despite intermittent rains last month, experts fear the three-month-long dry weather conditions will strangle power generation, agriculture and drinking water supplies as authorities struggle with limited water in reservoirs, rivers and water treatment plants.
Children walking under scorching sun, men and women carrying cans and pots long distances searching for drinking water, farmers crying over lost crops — these are common sights in the drought-stricken remote villages in the districts of Hambantota, Puttalam, Matale, and Badulla.
Department of Agriculture Chief Climatologist Dr. Ranjith Punayawardene said this year's main paddy harvest is likely to shrink by 5-6 per cent due to the shortage of rainfall. The lack of rains from December meant that less land was cultivated, he said.
The impact is expected to continue as the secondary cultivation and harvest, due mid-year, depends on residual irrigation from the main harvesting season and the lack of rain means there is less water left over from this season.
The forthcoming Yala season will present severe difficulties for farmers whose paddy fields are supplied with water from the smaller tanks in the Vavuniya, Anuradhapura, Kurunegala and Hambantota districts.
"Farmers should concentrate on other field crops such as soya bean, greengram, black gram and the like," Dr. Punyawardena said. He also warned that vegetables such as potatoes, tomatoes and peas would be adversely affected by extreme cold conditions.The good news is that there was a bumper rice harvest last season, with the extra stocks being used to stabilise prices.
Compared to this time last year, vegetable prices have increased dramatically, according to the Hector Kobbekaduwa Agrarian Research and Training Institute.
The eastern parts of the central hills, encompassing areas such as Badulla, Randenigala and Walapane were also suffering from dry conditions and this will continue for the next four weeks.
Dambulla Divisional Secretary H.P.P.A Hevapathirana said the impact of drought this year had decreased but that eight AGA divisions in surrounding areas including Wanathawilluwa, Puttalam, Nawagaththegama, Karuwalagaswewa, Mundalama and Anamaduwa were affected.
In future times drought conditions would be severe, Puttalam Government Agent N.H.M. Chitrananda said. "We should implement an efficient programme to manage the existing water resources which comprise 14,000 rivers, streams and reservoirs islandwide," he urged.
There are critical times in paddy cultivation when water is essential, Hambantota Acting District Secretary C.A. Suneth Lochana said, explaining that when there was no proper supply of water at the harvest stage, the paddy quality declined and production dropped.
There is a growing shortage of drinking water supply in the Western Province. Water levels in rivers and streams are dropping markedly, affecting the livelihoods of local communities.
National Water Supply and Drainage Board General Manager R. Balasuriya said although water was growing scarce authorities were able to manage supply and would not implement water cuts as they wanted to provide efficient and uninterrupted service.
Senior Professor at the University of Colombo's Department of Geography, Dr. Anthony Norbert, said while February was known to be the hottest month of the year the current dry spell was a sign of drought continuing into the future.
"Usually there are rains in November and December, sometimes even causing floods, but this time there was no such rain and dry weather prevailed for a few months," he said.
He said Sri Lanka should expect increases in temperature ranging to extreme heat, changes in the monsoon pattern, a rise in sea levels, increased intensity of extreme weather events including tropical cyclones and floods and coastal erosion.
Hydropower generation in the country has dropped to 13-14 per cent due to the irregular and low rainfall over the hydropower catchment areas.
The lack of rainfall will hit the energy sector, with Sri Lanka, which relies heavily on hydropower is forced to use more costly energy because of the drought, Prof. Norbert said.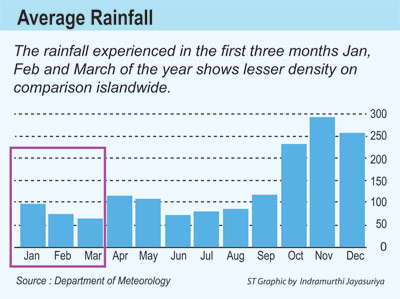 The Ceylon Electricity Board (CEB) attempts to generate at least 50 per cent of the country's electricity through hydropower, a spokesman said, warning that although there currently was no risk of power cuts the reservoirs had not received sufficient rainfall during the second quarter of last year.
"If there is a dire requirement for drinking water, the use of water from hydro reservoirs for power generation will be limited," the spokesman said. He emphasised the importance of conserving energy by reducing daily electricity usage by 10 per cent to enable the CEB to provide uninterrupted power supply.
The CEB said it would make "optimum use" of thermal power stations to provide uninterrupted service.
The Meteorology Department's rain gauges remained close to zero for weeks while temperatures went up to 34C in the Ratnapura, Colombo, Kurunegala, Hambantota and Puttalam districts.
Forecaster Chathushka Premachandra said heavy rains over catchments could not be anticipated but there would be irregular, intermittent showers during the day and night, subject to direction and speed of wind.
The current isolated rainfall would cover only 17 per cent of the loss incurred during the dry spell. There needed to be heavy rain, 100mm or more, for at least a few days to areas where reservoirs and rivers are situated.
Heavy rains are only expected at the end of March and the current infrequent rains are not enough to fill up the reservoirs.