Unattended lands prime source of dengue breeding grounds, says PHI's Union
View(s):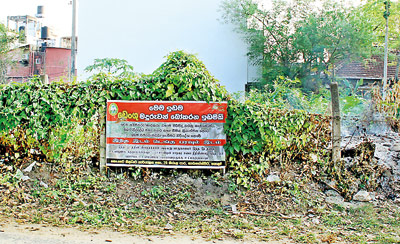 Unattended lands – some of them purchased as investments with the owners living overseas – have also turned be one of the main mosquito breeding grounds contributing to the spread of dengue, the Public Health Inspectors' Union) said.
PHI's Union President Upul Rohana said the PHIs were facing difficulties taking action against owners of unattended lands due to difficulties in tracing their owners.
He explained that when a property with over grown grass and filled with discarded cans, as well as garbage in plastic bags is found, the owner cannot be traced.
"When we look for the owner we cannot trace him. When we check with the neighbours they say the owner is living far away in another town or is abroad," he said.
He said that due to lack of information, cases cannot be filed or action taken, adding that neither the Grama Niladhari nor the local council officials possess the information required.
Mr. Rohana said that under the Dengue Act a period of 14 days should be given to the owner to clean up a place and other 14 days if the owner requests such an extension. Permission to inspect the place should also be obtained.
Galle District PHI Union member W.P.I. Weerasinghe said many properties in Galle are unattended and most owners are either abroad or in Colombo but even if the owner is present he never comes forward.
"The neighbours dump garbage in such unattended lands but they claim they are not responsible. There is no access to legal documents of the land and its owner and therefore it is difficult to institute legal action", he said.
A PHI Union member from Jaffna who requested anonymity said there are acres of abandoned lands whose owners are either in Colombo or are abroad.
He said mass garbage dumps have come up in unattended lands which were earlier farm land.
He said fines are imposed on owners of shops, offices and houses with dengue breeding places but we are not able to take action regarding the situation.
Nuwara Eliya PHI Union member said the situation in his area is the same with garbage accumulating in unattended properties.
Colombo Municipal Council Chief Medical officer Dr. Ruwan Wijayamuni said in order to locate the owners of unattended lands banners would be put up at such a property stating the CMC would recommend to the Government to take over such unattended property.
He said usually this draws a quick response from the owner.
He said already several notices saying that the CMC will recommend that such properties be taken over have been put up.
Conference at BMICH on dengue
An international conference on dengue haemorrhagic fever titled "Dengue: To stem the tide" will take place at the Bandaranaike Memorial International Conference Hall from February 24 to 26.
Scientist, clinicians, researchers and scholars will present the latest research findings and discuss dengue and allied health sciences.
The conference organised by the Epidemiology Unit of the Health Ministry of Sri Lanka will collaborate with the Centre for Global Health Research at the University of Umeå, Sweden with 14 partners from Europe, Asia and South America and the Partnership for Dengue Control (PDC) of the Fondation Mérieux (FMx), France.