Trap guns taking heavy toll on human and animal life
By Hiran Priyankara Jayasinghe
View(s):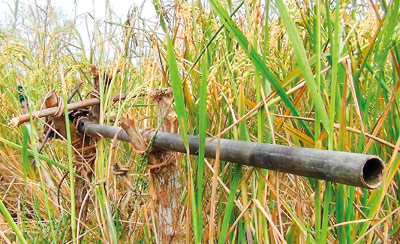 The illegal use of trap guns to ward off wild animals that cause harm to farm land is common in villages in the Divisional Secretariat Divisions of Navagaththegama, Wanathavilluwa and Karuwalagaswewa in the Puttlam District. Though aimed at protecting cultivated land, it is taking a toll on both human and animal lives and leaves behind many tragedies.
Kamala Ramanayake whose young son was killed when he accidentally set off a trap gun nearly ten years ago, still recalls the tragedy with tears in her eyes.
"He suffered for days before dying," she said. "The trap gun was set off when he tripped on the trap while bringing our cattle home through the jungle.
He was treated at various hospitals but he was left parlysed and died a few years later," Kamala recalled with tear- filled eyes.
His final request to me was to help rid the menace of trap she recalled.
T.G. Jayaratne a resident of Kehelkotuwa at 17th milepost lost a leg to a trap gun in 2004 said I only remember hearing the trap gun went off. On hearing my cries people took me to hospital.
My wife, and three children were left destitute after the incident. Trap gun victims are given a measly Rs 3,000/ each as compensation but it is grossly inadequate," he said.
Though partially handicapped, Jayaratne has to work to keep the home-fire burning.
Sunethra Rajapakse is another victim of a trap gun. She too lost leg and is unable to contribute to the family income.
The increase in the setting of trap guns is also attributed to the increasing destruction of cultivated land by wild animals.
Upul Jayathissa of Thalgawewa in Nawagaththegama says "I don't justify setting up of trap guns. Some thrive on business by setting trap guns. But a majority does it to protect their cultivation.
Those days it was rare to see wild boar. But now the paddy-fields and chenas are swarming with the beasts. We have not been provided licensed weapons and therefore have no alternative but to use trap guns," he said.
The Nawagaththegama police are making efforts to combat the trap gun menace. The Puttlam Vice Squad on directions ofSP Senarth Padmalal Sadun Gahawatta have been carrying out raids on persons known to be setting up trap guns.
"These guns are very dangerous," the SP said. The guns are made locally, and are packed with gunpowder and ball-bearings. I have instructed my officers to take anyone involved into custody. Recently we took into custody ten trap guns and the main accused. All the nine police stations in my area are involved in the exercise" he said
"Trap guns related offences occur mainly in the vicinity of the wild life reserves at Willpattuwa and Thabbowa.
"While human beings also fall victim to trap guns, elephants often fall victim to these traps and they suffer immensely. If they are injured and not treated immediately, they often die".
A resident of Nawagaththegama who wished to remain anonymous, said he had engaged in the setting up of trap guns from the time he was 7 or 8 years-old. He said "I started setting trap guns when I was 7 or 8 years old.
"I set six to seven traps a day. I never aim to kill people. But unfortunately people going through the jungle fall victim to the trap. Our target is the wild boar as there is a demand for its flesh. We know it is illegal but we do it to make a living".