If the Foreign Service has collapsed, revive it
By Namini Wijedasa
New Govt. breaks promise and follows former regime's bad practice of making political diplomats
View(s):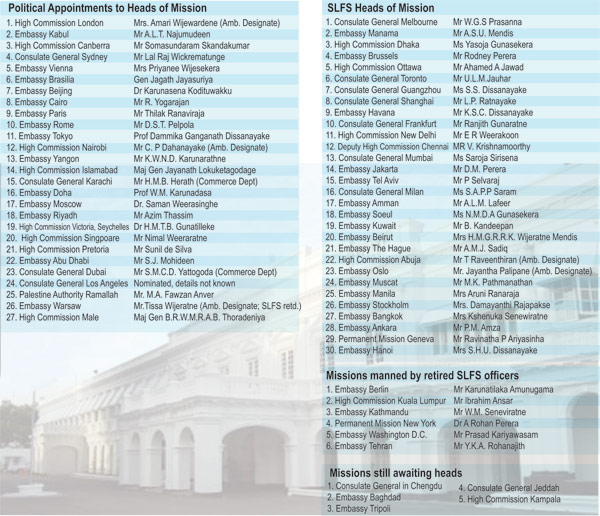 A large number of diplomatic missions abroad, particularly in key capitals, continue to be headed by non-SLFS (Sri Lanka Foreign Service) personnel or political appointees.
The most recent nomination of Amari Wijewardene, a cousin of the Prime Minister, as high commissioner to Britain has spurred cries of nepotism similar to those that dogged the former Government. The list that accompanies this article displays the degree to which positions have been politically decided.
Twenty-six out of 68 head-of-mission posts are allocated to political appointees. These include ambassadors and high commissioners designate who are yet to take up their assignments. In comparison, 30 positions are filled by SLFS officers.
Prime Minister Ranil Wickremesinghe made his views on diplomatic appointments clear in remarks to Parliament last year. The Government is committed to sending suitable persons to serve Sri Lanka's interests abroad, he said. But the Foreign Service, with the weakening it experienced in recent years, does not have sufficient people.
It will take another two to three years to build up the Foreign Service, he said. In the meantime, Sri Lanka needs people who can push its agenda in international capitals; people with contacts and capabilities.
The JVP then castigated the Government for filling diplomatic positions with members of the UNP's Working Committee. "Today, we need to work with countries," Ranil replied, unfazed.
"Our Foreign Service people don't have the contacts. Truth be told, people in our Working Committee are able to take up the telephone and speak to those countries."
He said the UNP had solid contacts abroad and the outcome of these ties will be used for the benefit of the country. "We will take officers of the Foreign Service," he said, "Namuth ey gollanta mey beraya gahanna behey (but they cannot beat this drum)."
The Prime Minister pledged that, in 2016, all Foreign Service officers would be summoned to Sri Lanka to be trained anew. Without training, they cannot "battle" with the world, he said. "It's not that there are no good officers," he asserted. "There are. They must be trained and their foreign connections must be built up…"
There is little dispute that the Foreign Service, during the ten years of the last regime, was weakened more than ever before. But the question that haunts the SLFS is whether an effort will be made to improve the Service or whether it will be further weakened and eventually dismantled. Most bilateral meetings at the Prime Minister's Office take place today without the presence of SLFS officers.
Foreign Ministry insiders say that, in the past year, no serious effort had been made to build capacity within the ranks. And there has been no "honest effort" to find out why the Foreign Service is in a bad state. The Service had taken a beating for several years but there is no established, genuine mechanism for addressing grievances.
"There is a strong perception that certain Government leaders are creating the popular impression that the Foreign Service is in a bad state as a prelude to its destruction," an authoritative source said. "Therefore, irrespective of the fact that there is strong potential that could be developed, they appear interested in exploiting it to favour their families and friends."
While the Prime Minister claims that the Foreign Service has all but collapsed, the truth is paradoxical. It is still SLFS professionals the Government relies on, for instance, for negotiating assignments with international forums. Senior officers in the Service have diverse experience in bilateral and multilateral diplomacy.
Many have served in key missions and also head desks in Colombo, handling a spate of diplomatic visits.
But continued public utterances that the Foreign Service is inefficient also contribute to its lack of credibility. "If the SLFS has collapsed, they need to address it institutionally with good recruitment and solid training, as done by Singapore," said another observer who did not wish to be named. "If they want to emulate Singapore, they only have to look at the institution building process undertaken by Lee Kuan Yew."
Recently, the Sunday Times exclusively reported that a Global Affairs Committee under the Prime Minister will oversee the working of the Foreign Ministry, giving directions on foreign policy and related matters.
Mr. Wickremesinghe told this newspaper that most diplomatic missions overseas were ineffective in many ways and did not report adequately on different aspects.
But diplomats point out that his assertion has not been put to the test through an independent assessment. "After years of waiting for a change which could bring about a new culture of incentivising professionalism, it's ironic that this very change should now deny space even for a survival of the profession," a senior diplomatic officer said.