Hospitals instal extra protection to cope with dengue surge
By Kasun Warakapitiya
View(s):
Hospitals have been forced to change operational methods to cope with a steady flow of dengue sufferers with numbers expected to rise further in the next few weeks.
State and private hospitals around the country are coping with at least 175 dengue patients admitted daily over the past six weeks.
Epidemiology Unit sources said more than 7,350 dengue cases have been reported in the past six weeks, with eight deaths.
The regular outbreaks of dengue have prompted the Colombo National Hospital to introduce a new dengue patient management programme and demarcate high-dependency areas in wards with special care to treat high-risk patients, hospital director Anil Jasinghe said.
He said high-dependency areas have been set up in each of the 16 wards where dengue patients are admitted and added that dengue patients with critical haemorrhagic fever conditions and complications are closely monitored and provided with extra care by special teams of doctors and nurses.
"We have updated our treatment protocols and taken measures to stop the disease spreading within the hospital. Fumigation, use of nets for dengue patients and possible dengue cases are some of the preventive measures," Dr. Jasinghe said.
Hospital staff had been instructed to destroy mosquito breeding places in the process of routine cleaning. Most private hospitals too are receiving numbers of dengue patients.
"The admission of dengue patients has increased," said Nawaloka Hospital Medical Superintendent Dr. Uthpala Malawara Arachchi. He believes the spread of infection as well as the deadly nature of the virus is pushing up the rate of hospital admissions.
Dr. Malawara Arachchi said the hospital dengue unit is placing patients in separate rooms and even air-conditioned rooms have mosquito nets around beds to minimise the spread of the disease, while continuous fogging is carried out to kill mosquitoes.
Doctors and nurses were receiving training and attending government-organised dengue workshops while new knowledge updates were regularly circulated.
A spokeswoman for Asiri Hospital in Narahenpita
said it received 148 patients last month, an increase of 37 patients from the corresponding period last year.
She said the dengue situation was much worse than the reported statistics because some people only developed common virus fever symptoms and remained undiagnosed.
Asiri Hospital consultant physician Dr. Priyankara Jayawardena said there was no clear pattern of dengue occurrence because dengue was being reported in both wet and dry seasons.
Last year the hospital treated 750 dengue patients.
Children are the bulk of the victims, Dr. Jayawardena said. "We provide the patient a separate room, mosquito nets and continue fogging as well as keep hospital premises clean to keep dengue away", he added.
He said patients should be careful not to obtain treatment from doctors who try to give instant relief for dengue symptoms as the condition could become aggravated. "Patients should also refrain from taking untested medical treatment," he added.
Ragama Hospital too has seen a high number of patients this week, Acting Director Dr. Vajira Dissanayake said, adding that the hospital had begun a special programme to deal with cases.
Not only dengue patient wards but other medical wards and children's wards have been equipped with nets to secure patients from mosquitoes.
Jaffna Hospital Director Dr. T. Sathyamoorthy said last year 1,309 dengue cases had admitted and two patients had died, and last month 43 patients had been admitted, with one death.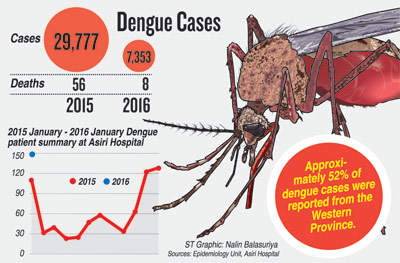 A three-day dengue control programme was carried out in Colombo this week by the Health Ministry Epidemiology Unit involving the Colombo Municipal Council backed by police and armed service personnel.
CMC Chief Medical Officer Dr. Ruwan Wijayamuni said 900 personnel took part in the operation.
"There is an increase of dengue," Dr. Wijayamuni said. "We are taking action against people who allow mosquito breeding grounds develop around their gardens."
More than 896 dengue cases have been reported this month, with most cases coming from Colombo, Gampaha, Jaffna, Kandy and Kalutara.
Dr. Wijayamuni said the CMC had filed 212 cases against factories and persons responsible for cleaning of schools and construction sites.
The head of the Public Health Inspectors Union, Upul Rohana, said politicians needed to act to strengthen laws regarding the Dengue Act.
The public needed to change its ways of thinking and regularly clean and monitor premises for dengue risk, he added.
Mr. Rohana said government sites detected as mosquito breeding places included the Central Environmental Authority, Carlton Sports Network and the Road Development Authority, all of which are in the Battaramulla vicinity