'Extinct' shark spotted in Menik Ganga
By Malaka Rodrigo
View(s):

A few months ago, the apex predator of the freshwater riverine habitats, the crocodile, was reported in the sea off Wellawatte; recently the apex predator of the ocean, the shark, was reported in a river.
The latest sighting of a shark in a freshwater habitat was reported by a group of wildlife lovers who visited Yala on January 23.
While travelling to their campsite in the evening they passed a bridge over the Menik Ganga that flows across Yala. The slow-flowing water in this part of the river is shallow and one of the group members spotted a large fish.
"That is a shark!" shouted Isuru de Soyza, pointing it out to the others before it swam away. Senehas Karunaratne, armed with a camera, had only a split of second to click before the shark took refuge under the bridge.
"The shark was about three feet long and quick in the water," commented Mr. Karunaratne.
Rumours of sightings of sharks in the Menik Ganga have been around for a while and Mr. de Soyza claimed to have seen one in the same section of the river a few months ago.
Photographic evidence of sharks in the Menik Ganga first came from a team from the Wildlife Conservation Society of Galle (WCSG).
While conducting an islandwide freshwater fish survey at the Menik Ganga about 7km upstream from the coast they spotted a shark in shallow, crystal-clear water about three feet deep.
They netted the shark and carefully brought it out of the water to take measurements. The shark was about three feet long. After photographing it, they released it back into the water.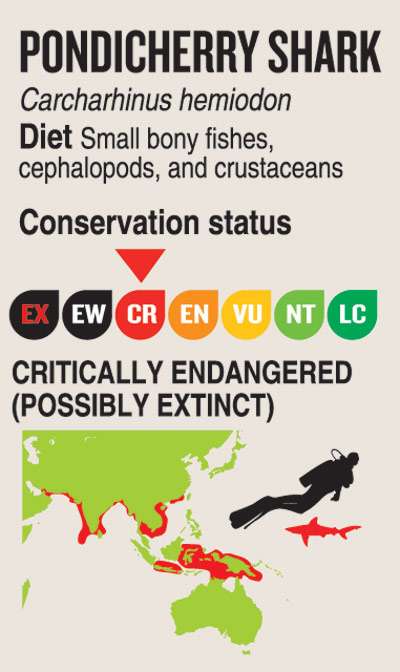 The WCSG survey team had three more sightings of sharks in the Menik Ganga and the Kumbukkan Oya, closer to Kumana.
Sri Lanka's foremost expert on sharks, Rex I. de Silva, was sent the WCSG photo for examination and identified the shark as a variant of the Pondicherry shark (Carcharhinus hermiodon).
This species lives in the Indo-Pacific region from the Gulf of Oman to New Guinea, with most records from the coastal waters of India. The International IUCN Red List of threatened fauna lists the Pondicherry shark as "Critically endangered – possibly extinct".
The Red List states that the shark was last recorded in 1979. Rex de Silva, however, states that the shark has been recorded in small numbers in Sri Lankan seas since the mid-1980s with the species' presence in Sri Lankan waters first documented by himself in 1988.
Commenting on these sightings on the "Sharks of Sri Lanka" Facebook page, Mr. De Silva said it was important to differentiate between a shark in freshwater from a shark in a river.
"In times of drought, when river levels, fall seawater may intrude some distance up rivers at high and especially spring tides. Sharks and other marine species may follow the seawater intrusion for a considerable distance up river, so although they are in a river they will still be in salty or semi-saline water.
When the salt water recedes the marine species follow it back to the sea. A shark in freshwater, on the other hand, is usually present farther up a river beyond the reach of salt water. As mentioned above, the shark photographed by the Wildlife Conservation Society of Galle to date remains the only record of a shark from freshwater in Sri Lanka."
Mr. de Silva states that anecdotal evidence over at least 30 years suggests that there are sharks in the Menik Ganga, but these sharks were not identified although speculation about their identity was sometimes offered.
Literature indicates that Pondicherry sharks do not grow much longer than about 3.3 feet and hence are not a threat to humans.
Sharks are not blood-thirsty man-eaters as Hollywood movies depict, so the presence of sharks in the Menik Ganga simply adds an interesting element to Sri Lanka's biodiversity and is nothing about which to feel panic.
A fisherman in Hikkaduwa caught a 12-foot, 350kg shark, reports last week said.
The shark was caught in deep ocean about 20 km from shore. Inspecting footage of the specimen, shark expert Rex De Silva provisionally identified it as a bull shark (Carcharhinus leucas).
Help for identifying a shark
Altogether, 61 species of shark have been found around Sri Lanka, however there could be more varieties living in our waters.
Shark expert Rex de Silva maintains a Facebook group called "Sharks of Sri Lanka" and welcomes public sharing of images for identification purposes.
When forwarding images for identification it is best that a full lateral view (side view) is submitted as correct identification often depends on the relative positions of the fins, size and position of gill slits etc.
"I appreciate that obtaining a lateral view will not always be possible in which case any image is better than none and I am pleased to note the great interest in our sharks among lay persons," Mr. De Silva states.
Mr. De Silva also launched a comprehensive book on sharks last year, with illustrations by prominent wildlife artist Jayantha Jinasena.
Copies could be purchased from the Field Ornithology Group of Sri Lanka (FOGSL), Department of Zoology, University of Colombo (call 2592609 or email fogsl1976@gmail.com