Don't make Lanka an Indian colony: Protest in London
By Neville de Silva in London
View(s):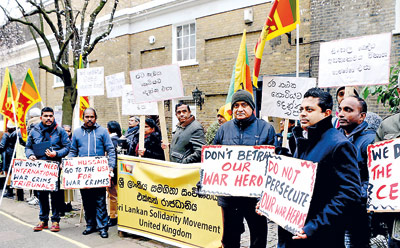 Calling upon the Sri Lankan community in London to protest against the current danger to their motherland, a new movement named Sri Lanka Solidarity Movement staged a demonstration opposite the Sri Lankan High Commission on Friday afternoon voicing opposition to attempts to make the country a colony of India and foist a federal constitution on it in the name of constitutional changes.
They said the protest was not against any political party but an attempt to raise awareness of the "critical moment" facing the country as new secessionists and lackeys of international forces are trying to foist a federal constitution and endangering the armed forces that sacrificed 30,000 of their colleagues to safeguard Sri Lanka.
Eye witnesses said some 150-200 participants gathered by the High Commission from 2 p.m.—6 p.m. despite the severe cold outside, while Metropolitan Police officers kept watch allowing one protestor to enter the premises to hand over a petition.
Among the issues which the movement claimed currently threatened the country were attempts to introduce federalism in the name of constitutional change; making Sri Lanka a colony of India via a CEPA/ETCA agreement and moves to join Tamil Nadu and Jaffna through the proposed "Hanuman Bridge."