Adding meaningfulness and truth to life
View(s):

In all religions, the clergy are expected to preach on the meaning of life and how we should live. Our great spiritual leader, Lord Buddha, so advised the Buddhist clergy also. From eating and drinking to proper living, all things should be properly organised. The Dhamma is a treasure and it is vital for a meaningful, orderly and organised life. And in the absence of Dhamma there is little or no essence in life, which is not craving or lust but meaningful living.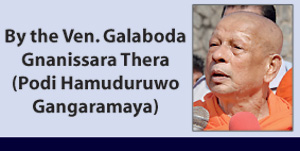 In the world today most people are more bent on self destruction rather than pursuing happiness. We often see deception or cowardice.  People talk about the poor quality of imported food or building materials. The authorities need to take action because most people believe that false certification relating to imports is taking place on a large scale. Container loads of drugs and other harmful items come out through the customs. In some cases, no tax is levied and regulations are not properly implemented. For publicity purposes, certain cases are highlighted through the media now and then. We hear stories similar to that of 'Alibaba and the Forty Thieves'. Without deluding ourselves, we need to understand we all will have to face death sooner or later and that we can take nothing from here when we go. We must strive to educate the newly elected authorities and maintain honesty and justice in our lives. Otherwise we will only have a sick society.
We should spread happiness, joy and good health with equanimity. Those who are confused and entangled like in a web must not put others in a smilar situation, but be vigilant. We need groups that will create genuine public opinion.  Take the case of the United States. The Americans bow to their flag, but mislead their own people. However, a few Americans work with dedication. Others create trouble for other countries. The US is facing a major economic problem. But they do not allow anyone to rise above them. Anyone can criticise America. That freedom is there.
In our country we have to cultivate our own meaningfulness in life. We must begin by living simple lives, and cut down wastage. After that we must develop our agriculture, put aside our laziness, maintain good health and help others to live their lives to the full. It is useless to celebrate Independence without knowing whether we have a proper Independence and freedom. Even in our villages it is impossible to close our doors and go to a funeral house. Someone will rob our house.
If we give Pirivena education to children, it will reduce the problems in school admissions. Primary education must be at places of worship. Instead we send children to day care centres and montessories. The private school is the available option and then private tuition. To whom can the poor parents address their plight? They have lost their money, labour and time. Such parents can write to us giving details.
We talk proudly that Sri Lanka has free education and free health services. But is this really the case? You can write to us on these issues also. The media also need to spotlight public opinion on these vital issues. One way to overcome this crisis is to stop private tuition, pay the teachers a good salary. They can then educate students not only in the classroom but also on radio, TV and social media.
Children will benefit and will not be on the streets. Is the Government aware that some state universities are selling external degrees? Who is making money here? Don't be influenced by hampers! External degrees are being pursued by private sector employees. But those who pass out as internal students of universities have no jobs when they come out.  The government sector has become a breeding ground for the lazy. Our economic resources are wasted. Who is going to clean the government sector that is loaded with bribery and corruption? Even the Private sector is slowly degrading. The sick leave syndrome in the government service has slowly crept into the private sector.
During the time of J R Jayewardene, the unemployment among the graduates was sky high. Ranil Wickremesinghe, the present Prime Minister, was then the minister of youth affairs and education. He solved this problem without any consideration for caste, creed or political leanings. He has assumed power now. He is clever and capable. But he must be vigilant about those who are around him. If remedial action is not taken now, the government sector and the private sector will be severely affected.
Many Free Trade Zones factories have been closed today. Many more may be closed soon. One of the main reasons is excessive trade unionism. Most workers demand their rights but do not carry out their responsibilities in a proper way. Work ethics and a commitment to hard and honest work are lacking.
Few or no countries have as many holidays as we get. How can we develop a country where some people work for only three hours instead of eight hours a day? Religious leaders must take their devotees in the strongest possible way that hard honest work is essential. When people who commit serious offences are brought to courts, it may be good to bring the clergy of their religions and tell them where they have gone wrong.
It is sad to observe the silence of the clergy where their devotees commit crimes.  The village needs to be brought to the correct path by religious leaders. If the village is protected this way, so will be the region, district and the country. Time has come to grab the head rather than the tail and govern a person.  Please write to us explaining your fears and sentiments. We can give good advice.
In addition to the Navam Perahera when there was terrorism we had a Perahera every Poya. Because of terrorism when there were no crowds we conducted day-night Perahera in Kataragama for three days and gave a new life to the area. Navam Perahera will be held on two days, February 21 and 22. We are thinking of conducting peraheras on each Poya day. If institutions can help by way of funds, Poya day perahera will be held for blessings. This way we can train the young to be good artistes, and have happy moments for the people, and publicity for enterprises. If you decide please let us know. Eleven months 11 Peraheras. Navam Perahera is for all. Other Peraheras will be conducted with the participation of a limited group with limited funding. This can also help tourism.
Think about these and write to me.
Gangaramaya,
61, Sri Jinarathana Road,
Colombo 02