It's double trouble fun
With Indu Dharmasena and Co. set to hit the boards with Ray Cooney's comedy, 'Run For Your Wife,' the key players share their thoughts
View(s):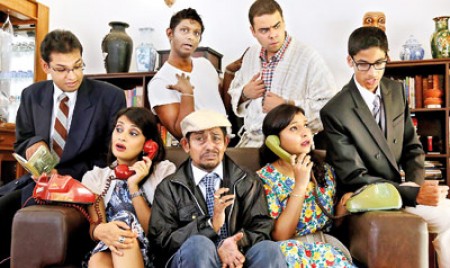 Indu Dharmasena and Co will begin 2016 at the Lionel Wendt with 'Run For Your Wife', Ray Cooney's comedy from the 80's.
The story begins with taxi driver, John Smith, who must watch his carefully constructed double life unravel before his very eyes when he meets with an accident. John has taken both the law and love into his own hands – he has a wife in Stratham and another in Wimbledon.
Neither is aware of each other's existence (of course), and John is blissfully enjoying the best of both worlds…until, that is, this accident brings the two wives face to face. Will John's double life finally come to light? You'll have to watch the play to find out, but getting there should be hilarious, promises Indu.
Cooney wrote the play in 1983, and it was adapted on to the Colombo stage by the Performing Arts Company in 1994 and 2002-"it was hilarious both times around," says Indu. "They did so well that I have quite a responsibility to do justice to the script in the same way."
Indu plans to stick to the script as it is. "If we tried to modernise, the elements the play is hinging on won't really work," he notes. "For example, mobile phones would have solved the entire problem."
John Smith is your average cabbie, says Indu, laughing "he's what we would call a Mr. Perera in Sri Lanka." Fundamentally a good man at heart, he gets mugged while attempting to help an old woman being robbed and ends up in hospital, which is when the trouble with his wives begins.
Sanwada Dharmasena plays Mary, the more conventional and "dowdier" of the two wives. Sanwada has been playing wife to Indu's lead for so long that she's lost count, but recently she "put my foot down and said enough is enough," she laughs. She is making an exception this time around because she's got Michelle Herft playing John's other wife Barbara.
Barbara is the carefree, more adventurous woman that John has fallen for. Michelle is celebrating almost two decades of working with Indu and says "it feels good to be back working with Indu on a show."
Then there's George Cooke, playing Stanley Gardner-"the bright yet not so bright" neighbour who takes it upon himself to help John out of this tricky situation.
"My character is in awe of him," explains George. "The script is so witty and well timed that it's a pleasure to be a part of the production." The trickiest bit? Trying not to laugh at the lines themselves, he grins. "We're trying to get over that during rehearsals!"
Yasal Ruhunage plays Barbara's flamboyant neighbour Bobby Franklin who too decides to help John keep his wives in the dark. Yasal has been a part of Indu's productions over the last few years and says "it's very relaxing to come for rehearsals-and of course, it's always a fun-filled experience."
Abbasali (Abbas) Rozais takes on the role of Detective Sgt Porterhouse, while Indu's nephew Anuk Dharmasena plays Detective Sgt Troughton.
The two policemen have been dispatched to inquire into the situation and will be waylaid by John and his complicit neighbours. Abbas directed another Ray Cooney play 'Funny Money' in 2013, and says the playwright's farcical comedic style is always a pleasure to work with, be it as director or actor.
'Run for Your Wife' goes on the boards at the Lionel Wendt from February 19-21 at 7.30 p.m. The show is presented by the Rotaract Club of Colombo Metropolitan. Tickets are available at the Wendt.
D.I.