BT exposure sees one team heading for study at Harvard University
By Bandula Sirimanna
View(s):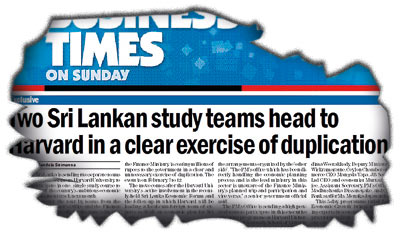 A Business Times (BT) exposure on the cost-effectiveness and viability of sending two separate government teams for a high-level Harvard University course has resulted in the authorities deciding to send one delegation. Hence only the top level 7-member team from the Prime Minister's Office took part in the February 7-12 study course aimed at kicking off the country's ambitious economic development track. Plans to send another team of Finance Ministry officials for the same study tour was cancelled thus saving millions of rupees of tax payer's money.
The emergence of two teams – one assigned by the Prime Minister's Office and the second by the Finance Ministry – was exclusively reported in the Business Times on January 24. That report said the attempt to send two separate teams to this university raised questions on the cost and the need for sending a team of six Finance Ministry officials, at a cost of US$ 7,400 each (Rs.1.06 million) course fee per participant. The high powered Sri Lankan team taking part including Ministers Kabir Hashim, Chandima Weerakkody, Deputy Minister Eran Wickramaratne, Ceylon Chamber of Commerce CEO Mangala Yapa, JB Securities Ltd CEO and economist Murtaza Jafferjee, Assistant Secretary, PM's Office D.M. Madhushanka Dissanayake, and Central Bank staffer Ms. Menaka Jayawardene participated in an executive education programme at Harvard University's John F. Kennedy School of Government.
The decision to take part in the Harvard course move came after the Harvard University's active involvement in the recently-held Sri Lanka Economic Forum and the follow-up in which Harvard will be leading a local-cum-foreign team of experts to draft an economic plan for  Sri Lanka. "The PM's office which has been directly handling the economic planning process and is the lead ministry in this sector was unaware of the Finance Ministry's planned trip and participation and vice versa," a senior government official said adding that action has been taken to stop the officials trip soon after hearing this attempt.