Getting the jazz and blues out of her was easy
By Cecily Walker
Catch Ayanda Jiya tonight at the Colombo Jazz Festival
View(s):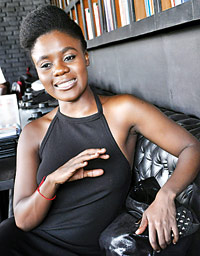 The Colombo Jazz and Blues Festival will be showcasing an excellent line-up of local and international artistes such as Ayanda Jiya who has come all the way from South Africa to Colombo for her very first international event! She is thrilled and grateful for the opportunity to perform in such a beautiful country.
As a musician she places a lot of importance on being versatile and flexible in any genre. Taking time off from her busy schedule in South Africa she has been working on some jazz pieces for her set at the festival.
She says, "getting the jazz and blues out of me was very easy" as she has grown up surrounded by all types of music, from classical to soul and gospel.
However, learning the technicalities of jazz as a genre was a challenge but one she has embraced as a stimulating opportunity to develop as an artiste.
Ayanda has a rich passion for music and feels that performing at events like this allows her to grow stronger and broader in all styles of music as well as expanding her repertoire.
She has used her love of artistes such as Jill Scott and Ashford &Simpson to inspire her through this journey.
Singing since the age of six, Ayanda is a talented musician and performer and is sure to bring her own touch to the event. Her set is from 7.15 – 8 p.m. tonight and she will be combining a couple of covers with her own songs.
If you like what you see tonight look out for her new album "Ayanda stand" which is to be released in the next few months.
She will be performing exclusive renditions of some of the tracks on her upcoming album and is interested to see how Colombo folk will respond to her music.
Catch Ayanda and a host of other multi-talented artistes from the UK, USA, South Africa, India and Sri Lanka at the first ever Colombo Jazz and Blues Festival happening from 12 noon at the Galle Face Hotel.
Organised by Mainstage Events, tickets for the Festival are priced at Rs. 5,000 per head. Call 0777 397818 or 077 8774950 to get them.