President defends FCID even though SLFP ministers call for its disbanding
By Our Political Editor
View(s):
Green light for arrests in major cases; PM stresses need for collective responsibility within the Cabinet
More stunning revelations about Yoshitha's CSN operations; Rajapaksa loyalists have no option but to appeal to deities
Ranil tells UNP members to focus on local polls but elections unlikely this year due to constitutional issues
Last Saturday's arrest of Lieutenant Yoshitha, second son of former President Mahinda Rajapaksa, continues to reverberate in many quarters. One such instance is the weekly ministerial meeting on Wednesday. Ministers representing the United National Party (UNP) were livid that one of their Sri Lanka Freedom Party (SLFP) colleagues had, wanted the Financial Crimes Investigation Division (FCID), which made the arrest, disbanded.
The previous day (Tuesday), Transport Minister Nimal Siripala de Silva told a media briefing at the Government Information Department what he termed was the SLFP's standpoint on the arrest. Demanding that the FCID should be disbanded, he declared that investigations against Lt. Yoshitha should be "conducted under the normal laws of the country." He said there was a Commission to Investigate Allegations of Bribery or Corruption (CIABOC) and a Police that could probe corrupt activity or other malpractice. He asserted that there was no need for a special police unit.
That Minister de Silva's remarks were made from a Government establishment responsible for dissemination of official Government information, was indeed a serious matter. He was making it clear, officially that is, that the SLFP, the co-partner in the Government, was not in favour of the FCID. Hence, the SLFPers were bringing into question the investigations conducted by the FCID. His views were shared by most SLFP ministers who claim that as prominent party members, the bad fallout in their electorates were on them and their party supporters. Rightly or otherwise, they contend that those investigated were only from within their own ranks and none from the UNP. Hence the accusation that the probes are weakening the SLFP and consolidating the UNP.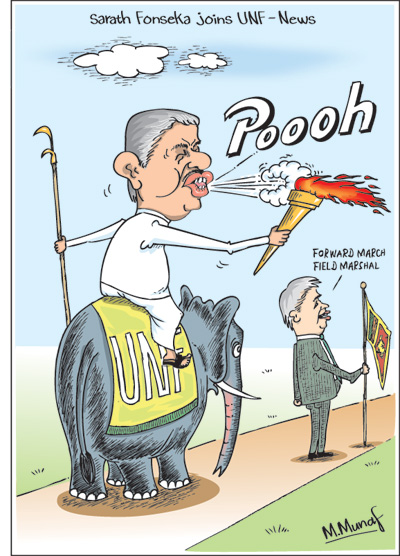 That de Silva raised issue publicly instead of taking up matters with President Maithripala Sirisena was to irk UNP ministers. After all, it was Sirisena who chaired a ministerial meeting that decided on February 12 last year to set up the FCID to "investigate matters relating to serious financial crimes, public funds and property." The same meeting decided on an Anti-Corruption Committee whose term has now been extended till June 30 this year. This Committee channels public complaints to relevant state investigative agencies. This came on a recommendation by Prime Minister Ranil Wickremesinghe. At the apex of these organisations, President Sirisena chairs an executive council that oversees the workings of the two mechanisms. Janatha Vimukthi Peramuna (JVP) leader Anura Kumara Dissanayake pulled out of this Council on the grounds that no action was being taken on the probes. However, he strongly defended the FCID in Parliament last week.
"They set up the Terrorism Investigation Division when terrorism was rampant. The Narcotics Division was set up when the drugs menace increased. The Environment Units were set up when threats to the environment rose. So what is wrong with the FCID when financial crimes had been rampant," Dissanayake told the Sunday Times
UNP ministers attack SLFP ministers
At Wednesday's ministerial meeting, Law and Order Minister Sagala Ratnayake, questioned the propriety of his colleague de Silva going public about disbanding the FCID. Noting that he is a member of the Cabinet of Ministers, and was therefore bound by the principle of collective responsibility, Ratnayake asked whether de Silva's remarks were intended to save the Rajapaksas being probed for wrongdoing. Minister de Silva was to re-iterate that other police agencies could have carried out the probe. An angry Malik Samarawickrema, Minister of Development Strategies and International Trade, joined colleague Ratnayake. He also argued that de Silva, while being a minister, should not have criticised publicly any Government decisions. President Sirisena observed that the FCID had been established after a decision by the Cabinet of Ministers and could not be just disbanded.
It was Prime Minister Ranil Wickremesinghe who intervened at this stage with a document on how collective responsibility is practised in Britain. He said once the ministers discussed the pros and cons of an issue and the various options and makes a decision, it is the responsibility of ministers to publicly uphold them. If they were to express a contrary view, he said, they should resign from the Cabinet of Ministers. Minister Susil Premajayantha, a former General Secretary of the United People's Freedom Alliance (UPFA) said action by the FCID should be channelled through the Attorney General's (AG) Department. He was unaware that the arrest of Lt. Yoshitha had been recommended by the AG. Foreign Minister Mangala Samaraweera responded by saying that 'world opinion' on Sri Lanka was now good. The FCID, he said, was "doing a good job and should be commended for what it has done."
The occasion was to see Finance Minister Ravi Karunanayake fire a broadside at Social Empowering and Welfare Minister S.B. Dissanayake. "You have said that you will form a Government in two years. You have said that you want to unite Rajapaksas and Government leaders. What is this," he asked. "Obathuma aanduvey sapai vipakshayey surakshitha baavayai vindiniva" (or you are enjoying the comforts of the Government and promoting the protection of the Opposition). Referring to the FCID investigations, President Sirisena pointed out that "meketh durak aththak thiyanne oney" (or there has to be some depth and truth in the (FCID) investigations). He said the findings against Shiranthi Rajapaksa and two of her sons were so serious that they would, in his view, not warrant bail. Agriculture Minister Duminda Dissanayake, who is also the General Secretary of the SLFP, noted that even he was unaware of the many matters that were being probed. "Vineethabhavayak thiyenna oney" (or there should be discipline and good behaviour), he added, noting that "meyva harigassana oney" (or these should be corrected).
Rajapaksa says "arrest me"
Premier Wickremesinghe made a disclosure at the meeting. He said soon after Lt. Yoshitha's arrest, he received a telephone call from former President Mahinda Rajapaksa. Sirisena was to note that there was nothing to hide over these matters and the law had taken its course. Last Sunday, a day after Lt. Yoshitha's arrest, Rajapaksa visited Dalada Maligawa to pay homage. A group of media personnel engaged him in a Q & A. He was asked; "Recently you were seen with the President at a temple. Therefore, can't you discuss and resolve the issue about Yoshitha?" Rajapaksa replied, "True, we have been seen together, but I am not going to speak to anybody to resolve the issue. I am not going to take up my children's issues with anyone."
The criticism on the FCID at the ministerial meeting did not go unnoticed by the UNP component in the Government. Soon after the National Day ceremonies at the Galle Face Green on Thursday, Law and Order Minister Ratnayake visited the FCID office at Chatham Street in the Fort. There, he addressed senior DIG (FCID) Ravi Waidyalankara and his officers. Ratnayake, who was accompanied by Police Chief N.K. Illangakoon said the Government fully appreciated the role played by those in the FCID. He said they should not be deterred by the ill-advised criticism from some sections and should continue "the good work they were doing."
Field Marshal back amid legal problems
Another due to join the political campaign against the Rajapaksas is Field Marshal Sarath Fonseka. He was afforded a front row seat in the VIP enclosure at Thursday's ceremonies and was in ceremonial regalia. He stood up to salute when different regiments displayed presidential colours as they marched past their Commander-in Chief, Sirisena. Fonseka formed the topic of discussion on Wednesday when UNP Cabinet Ministers met at 'Temple Trees' after the ministerial meeting. Fonseka has now teamed up with the UNP after his Democratic Party signed a Memorandum of Understanding with UNP leader Wickremesinghe. He is tipped to join the Cabinet of Ministers. A portfolio tasked with welfare of members of the armed services is expected to be assigned to him.
At the UNP ministerial meeting, Justice Minister Wijeyadasa Rajapakshe, a political archenemy of Fonseka, was to sound a note of caution. He was to cite an instance when onetime Prime Minister Ratnasiri Wickremenayake and he were nominated on the National List. Originally, their names had not been submitted to the Commissioner of Elections. This was after the 2004 parliamentary elections. The Centre for Policy Alternatives then contested the appointments in the Court of Appeal. The court held in CPA's favour and declared that the appointments were not legal. Rajapakshe cautioned that there was a possibility someone may go to courts using the CPA judgment as a precedent. Premier Wickremesinghe was not deterred by the remarks. He said let anyone go to court, if they wish and will place the UNP-DP memorandum before his party's Working Committee for ratification tomorrow (Monday). Fonseka is due to take his oaths in Parliament on Tuesday.
Premier Wickremesinghe was to ask UNP ministers to devote more time to prepare for the upcoming local councils elections. Though he did not speak about a possible date, President Sirisena had declared weeks earlier that it would be in July. However, highly placed Government sources said local council polls are altogether unlikely this year. Firstly, they are to be held under a new electoral system, one that would come together with a new Constitution. The process already remains delayed. Other reasons include the need for legislation to amend local government laws as well as the conclusion of work by the Delimitation Commission to re-demarcate some wards.
Just a day before Lt. Yoshitha's arrest, investigations against members of the Rajapaksa family figured at the national executive council meeting on January 29 (Friday). The meeting was chaired by President Sirisena. Besides ministers, the heads of the CID, FCID and representatives of the Attorney General's Department and organisations representing civil society were present. The latter had met both Sirisena and Wickremesinghe only last month to complain of delays in action over investigations and the resultant public discontent. Public Administration Minister John Seneviratne was locked in an argument with his ministerial colleague Champika Ranawaka (Megapolis and Western Province Development).
It was after Seneviratne declared that people who make comments should know the law. It was over investigations into Avant Garde Maritime Services Limited, shot back Ranawaka. He said the case was handed to a senior officer in the Attorney General's Department. He had studied the files and recommended that those involved in the alleged irregularities should be arrested. However, weeks later, another official had come up with a contrary view. There was also an issue over former Minister Tilak Marapana. "Read the Sunday Times and you will know why then Minister Marapana resigned. He said in an article that he feared some 6,500 employees of the firm would retaliate," he pointed out.
FCID chief on investigations
Senior DIG Ravi Waidyalankara, head of FCID, gave a general briefing on investigations into the workings of Carlton Sports Network Channel and other cases under probe. He disclosed that his division was investigating 208 cases and had completed four. The findings on the four, including Lt. Yoshitha, were submitted to the Attorney General's Department. The remarks indicated that arrests in regard to the remaining three cases could take place any time. DIG Ravi Seneviratne, head of the Criminal Investigation Department (CID), said they had undertaken 38 cases including five murders.
SDIG Waidyalankara declined comment when asked for details about the FCID investigations into CSN and the subsequent arrest of five others including Lt. Yoshitha. He told the Sunday Times, "I thank the media for keeping the public informed about our work but I am not authorised to speak. You will have to ask the Police media spokesman for information. That is all I can say."
Police Headquarters in a statement said among other matters that "there was evidence to suggest that the former President's second son functioned as the Chairman and the main decision maker of the CSN channel. Yoshitha's alleged involvement in the company was established after examining e-mails exchanged among members of the senior management of the company as well as companies abroad. The company raised an initial capital of USD 2.3 million through a transaction from a foreign company. The Police said the alleged transaction was illegal and it amounted to an act of money laundering. The statements given by the suspects to the FCID failed to 'deny their complicity in the act in a convincing manner.'
Those arrested are still suspects and no indictments have been filed against them so far. Former President Rajapaksa is insisting that his son Yoshitha "is innocent" and the arrest has been carried out only to punish him (Mahinda Rajapaksa). It was he who should be arrested, he said. Speaking to sources at the FCID and outside, the Sunday Times has been able to reconstruct the story that led to the arrests and how CSN operations were carried out.
CSN case: How it all began
Investigations into case no B 9823/2015 before the Kaduwela Magistrate's Court began on March 15 last year. This was after Police Chief N.K. Illangakoon directed to SDIG Waidyalankara a complaint received from an organisation styling itself the Citizens for a Just Society against Carlton Sports Network (CSN). In the past eleven and half months, FCID had submitted 20 reports to court and obtained orders at different stages to probe specific matters.
The licence to operate CSN has been obtained with the forwarding address 260/12 Torrington Avenue, Colombo 7. It was a house originally owned by Prabath Nanayakkara, a wealthy businessman who represented major Chinese commercial interests in Sri Lanka. He had reportedly sold it to Shiranthi Rajapaksa, the FCID has found. The CSN had earlier used the SEMA building at Janadipathi Mawatha where Namal Rajapaksa's Tharuniyata Hetak (A Tomorrow for the Youth) youth movement was located and also from the Presidential Secretariat in the Fort. A Cabinet Memorandum prepared by the Media Ministry for approval for a television broadcasting station and obtaining frequencies had been sent first to Lt. Yoshitha Rajapaksa by a senior official. It was only after he agreed that it had been presented before the Cabinet of Ministers and approved.
A six storied building has been constructed at a cost of over Rs. 200 million (excluding interior fittings) as the broadcast station for CSN at 236/1 Denzil Kobbekaduwa Mawatha, Battaramulla. The construction work, FCID found, had been carried out by a leading firm of contractors closely associated with the previous administration. They have been paid Rs. 103 million so far and FCID detectives are yet to establish who made the payment and why the balance amount had not been settled.
The land where the CSN broadcast station has been built belongs to the D.A. Rajapaksa Foundation. This Foundation has been given legal status by an Act of Parliament in 2003. In terms of the Act, the land in question, belonging to the State and given on a 99-year lease has to be used in keeping with provisions in the Act for the sole purpose of the aims and objectives of the foundation. It was leased upon a request made by the then Opposition Leader, Mahinda Rajapaksa to M.H. Mohamed who as a Minister of Western Province Development in the UNP Government had the Urban Development Authority (UDA) under his charge. No approval had been obtained for the six storeyed building from anyone in the foundation.
Dr. Lalith Chandradasa, Secretary of the D.A. Rajapaksa Foundation and a brother-in-law of the former President had told FCID that no approval was given for the six storeyed building. Nor were funds available in their organisation, he has said. This fact has been further confirmed in a statement to the FCID by the Foundation's Chairman Chamal Rajapaksa, former Speaker. He has said that no one obtained permission for the construction of the building.
One of the main areas focused by the FCID has been money laundering. In terms of the Prevention of Money Laundering Act No 5 of 2006 (which was given more teeth through amendments in November 2011), the offence of money laundering is defined as:
"Any person, who -
(a) Engages directly or indirectly in any transaction in relation to any property which is derived or realised, directly or indirectly, from any unlawful activity or from the proceeds of any unlawful activity;
(b) Receives, possesses, conceals, disposes of, or brings into Sri Lanka, transfers out of Sri Lanka, or invests in Sri Lanka, any property which is derived or realised, directly or indirectly, from any unlawful activity or from the proceeds of any unlawful activity,
"Knowing or having reason to believe that such property is derived or realised, directly or indirectly from any unlawful activity or from the proceeds of any unlawful activity, shall be guilty of the offence of money laundering and shall on conviction after trial before the High Court be liable to a fine not less than the value of the property in respect of which the offence is committed and not more than three times the value of the property in respect of which the offence is committed or to rigorous imprisonment for a period of not less than five years and not exceeding twenty years, or to both such fine and imprisonment. The assets of any person found guilty of the offence of money laundering under this section shall be liable to forfeiture ……"
According to FCID, some of the CSN books which have recorded receipt of funds, reportedly from Singapore, have turned out to be fictitious. They say they have uncovered "strong evidence" to confirm that such transactions have not taken place. Lt Yoshitha Rajapaksa is accused of allegedly engaging in money laundering, violation of the Public Property Act, the Customs Ordinance, misappropriation and forgery. Four others arrested together with him – Rohan Welivita, Kaushan Dissanayake, Ravinath Fernando, and Nishantha Ranatunga are alleged to have, among other matters, aided and abetted in the act of money laundering. FCID now wants to arrest Yasara Abeynaike, who had worked as Channel Manager at CSN and is currently abroad. She is described as a one time girlfriend of Lt Yoshitha Rajapaksa and served a stint at the Sri Lanka High Commission in Sydney. She had previously been employed at Independent Television Network (ITN).
A bigger puzzle is the contradictions surfacing from the FCID investigations over the initial capital raised by CSN. The amount is Rs. 234,275,000. According to statements obtained from Lt. Yoshitha Rajapaksa, two different companies associated with Sajin de Vass Gunawardena, until recently a close confidant of Mahinda Rajapaksa and the Monitoring MP for Ministry of Foreign Affairs in his government, made contributions. Together these two – Cosmos Printing (Pvt.) Limited and Cosmos Technology (Pvt.) Limited had paid Rs. 100 million (Rs. 50 million each). However, de Vass Gunawardena has said in his statement to the FCID that he made no such financial contributions and is unaware of any transactions. He has also made clear he is not a shareholder of CSN. Another is the claim that W.D.N.H. Perera made a contribution of Rs. 52 million. In a statement to the FCID, Perera has said he made no such contribution and is unaware of the transaction.
Two confirmed contributions had come from Chesmi Consolidated Limited, dealer for Dialog for the North and East making a payment of Rs. 25,275,000. The other is Lanka Orient Leasing Company (LOLC) making a payment of Rs. 50 million though it is not clear whether this is a loan or a donation.
Relatives of three others now in custody have also claimed they made contributions. Kavishan Dissanayake has said that he contributed Rs. 10 million, money that his mother and two uncles had given. They had neither wanted interest nor a return of these funds. A person named Shadiya Karunajeeva has said in a statement that she handed over Rs. 10 ten million to Nishantha Ranatunga. Ravinath Fernando has said that his lawyer father had given him Rs. 50 million which he made as a "contribution".
Over 12,000 e-mails
FCID has seized more than 12,750 e-mails and SMS messages, including accounts used by Lt Yoshitha Rajapaksa and all forms of correspondence. They say he violated the Companies Act by not registering his name as Chairman or a Director. However, a large number of e-mails have confirmed that he signed as Chairman. In terms of the Electronic Transactions Act (No 19 0f 2006), "No data message, electronic document, electronic record or other communications shall be denied legal recognition, effect, validity or enforceability on the ground that it is in electronic form." The FCID has already issued a freezing order in accordance with the Money Laundering Act on the bank account of CSN where there is a balance of Rs. 167 million. The FCID is trying to determine how this balance had been accumulated. Investigations into some other aspects which FCID sources say are "startling" are now under way. But they declined to give details.
The 'joint opposition' piqued by Yoshitha's arrest by the FCID and other issues staged a different form of protest this time under the theme "Leave for god's sake." Led by Mahajana Eksath Peramuna (MEP) leader, Dinesh Gunawardena, they dashed what organisers claim were 100,000 coconuts at the Seenigama Devalaya in Hikkaduwa yesterday to invoke the blessings of the gods. This week has been chosen since it marks one year since the setting up of the FCID. The organisers were embroiled in a controversy yesterday after it came to light that coconuts for the protest included a stock stolen from a Government owned estate. Police are now probing the matter. Similar events are to be held in other places of worship to also protest against the rising cost of living and the US-backed and Sri Lanka co-sponsored resolution at the UN Human Rights Council in Geneva.
Focus on reconciliation
The development came as President Maithripala Sirisena diplomatically put right a controversy he generated by declaring he would not allow foreign judges and investigators to probe alleged war crimes. In his Independence day address, broadcast live nationwide, he said Sri Lanka should face the "resolution with patience, discipline and decorum so that the country would be respectfully recognised by all international organisations."
He had earlier sparked a controversy by saying during an interview with BBC's Sinhala service Sandeshaya that foreign judges and prosecutors should not be involved in investigations into allegations of war crimes. The remarks were to spark concerns among several western nations including the US and Britain, the Tamil National Alliance (TNA) and Tamil diaspora groups. There were a stream of protests to the Ministry of Foreign Affairs in Colombo.
The Sunday Times learnt that the matter came up for discussion at a meeting held by Sirisena with Premier Wickremesinghe and Foreign Minister Mangala Samaraweera. Sirisena said in his address on Thursday "if we had taken the steps" necessary after May 2009, we would not have faced the resolution at the UNHRC in September last year. He asserted that the "people of this country have given a mandate to the Government and me on January 8, 2015 to resolve these issues and to build national reconciliation among Sinhala, Tamil, Muslim, Burgher and Malay people of this country. He declared in the official text of his speech released on Thursday that "I clearly state that we are facing these resolutions (sic) in order to protect the pride and dignity of our country, our people and our security forces, and also to make our tri forces to be internationally renowned armed force."
Sirisena also said "some political rivals" had hopes of capturing power and charged that they were "giving false interpretations to mislead the people about the Government's process of implementing these resolutions (sic)." He added, "I clearly state it will be the freedom, democracy and reconciliation which will be brought by implementing these resolutions."
The Sunday Times learnt that Foreign Minister Samaraweera advised Colombo-based diplomats and the Tamil groups, ahead of Sirisena's address, that amends would be made. Sirisena is expected to articulate the current position to the UN Human Rights High Commissioner Zeid Ra'ad Al Hussein who began a four-day official visit to Sri Lanka yesterday. At a news conference on Tuesday, Zeid will brief the media on his talks.
If the role of the FCID has remained a questionable issue, matters have been settled with President Sirisena's remarks to his ministers that it was a decision by the Cabinet of Ministers. Thus, the new division has received the green-light to go ahead with arrests in some of the most outstanding cases. For the pro-Rajapaksa Opposition members, if they extend the campaign to break coconuts, the prices may go up and pol sambol will be a scarce food item. More revelations as a result of arrests and court action can only destroy their credibility with their only option being to continue to appeal to the heavens.