Can we control a murderous rage?
By Aanya Wipulasena
Call for public education and clean policing to curb crime
View(s):
Mahesh Niranjan, 36, was hanging around in front of a house in the Kimbulawala area in Pitigala on Thursday night when two men stabbed him dead.
He succumbed to his wounds upon admission to the Elpitiya Hospital. The two suspects, who were also injured in the attack, were treated at the same hospital under police security.
In a another incident on the same day, the Unsolved Crimes Investigation Unit of the Kelaniya Police arrested a 22-year-old man.
Although a young man, Prabath Madushanka Pananvila alias "Barrel", a resident of Miriswatte in Peliyagoda, was a wanted murderer.
On November 29 last year, Pananvila stabbed and killed a man in front of a supermarket in Peliyagoda. Later, on December 31, he shot and injured two police officers at Bulugaha Junction. After lengthy interrogation, Prabath surrendered his handgun and two bombs.
Just after midnight on Wednesday, 43-year-old Padmalal Gunawickrema was stabbed to death in his home at Suriyamal Mawatha in Boralesgamuwa. Police are investigating.
Brutal murders are happening even in broad daylight because people think they can get away with anything even if they are caught, former DIG Crimes H.M.G.B. Kotakadeniya said adding that the public had lost respect of the police due to corruption in the force.
Officers-in-Charge had lost their grip on criminal activity in their areas of command.
"This is because they have to attend various programmes such as welfare events, political programmes or provide security to politicians. They do not have the time for other work," Mr. Kotakadeniya said.

He said the National Police Commission (NPC) had to step in to ensure that police carry out their work independently, unhindered by political pressure.
"The President said that he would give complete independence to police to take action against a criminal and that there would not be political influence but sadly this was not implemented," Mr. Kotakadeniya said.
NPC Chairman and Chair of Sociology at the University of Colombo, Professor Siri Hettige, said corruption within the public sector was almost endemic and acknowledged the police were not an exception and they have to overcome the problem.
Prof. Hettige said sudden provocation was a major reason for murder and people need to learn how to handle such moments better.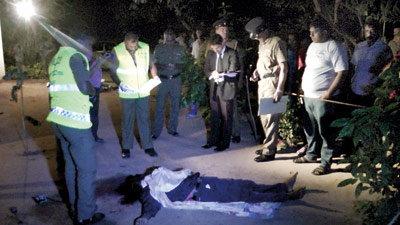 "This is a problem – the lack of skills in how to resolve disputes through peaceful means. Conflict resolution skills mainly come through education," he said.
Prof. Hettige said the country's education system needed to pay more attention to teaching children how to resolve arguments without aggravating the matter.
In addition, he pointed to alcohol consumption as a major factor in violence.
Police statistics show that murders have, in fact, decreased over the past two years: in 2014, 548 murder cases were reported, of which 477 were solved; in 2015 up to November 30 there were 441 murders of which 390 were solved.
Lawyer Neville Ananda said homicides were of three types: organised murder, property brawls and sudden provocation.
The first two could be addressed: "There should be a proper system to resolve property matters amicably without prolonging the cases," he said, explaining that tensions arising over disputes had the potential to lead to murder.
He also stressed that the system of law and order should curb organised crime protected by politicians. "When such a crime is detected we rarely see any politician behind it being punished, and this needs to change," Mr. Ananda said.