Young at heart
By Duvindi Illankoon
In conversation with a recipient of the Queen's Young Leader award
View(s):
Thejitha Saubhagya Edirisinghe grew up in Urapola, a village located in the Attanagalla division. The 27-year-old activist is involved in many things including running his own organisation – Human Wing International. Thejitha was one of two Sri Lankan recipients of the Queen's Young Leader Award in 2015 (alongside Kavindya Tennekoon).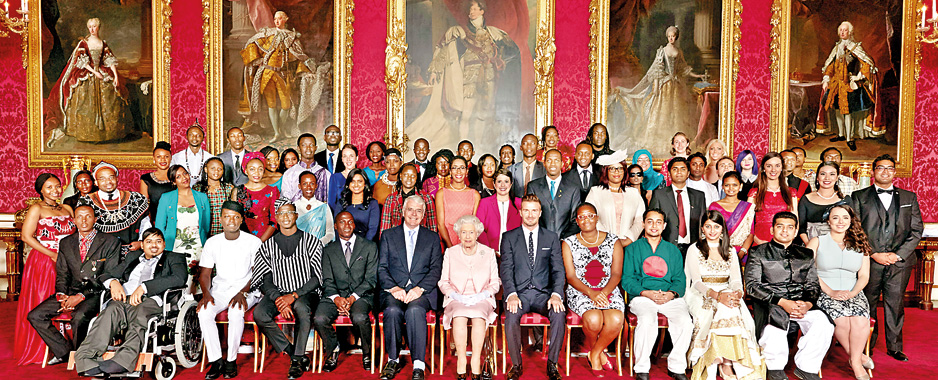 He has been involved with several projects over the last year, including the National Kite Festival and Competition, Projects for the Physically Challenged Sports Association and a number of projects conducted through the Attanagalla Divisional Federation of Youth Clubs, Gampaha District and Sri Lanka Federation of Youth Clubs, while being involved in the Youth Parliament.
Thejitha has also worked as a stage manager and short film and documentary director. Here, he answers a few questions posed by the Mirror Magazine.
About Human Wing International – what was the idea behind forming the organization?
Human Wing International was formed with the idea of human development in the aspects of uplifting living standards for people to have meaningful and dignified lives, while also ensuring that they enjoy the benefits of peace, unity and harmony.
A special focus has been placed on 'Youth Development' considering that youth are the change makers of the world. The organisation also functions in the areas of environmental sustainability, preservation of arts and culture and working with marginalised communities and people with disabilities.
The ultimate goal of the organisation is to ensure that people lead meaningful and dignified lives.
You mention focusing on psychological and spiritual development in another interview – why is this important? How do you go about this?
With the understanding of how people have been limited in their lives due to being money minded and increasing inequality among people from diverse backgrounds, the organisation has focused on more spiritual than materialistic development.
What are your focus areas when it comes to community work? What area has not been explored enough by development initiatives in Sri Lanka?
Well I have given more weight to youth activities as I have been highly involved during the recent past with the National Youth Services Council.
I think youth and women's involvement in political participation and decision making lags behind in Sri Lanka and the government should take necessary steps in this area. Women's rights and youth rights are not at a satisfactory level.
As a member of the Youth Parliament what exposure have you had to the issues faced by young people around the country? What has surprised you when it comes to these issues?
In a way it was a great opportunity we received to have a mature understanding of the political system and parliamentary regulations of the country.
It was a motivational factor for more young people to get involved in politics. As the Minister of Culture and Arts I had a leading role in the Sri Lanka Youth Parliament.
The initiative taken by the National Youth Services Council and the Former Ministry of Youth Affairs in creating a space for youth to raise their voices through the Youth Parliament should be appreciated.
About receiving a Queen's Young Leader award – were you able to network and spread your organisation's message? How useful is it to meet other young people like yourself from around the world?
It was one of the biggest achievements in my life to be recognised as a Queen's Young Leader, to meet Queen Elizabeth and other eminent personalities in London, to be trained by the University of Cambridge and to build a strong network with inspiring young leaders across the Commonwealth.
I've met youth leaders at national and international youth conferences before, but I also feel that the Queen's Young Leaders are exceptional for their hard work in transforming lives in society.