Gehan joins the cause for 'Music of the Heart'
By Vinusha Paulraj
View(s):
Gehan Cooray who made his debut at three has come a long way from appearing at St. Bridget's Convent's nursery play. In what was easily a foreshowing of his future, he says moments before going onstage "even back then, I distinctly remember feeling ready for it."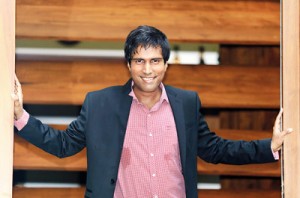 Currently residing in Los Angeles, "I'm working on a feature-length film," he tells us adding that he's set himself the challenge to "modernise a George Bernard Shaw play."
Gehan is making the most of his Christmas break in Sri Lanka, lending his voice to a concert in aid of the Ostomy Association of Sri Lanka.
Going-in to the University of Southern California from which he has a degree in theatre, drama and psychology he already had a favourite genre of music – opera.
His fascination for the dramatic side of life he feels is unexplained. "I'm the only one in my family," with a flair for the arts he says, the rest prefer cricket.
Nevertheless when his mother offered Gehan's operatically inclined input for a fund-raiser in aid of ostomates, he liked the idea.
"When you perform," he tells us, as much as the satisfaction from within, "you do it for others." Igniting a feeling of warmth, or simply conveying emotion he feels impacts the audience, which makes his latest appearance "that much more meaningful."
Opera isn't a popular genre among school-going boys, but under the tutelage of established singer Menaka de Fonseka Sahabandu, Gehan was exposed to an entirely new world. "I like the richness of voice that the genre requires," he shares.
Greater challenges bring higher rewards, which is why the satisfaction of cleanly executing technically challenging pieces has kept this baritone coming back to this genre.
"Some pieces," he recalls like The Queen of the Night Aria from Mozart's Magic Flute have made a haunting impression.
Although an actor to have played the role of Gaston in "Beauty and the Beast," and Professor Friedrich Bhaer in Little Women to name just two productions, he describes himself as performing Bel Canto Opera This however isn't a restrictive label.
Music Gehan enjoys falls within a spectrum between opera and musical theatre. For this reason the evening of song he's engineering is to feature broad-way numbers as well.
Reflecting on his penchant for the classics, he says "the songs are from slightly older musicals."
With help from his past teachers and top-notch musicians in the local scene, the concert 'Music of the Heart' is to go on boards this week.
Date: January 13, 7:30pm.

Location: Bishop's College Auditorium.

Tickets are priced at Rs.500, 1,000, 1,500 2,500 and 3,500. All proceeds are in aid of the Ostomy Association of Sri Lanka. 

According to the Ostomy Association currently more than 2,000 patients are in need of a stoma, through which an Ostomy bag is attached, including injured soldiers, cancer patients and those who survive motor accidents. The Association hopes to carry out this procedure with the funds generated by "Music of the Heart."