For love of Hindustani classical music
Classical Music Assembly celebrates 103rd birth anniversary of late musician Dr. Lionel Edirisinge with 'Naad'
View(s):
Celebrating the 103rd birth anniversary of late musician Dr. Lionel Edirisinge, the Classical Music Assembly (CLA) has organised a Hindustani classical music concert, "Naad", at 3 pm on January 13 at Dr. Panibaratha hall of Visual and Performing arts University, Colombo.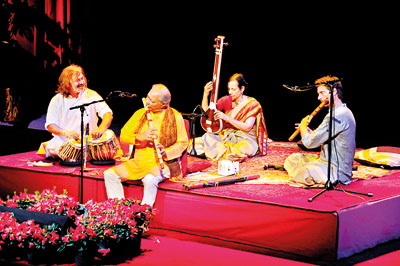 This is the maiden North Indian Classical concert organised by the Classical Music Assembly which was started to promote North Indian classical music in Sri Lanka.
The concert will be an opportunity to enjoy classical music and during the concert a number of veteran musicians who had rendered a yeoman service to popularize this genre of music would be felicitated.
It would also create a platform for both veteran musicians and talented young school children who had excelled in North Indian Classical music to perform on the same stage.
In addition the schools which won highest number of awards in Hindustani Classical music at inter-school competitions would be felicitated.
The concert will be coloured by vocal and musical performances of Hindustani classical musicians Dr. Somasiri Ilesinghe, Dr. Nirmala Kumari and two Sangeeths Nipun Asith Athapaththu and Nipun Preshala Manoj and a number of school children.
CMA invites all music lovers to join the evening to enjoy Hindustani classical music.