Qatar's air tycoon offers bitter medicine for SriLankan
View(s):
When Qatar Airways acquired its first A 380 superjumbo, its Chief Executive Officer Akbar Al Baker (pronounced Bak'r) saw to it that the aircraft did a few low flying sorties for those in Abu Dhabi to see.
Not to be outdone, when Abu Dhabi's national carrier Etihad received its first A 380, it followed suit with a similar show. Al Baker arrived in Colombo on Thursday on a scheduled Qatar Airways flight. As a two-day seminar on investment promotion got under way, he held talks with Prime Minister Ranil Wickremesinghe on investment opportunities in Sri Lanka.
At the Bandaranaike International Airport, after he was greeted, he asked one of those present why they had a US-built Chrysler waiting for him. He said he would have preferred to travel in a German BMW or a Mercedes Benz.
Oman-born Baker, a reputed businessman, also chairs a number of other companies and holds a private pilot's licence.  Though a few privy to the talks denied any formal talks on Mr. Baker's most successful expertise — that of running an airline — and declined comment, one source whispers that the subject (of running an airline) did figure informally.
The man who does not mince his words, this source said, prescribed some bitter medicine if the national carrier, which is fast bleeding the national coffers, was to be revived. It seems the locals are finding such medicine difficult to swallow.
---
Indo-Pak pencil pun
Official talks between President Maithripala Sirisena and visiting Pakistan Prime Minister Nawaz Sharif were under way at the Presidential Secretariat this week.
A Pakistan delegation dignitary was to discreetly turn round to a senior Sri Lankan Cabinet Minister and hold up a pencil that had been left on the table along with notebooks. He then asked; "why can't you manufacture these things in Sri Lanka?" The reason – the pencil bore the stamp; "Made in India". The usually vociferous Cabinet Minister, was for once, lost for words.
But it was Pakistan's turn to be embarrassed, when Premier Shariff planted a pea family seedling botanically known as Pongamia pinnata but commonly known as Indian Beech. The plaque at the site said it all.
---
Diplomatic posting for Polonnaruwa rice mill owner
A rice mill owner who doubled up as a one-time provincial video correspondent for local television networks is one of the latest additions to Sri Lanka's diplomatic service.
The man, a resident from Polonnaruwa, has been posted to one of Sri Lanka's European mission as Second Secretary.
One of the pledges made by the Government during the election campaign was to ensure professionals are posted to Sri Lanka's Foreign Service overseas. This is apart from sending an official once found to have submitted forged documents as a senior official to a European capital and a career officer who campaigned for former President Mahinda Rajapaksa to a country where East meets West.
---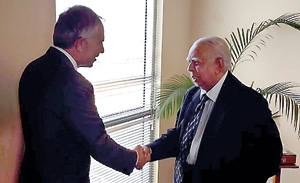 Without blare, here's Blair
Within hours of the Sunday Times hitting the streets last week, the state press asked the Ministry of Foreign Affairs (MFA) about the former British Prime Minister, Tony Blair's visit to Sri Lanka and if he was to play any role in Sri Lanka's reconciliation process. Not surprisingly, the state press misquoted the MFA spokesperson. This is what happens when one tries to be more loyal than the king.
Interesting indeed, it now comes to light that the subject of foreign affairs is handled by different arms of the Government and is not the sole prerogative of the MFA. One might say that is nothing new and one does not seem to be knowing what the other is doing.
Mr. Blair had a near hour long meeting on the subject of reconciliation and related issues with the Tamil National Alliance (TNA) leader and Opposition Leader Rajavarothayam Sampanthan. The meeting was arranged not by the MFA, but 'higher ups'. They talked about the 'Sri Lankan case' and even made comparisons to Northern Ireland, Mr. Blair's one claim to fame.
So, why this haste to feign ignorance of the controversial ex-British PM's visit. "me kauda; mokada karanne" (Who is this? What's he doing) was a political slogan made famous to promote ex-President R. Premadasa once upon a time. It seems apt for the secretive Tony Blair, too, these days.
---
Anniversary gift: Call the President on 1919
One of the new programmes that President Maithripala Sirisena initiated to celebrate his first year in office was the launch of several methods by which the public can contact him and address their grievances directly to the  President's Office. The President himself announced the programme via his Twitter account on Friday morning stating;" Starting today you can contact me via #TellthePresident on the mobile app, by dialling 1919, tell@presidentsoffice.lk, or PO Box 123,Colombo."
A picture of the President answering the first telephone call was also posted along with this announcement. When a query was made from the President's Office as to who was to make the first call; it was revealed that it was none other than one of his many advisers, lawyer Shiral Lakthilaka.
A President's Office source said the people could call in with their grievances through these modes of communications which will be attended to by the staff of the office handling the work and prompt replies will be given. In cases where urgent attention is required, the President himself will intervene personally.
---
No bras, but glowing bouquets for Pearl Fishers opera
While Sri Lanka has been mired in a raging bra-flinging controversy over an Enrique Iglesias open air musical event last month, theatre critics in New York are raving over an opera set in Sri Lanka — but in the good ole days when we were called Ceylon.
Judging by the avalanche of positive reviews, the New York City metropolitan opera apparently has a "sleeper hit" on its hands — Georges Bizet's. "The Pearl Fishers" (Les Pecheurs de Perles), recounting the story of two secret lovers (aren't they all secret in Sri Lanka?) who are discovered and condemned to death (certainly not a Goigama- Karawa or a Sinhala-Tamil love affair of more recent vintage).
"At the end of the act, a violent storm (not a tsunami) breaks out, sending the villagers (probably on the shores of a pearl-diving village in Mannar) into peals of anguished singing", according to The New York Times review (minus the parentheses).
In one scene, three actors (not Sri Lankans in amudes or loin cloth) are seen dangling on stage from unseen wires searching for oysters in the sea bed.
The New York Observer calls the opera "a masterpiece … everything about it is a treasure." The Huffington Post calls it "a spectacular success and it should secure the opera a place in the repertory for years to come." And The Wall Street Journal describes the opera as "vocal and literal pyrotechnics on stage."
All these — with a reference to Ceylon where the ill-fated love affair takes place. The French composer is also well known for Lakme, an opera set in British India in the mid-19th century. The haunting music in the Pearl Fishers, someone once suggested, should be adopted as the theme for SriLankan Airlines. But it never did.
Coincidentally, the opera is scheduled to close on February 4 – the Sri Lankan Independence Day. But its run is likely to be extended judging by the reviews.
---
Saatchi & Saatchi calendar: Bad  massage for Police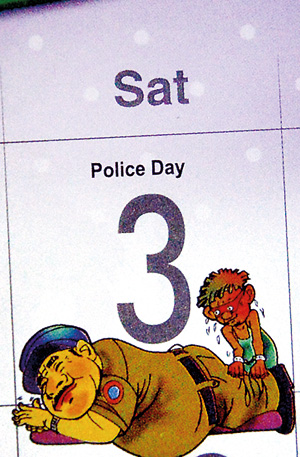 Year 2016 does not seem to have dawned with good forebodings for the Police Department. Road accidents and murders are on the increase and a spokesperson is fighting almost daily to create a new image.
The latest instance is a calendar, which portrays the police in a rather unflattering light. The calendar, the concept and design of which is that of a leading international advertising firm Saatchi & Saatchi, is filled with colourful caricatures, to mark special days including Police Day which falls on September 3.
However the caricature for the day, instead of showing policemen standing smartly assisting the public, shows a rather flabby looking man in uniform lying on his stomach and dozing away, while a rather weary criminal is seen giving him a massage.
While it is unlikely this portrayal of the Police will go down well with those in the Department, it does portray the rather poor image that police personnel continue to have in the public eye.
As one witty retired Police officer asked; is the well-known advertising firm forecasting that criminals will get the better of the Police in 2016?