Illegal deliveries they bowl after the match
View(s):

My dear Dark Horse,
I thought I must write to you to congratulate you on your appointment as the boss in charge of cricket in this country. I know you have had this job before but I'm sure it must be feeling great to be back at the top after all these years and several 'interim' arrangements — and after a hard fought election.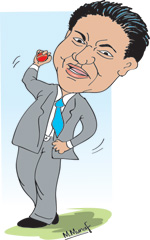 It wasn't an easy election to win either. Looking at the number of elections we have had recently, it seems as if we Sri Lankans like elections but I must tell you that next to the presidential election, the most eagerly awaited elections are those in cricket because they can become equally unpleasant!
This time around, you faced a greater challenge because you were up against the new 'R' family that has taken centre stage after the departure of the old 'R' family. And one of them was Captain Cool who won us the World Cup and is now a powerful minister in the 'yahapaalanaya' government.
Anyway, Dark Horse, after many legal arguments about your suitability to contest the election, you and your team won the election convincingly. But it was what you said after the elections that made me sit up and take notice — and that is what I also wanted to write to you about.
You told us that since Captain Cool and his team lost the elections, instead of complaining, he should now keep away from all matters related to cricket and stop interfering in any way. Now, that is a most interesting thing to say, Dark Horse, in view of what has happened recently in this Paradise of ours.
If you look back at the events of just one year ago, you would recall how Mahinda maama ran for re-election and lost. Maithri beat him fair and square and quite convincingly too, just like you and your team beat Captain Cool's team last week. But take a look at what happened after that.
Mahinda maama didn't keep away from everything and stop interfering, did he? He has made a comeback of sorts and although it is only as an MP for Kurunegala, he is still causing problems for Maithri because some people in the Blue party insist on supporting him and not Maithri!
And thinking about your request to Captain Cool to keep away and stop interfering in cricket related matters, what struck me as even more interesting than Mahinda maama's actions was what you did in your other role as a politician. Pardon Me, Dark Horse, but please let me explain why I say so.
You too contested the general elections a few months ago and ran as a candidate from the Colombo district. You didn't get enough manaapeys, getting only a little over 20,000 votes and coming thirteenth on the list. Even people we have never heard of got more manaapeys than you did.
Having lost that election, you could have followed your own advice to Captain Cool and kept away and stopped interfering in matters related to politics. But you didn't do that, did you, Dark Horse? The next thing we know, you are not only back in Parliament, you are also the second in command there!
That is because Maithri went against the promise he made about yahapaalanaya and appointed 'his' people, even though they were categorically rejected by the masses at the elections, through the back door called the National List at the expense of Mahinda maama's nominees who were also on the list.
That is why, Dark Horse, I am a bit confused when you ask Captain Cool to mind his own business, now that he has lost the election. Now, if you were to do that yourself, you wouldn't be in Parliament at all; instead, you would be poring over some other results sheets, counting 'wins' and 'places'.
Now, don't get me wrong. It is not that I am holding a brief for Captain Cool. He was respected, firstly for standing up to the Australian umpires who were trying to drive Murali out of the game. Then of course, we all saluted him for leading the country to its first and only World Cup win.
He was also admired for standing up to the other 'R' family when they were at the height of their power but now we find that he is trying to foist his 'R' family on all of us, even appointing his brother to the top job of the Port which comes under him. Alas, he has become yet another politician.
So, Dark Horse, I think you should be careful about wanting people to keep away after losing elections. I also think you should be focusing on developing the game that unites the nation — and not talking so much about your personal squabbles — especially when our team is losing game after game.
We wish you well, Dark Horse, not because we agree with your style or because we are impressed with your track record but we would dearly like to become world champions once again — even if it means emulating Captain Cool! I bet you can do that — ah, but you are not a betting man, are you?
Yours truly,
Punchi Putha
PS: While you hold the reins of cricket, Dark Horse, could you also organise some activities for retiring cricketers? They don't seem to know what to do next and end up organising concerts where undergarments are thrown at entertainers, making Maithri very angry. Then they are accused of not paying taxes and could end up in prison. We don't want that to happen to you-know-who, do we?