Better future for netball in Sri Lanka after Youth truimph
By Susil Premalal
View(s):
Sports Minister Dayasiri Jayasekera has promised to get a good sponsor for netball in order to develop the sport in 2016. The prime aim is to make netball the premier sport in the island.
The aim is to take netball to the top of the Asian ladder. The Asian Senior Netball Championships is to be held in Thailand in August next year.
The Minister said that he has had discussions with high officials of Dialog to be the main sponsor for netball and that they have shown a favourable response.
The Minister disclosed this when he presented cash awards to the Asian youth champions the Sri Lanka Netball team at the Sports Ministry auditorium.
The Minister said that he had discussions with all sports coaches and they were of the opinion that the old war horses should be rested and new war horses should be brought into the scene.
"But I am of the opinion that we should combine the new and the old to get better results.
He said that it was the combination of the old and the new which brought success to Sri Lanka at the Asian Youth Netball Championships in Hong Kong where Sri Lanka beat Malaysia to win the title. Sri Lanka won an Asian Youth netball title after 13 years.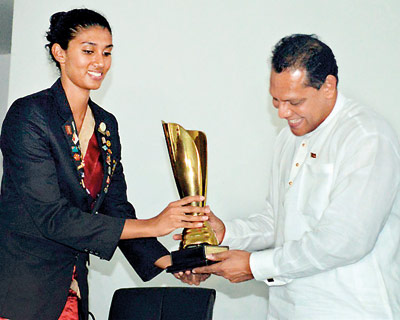 "We had a lot of problems in netball administration. But with Sri Lanka winning the Youth Netball Championships, all these problems seem to have vanished.
I am very happy about it. Now our main aim is to win the Asian Senior Championship. "It has been proved that we have a strong second string in netball. It is the second string that provides opposition to the seniors.
"Rest assured the Sports Ministry will give its full support for netball in Sri Lanka. Due to the fact that prevailed in netball we lost several sponsors. They left us because of our poor showing. Now the situation is bound to change.
Sponsors are now coming back to us and we can be assured of a good future," said the Minister.
Continuing the Minister said that he felt that the cash given to the Youth Netball team is not sufficient. "I am planning to take the team to meet President Maithripala Sirisena tomorrow (Jan 4)," he concluded.
The Sports Minister presented cash awards of Rs.1.5 million to the netball team and coaches – 12 players and the coach at the ceremony.